Featured Article
Cruise Line & Cruise Ship | Ana Figueroa
Crystal Yacht Expedition Cruises to buoy its success with launch of Crystal Endeavor in 2020.
More Articles
Norwegian Cruise Line's new Norwegian Bliss greatly elevates the cruise experience on all fronts.
Featured Cruise Line & Cruise Ship Video
UnCruise means adventure in Alaska. Birds above, moss below. Look, listen, and feel the forest beneath your feet on a bushwhack deep in the wilderness. Hike, kayak, paddle board, skiff explore. Inclusive 7-14 nights. Small ships, BIG adventures!
More Cruise Line & Cruise Ship Videos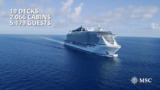 MSC Seaside – The World's Most Beautiful Ship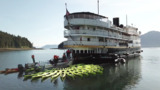 Adventure in Alaska? It starts with the Dragon!
More Cruise Line & Cruise Ship Articles