All Images By: Evgeni Zotov via Flickr
Bride kidnapping, or Ala kachuu in Kyrgyz, is the practice of a man abducting the woman he wishes to marry, and it is still common practice in Kyrgyzstan to this day. 
ADVERTISING
Despite the fact that the Kyrgyz government has officially outlawed it nationwide, bride kidnapping affects almost everyone in the country. Elderly men speak of how they kidnapped their wives while young boys eagerly look forward to the day that they can capture their own bride. Mothers claim to have found love in their captor, while young women fear that they will be stolen by an undesirable man.
Most people have never heard of bride kidnapping, and yet it has been going on around the world throughout history. In Kyrgyzstan today, as many as half of all brides were kidnapped and forced into marriage. Women who refuse to be married this way are often deemed outcasts of society and their denial is usually considered to be a rejection of the Kyrgyz cultural identity.
The usual scenario involves male members of the hopeful husband's family abducting the girl in the streets. They then take her back to the prospective groom's home where the entire family attempts to coax the girl into marriage. They usually show her a nice home where she could live if she were to marry, and explain to her why the marriage would be advantageous for her and her family. If the girl finally gives in and accepts her fate, the women of the groom's family will place the wedding scarf, or julok, on the girl's head, which signifies her acceptance into their family.
Many people who have travelled to Kyrgyzstan have seen two sides to this compelling story. While at first glance, the act of stealing your bride-to-be may look like a violent act, many of the women agree to the marriage right away.
In some cases, the abductor and the abductee have been dating for some time and the kidnapping is carried out as a sort of cultural ritual and a homage to Kyrgyz history and customs. Many young men say that they will kidnap their girlfriend, once they have saved up enough money for a wedding.
Unfortunately though, not all of the stories are so romantic. Countless women are snatched each day and sometimes the altercations have led to violence, rape and even fatality. In extreme cases, the families use threats and physical harm, essentially forcing the girl into marriage.
Perhaps more detrimental than physical abuse, is the threat to put a curse on her and her family. In superstitious Kyrgyzstan, this can be the final straw, ending with the girl's eventual submission into marriage.
In many kidnappings, there is a huge separation in class between the prospective husband and his captured bride. Men who kidnap their wives often do so because they can't afford kalym (the cost of dowry) which has led to situations where well-educated graduates are abducted by poor mountain herdsmen and forced into marriage.
Women who are set to become doctors and lawyers would seldom agree to a marriage where they will spend their life tending sheep and milking cows. The government has technically made bride kidnapping illegal, but it is not that simple.
The term "Bride Kidnap" can refer to anything from abduction and rape, to a young couple consensually deciding to carry out their traditions by acting out a ritualistic kidnapping. Kidnappers are seldom persecuted in Kyrgyzstan because of the pluralistic legal system which is in place.
State laws do not apply to the majority of citizens who live in small villages where a sovereign judicial system is led by elders rather than state appointed judges. For the time being, it's clear that bride kidnapping will continue.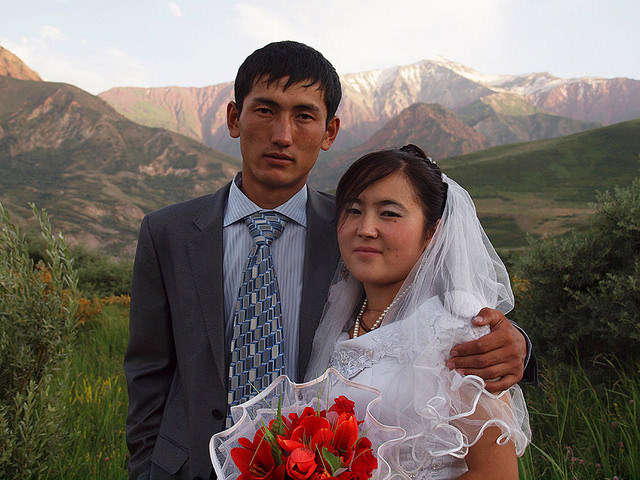 What makes bride kidnapping in Kyrgyzstan so shocking, is that it carries with it such social stigma and cultural importance that it's impossible to call it right or wrong.
According to Kyrgyz law, the act of kidnapping your girlfriend and entering in consensual marriage is not at all different from abducting a stranger and forcing her to marry. But at the very core of most Kyrgyz people, is the belief in this ancient system.
Many wives claim to have found the love of their life through the kidnapping, while young girls actively discuss their wishes to one day be taken hostage by a loving husband. As long as the majority of Kyrgyz women are happy to be kidnapped, their husband's families will continue to steal them from the streets.
The contrast between different styles of bride kidnapping is so stark that it is really hard to put a face on the kidnapping itself. Is it a romantic elopement between two young lovers, or a form of imprisonment by obvious criminals?
One thing is for sure, as long as the laws in Kyrgyzstan remain the same, so too will the actions of the people in which they govern. Until violent kidnappings are punished, and consensual ones are celebrated, the stigma that surrounds the act will remain.