Image via Facebook.                         
When again you are passed over as professor of the dark arts, you become a team member for American Airlines.
Such is the case for presumed muggle David Dolci who works for the airline in New York.
On Sunday, People Magazine spotted a rather peculiar Facebook post from American Airlines that showed off a man who looks a great deal like Severus Snape, the goth curmudgeon played by Alan Rickman in the "Harry Potter" film franchise.
Rather than gloss over the likeness as if he were wearing a cloak of invisibility, the company embraced its employee's image with the merriment of the Yule Ball.
Here is what the airline posted to its Facebook page; showing off Dolci, who we aren't quite convinced isn't Snape:
And the fun continued on Twitter:
We will now Severus you at Gate Nine and Three-Quarters. #SnAApe #AATeam #HarryPotter #LGA pic.twitter.com/dnUJpMplW5

— American Airlines (@AmericanAir) June 5, 2015
Now while the fictional Snape was unavailable for comment, we can guess at his reaction: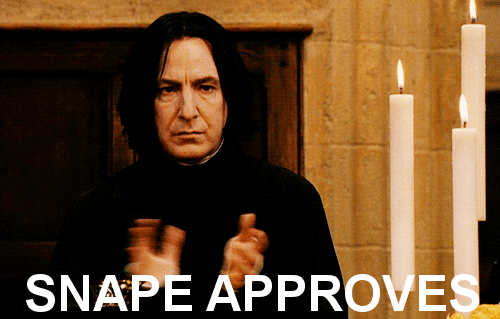 Per the airlines' Facebook page, those in Ravenclaw and Hufflepuff finally get some advantage over those elitists in Gryffindor.
Things always seem to work out for them except when Snape is running things at the gate. And please don't try to sneak anything untoward on the plane, because this man's "Expelliarmus!" game is extremely on point.