Image via BBC America.
One excruciating wait and a Matt Smith later, Doctor Who finally returns to BBC America on Sat. Aug. 23 at 8/7c. Celebrate by making like a time traveler and visiting these awesome places.
ADVERTISING
London:
The metropolitan hub of the Whovian universe is used so often that it's nearly a major character itself.
VisitLondon.com takes all the guesswork out of infusing your own London trip with TARDIS treats and Who walkabouts. My own favorite might be a look at Shakespeare's Globe Theatre. Yes, we understand the greatness of William Shakespeare and encourage you to savor all the location has to offer to your heart's content.
However, this place was used to shoot an actual episode, which makes it a sacred must-see place worthy of your pilgrimage—just watch out for witches.
There is also a walking tour of London, which includes a visit to, "the site where the two Dalek factions have a battle in Remembrance of the Daleks." You can also get a similar experience with BritMovieTours, which offers a bevy of other pop culture tours as well.
Lastly, London24 has a list of the top-five Whovian adventures in London, including how to spend your hard-earned cash on Who trinkets and where to find that beautiful blue box.
All of this has us, well: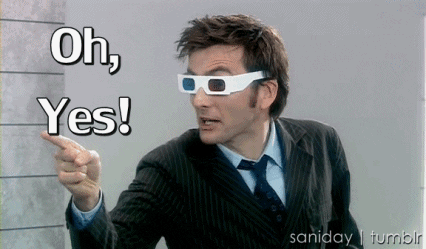 (GIF via Tumbler h/t Giphy)
Cardiff Experience:
While there have been a number of exhibitions over the years, one remains that would satisfy even the Master's hunger for knowledge. Fans bumping about Cardiff may just want to visit The Doctor Who Experience.
Here is what happens when Eleven drops by to say hello:
And there have been far more fan videos lurking around the Internet, giving us an idea of what to expect from a visit:
The museum of sorts promises a real interactive experience, so perhaps you can tell your friends at home you were a companion for a few shorts moments. Hey, if Craig Owens can do it, why not us?
Either way, we are fairly excited now:
(GIF via Giphy)
Around the World:
Those stuck stateside have some answers outside of pointing Jammie Dodgers at imaginary Daleks.
The Way Station – Brooklyn is home to one beautiful bar, featuring a TARDIS door you walk through to relieve yourself. How refreshing. And here is what you find on the inside:
The Tardis Room – Those in Portland have something truly special in the Tardis Room. According to Thrillist, "Built by an ex-pat Brit, TARDIS was conceived when he realized the door to the loo in his Fish and Chip shop looked like a police call box, and that the huge amount of possibly physics-defying storage in the back of the resto would be better used as a place where Whovians could sip beers and talk about proper scarf-wrapping technique."
All well and good, but I need to try the fish and chips that come with TARDIS sauce. Awesome puns aside, it's reportedly blue. Blue!
Pandorica – We recently covered this Beacon, New York, restaurant that features a wealth of Whovian mentions, including fish fingers and custard. Thankfully, they switched out the fish for French toast sticks. Om nom.
That should keep you world wanderers a little busy as you sit and wait for the next iteration of the good (darker?) Doctor. We would love to hear from you who have visited these places or plan to. As we all know, it's fun to live vicariously through others traipsing around time and space, generally making a muck of things before cleaning it all up.
Now get on out there and explore, but don't forget the sonic screwdriver.
Twitter, because tweets are cool: