Photo courtesy of Thinkstock
It's National Relaxation Day, so go ahead and take some time out of your day and just let your body relax and your mind wander. Let the stresses go and think about the great places you can travel to where you can get pampered all day long. When you're done being calm today, here are four great spas where you can book your next vacation and take relaxation to a whole new level:
ADVERTISING
Mohonk Mountain House: Located in the Shawangunk Mountains of New Paltz, New York, the Mohonk Mountain House is a Victorian castle that takes you above the Hudson Valley. The view alone should knock a few points off your blood pressure reading, but if you need more, there are private and guided meditation classes, two 80-foot-long glass-enclosed verandas connect to a solarium complete with a stone fireplace. There is a mineral pool and an entire list of spa services, including reflexology, couples' massages, aroma therapy massages, facials body masks and more.
Photo via flickr
Beverly Hills Montage Hotel: The spa at the Beverly Hills Montage Hotel is a 20,000-square-foot urban oasis that's waiting for you to step in the door. Consider this hotel the anti-spa, meaning they will have anti-acne, anti-aging, anti-cellulite, anti-stretch marks and other anti- programs to make sure you walk out the front door feeling young and more vital than when you walked in. Pampering can last anywhere from 30 minutes to 3-1/2 hours. 
Photo courtesy of Beverly Hills Montage Hotel
Canyon Ranch: No less than Oprah Winfrey has endorsed this place,  touring this ranch during the course of her former daily talk show. Located in Tucson, Arizona, in the Santa Catalina Mountains, you'll feel removed, unplugged and destressed before you even get started doing anything. Choose from a variety of holistic treatments including crystal sound activation, where a high-frequency, gemstone-infused Alchemy Crystal Singing Bowl is placed directly on your body, which has been said to instill harmony into your life. You can also engage in spirituality wellness courses and songs and meditation to help reduce your stress and calm your life. Cost wise it's a high-end experience, but it can leave a lasting impact on your body and soul.
Photo courtesy of Canyon Ranch
Ten Thousand Waves: In Sante Fe, Ten Thousand Waves treats you from head to toe – whether you're getting an Ashi Anma treatment which addresses the whole body just through the feet or the Yasuragi treatment which concentrates on your head, neck, and shoulders — the parts of the body in which many people hold their tension. Your entire skin can be silky smooth with the salt glow or herbal wraps they offer as well. Definitely a unique center in a beautiful location.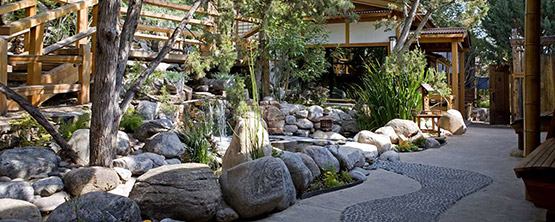 Photo courtesy of Ten Thousand Waves
Of course, the best place to relax is any place that you can just feel the serene calm feeling taking over your body and mind. So if that means hiking to the top of a mountain in South America or digging your toes into the sand of a Jamaican beach, it's all about finding what's right for you and doing it on a regular basis.