Nick and Dariece | October 12, 2015 11:00 PM ET
10 Must-Try Meals From Around the World
Photos courtesy of Goats on the Road
One of the highlights of traveling the world is being able to sample the meals that are unique to the country that you're visiting. Of course, trying new foods is fun and exciting, but more than that, food brings people together. This is probably one of the main ways in which you'll find yourself meeting locals and fellow globetrotters. Each country has its own fantastic meals to offer, but here are some of our top choices from around the world.
Lagman Soup
This has to be one of the heartiest soups on Earth! You can find this delicious bowl all over Kyrgyzstan, China and other parts of Central Asia. This meal is perfect on a cold day, and for just a dollar or so, you can have a huge bowl filled with mutton (sometimes lamb or beef), hand-stretched noodles, peas, onions, dill and variety of other vegetables. The broth has a touch of vinegar, spice and salt. Although the soup itself is tasty, watching the cook roll, cut and stretch the noodles by hand is quite the sight — bring your camera!
Tamales
This Mexican dish comes in many flavors and can be cooked either the traditional way (in an earth oven in the ground), or steamed in a pot. Tamales are a corn-based dough stuffed with meat and spices, or for the vegetarians, cheese and swiss chard. They are often wrapped in a corn husk to be steamed, and are served at all times of the day. If you're eating these in a restaurant, they may even be covered with tomato sauce.
We were lucky enough to learn how to make Tamales the Mayan way when we were in Valladolid, something we highly recommend trying if you have the opportunity.
Spicy Hot-Pot
Hot-pots can be found all over Asia, but the spicy Sichuan hot-pot comes from China. This is such a fun and interactive way to have a meal with friends. Sliced meat, seafood, raw vegetables, tofu and weird foods such as duck's blood, ox tail and beef tripe are skewered on a wooden stick, and cooked in a boiling vat of spiced oil. For those who don't like spice, you can opt for a vegetable broth instead.
Usually the meat is very thin, and the vegetables are cut small, so you don't have to wait a long time to eat. This is fun, cheap and delicious.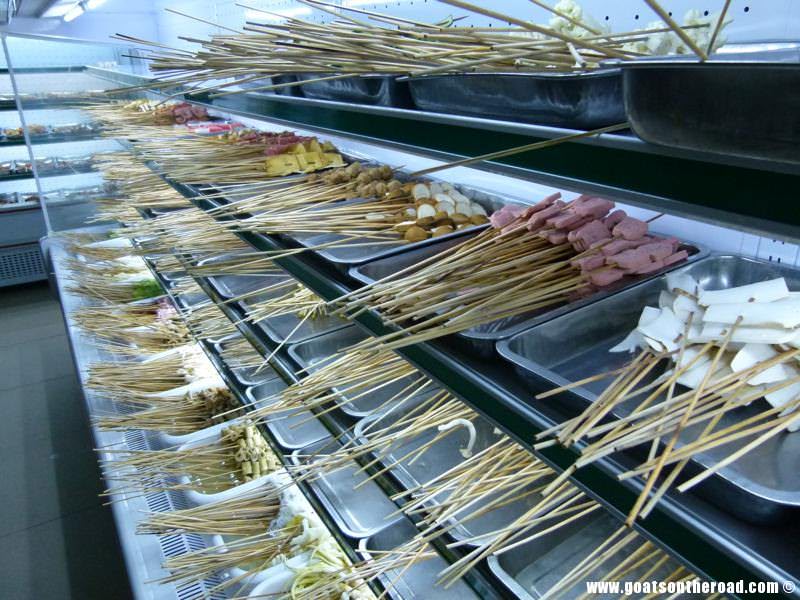 Roti
Roti is a flatbread made from whole meal flour and typically eaten in the Indian subcontinent, parts of South Africa and the southern Caribbean. In the subcontinent, the dough is quite thin, while in the Caribbean, the roti is more dense. The roti found in Grenada is delicious and found in small shops and on certain nights at various restaurants around the island. You can choose from seafood, chicken or vegetable, and the pocket will be stuffed with potatoes, carrots and a not-too-spicy curry. This is the perfect lunch packet!
Doubles
I'm not talking about alcohol with this one! Doubles are a typical breakfast meal that originated in Trinidad and Tobago in the southern reaches of the Caribbean. Although they're from that island nation, the flavors and spices actually originated in India. This dish consists of a soft bread called bara stuffed with chickpea curry and sauces. The sauces are the best part — mango, shadon beni, tamarind and pepper. This is a must-try breakfast while in the southern Caribbean!
Ghormeh Sabzi
Ghormeh Sabzi, which translates to "stewed greens" is said to be the national dish of Iran. This meal is filling, flavorful and is perfect for carnivores and vegetarians. Ghormeh sabzi is typically made with greens such as parsley, leeks, green onions, dried fenugreek leaves, spinach and coriander. For protein, beans are added and/or turmeric-seasoned meat (in the desert, they use camel!) This meal is very complex and satisfying.
Indian Curry
Indian food might possibly be the best in the world. This cuisine is perfect for vegans, vegetarians and carnivores. Instead of listing just one curry to try, I'm simply saying to try them all. Some have a tomato sauce base, while others have a dry curry rub. Some dishes are made of cheese, while others are made with lentils. The tandoor oven offers fantastic chicken, and of course, fluffy naan breads!
Try the curries from restaurants and from the street stall while you're in India, the flavors will vary from place-to-place.
Pita Wrap with Tzatziki
This is a very popular snack, lunch or side dish in Greece. Pita wraps (called gyros) are stuffed with grilled chicken or lamb meat, French fries (which is strange!), onions, tomatoes, cilantro and tzatziki sauce. These are affordable and very delicious.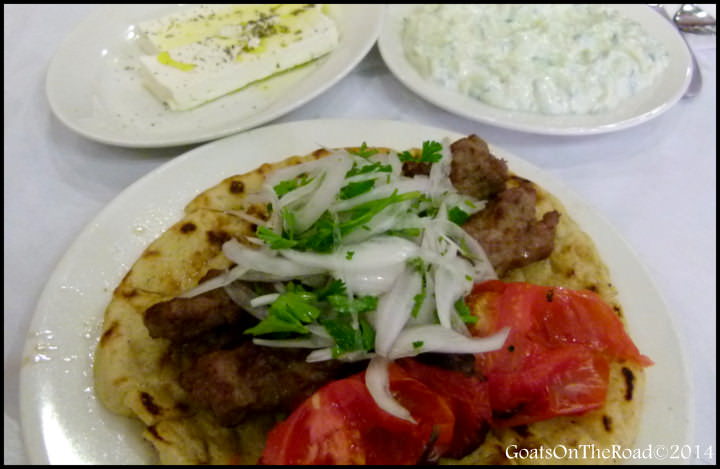 Buff Momos
This dish may be simple, but it's very flavorful. Found in Nepal, momos are like a dumpling, which is either steamed or fried. For a stuffing, you can choose from pork, yak, chicken, vegetable or buffalo meat. This is a great snack or lunch on a chilly day in the mountain towns.
Khachapuri
Definitely not the healthiest dish in the world, but a must-try when you're in Georgia. This cheese-filled bread comes in a wide variety of shapes and toppings. The one below is boat-shaped, stuffed with cheese, and topped with raw egg along with a chunk of butter! This meal is very rich, tasty, and fattening!
Feeling hungry yet?! Have you tried any of these meals? Which ones would you add to the list? Tell us below!