Nick and Dariece | December 31, 2015 1:00 PM ET
3 Great Ways to Forge Deeper Connections While Traveling
Photos by Goats on the Road
Travel broadens the mind. This is something we as travelers constantly hear from books, TV shows and fellow wanderers...and is something that we truly believe. Learning about the world and its people is what globetrotting is all about! There are ways to go beyond just moving from location to location, taking in all of the sights and sounds. Here's how to help out and become more immersed in the places that you're visiting.
Volunteer
Volunteering around the world, or "Voluntourism" as it's called, has really taken off. Although you may think that any sort of assistance you can offer is a good thing, at times, it can actually be detrimental to the community in which you are trying to help. There are some organizations out there that will make you pay to volunteer, and then won't do as promised with the money you gave.
Instead of just going with the first company that you see, make sure to do your research online. We've recently heard about a project called Onwards, which is a non-profit organization. Here's what one of the owners of the company says:
"Onwards seeks to shift from short-term solutions and volunteer projects to long-term, sustainable economic development. By providing small loans and training to local tourism based business owners, Onwards empowers individuals to tap into the largest industry on the planet, tourism, to create jobs and alleviate poverty."
By joining a program like this one, your efforts will have long-term effects on the country/city/community that you are helping out in. Another program called WWOOF'ing is an excellent way to help out on organic farms, while learning about agriculture and receiving free accommodation and food.
Teaching is another great form of volunteering. If you can teach someone basic language, Internet or construction skills, or if you can give them advice on medical care, how to treat illnesses and sustainable environmental practices, you will be giving them lifelong aid, rather than just a quick fix. Try to give back a few times during your travels, it's a great feeling!
Learn the local language
If you can't communicate with anyone while traveling through their country, how much are you really going to learn about the culture? How personal will your connections with the locals actually be? Obviously, if you're on a year-long trip, you're not going to be able to learn the native tongue of all of the countries that you visit, but if you make an effort to learn just a few words, that's enough.
If you plan to travel to just one country, and you have a few months before your departure, why not take a language course, or read online to learn some important phrases? Learning a new language can be difficult, but if you put in some effort and try to say a few things in the language of the country you're in, the local people will be very impressed. Another smart idea is to carry a phrasebook with you and resort to that when you want to have a more in-depth conversation with your new friend.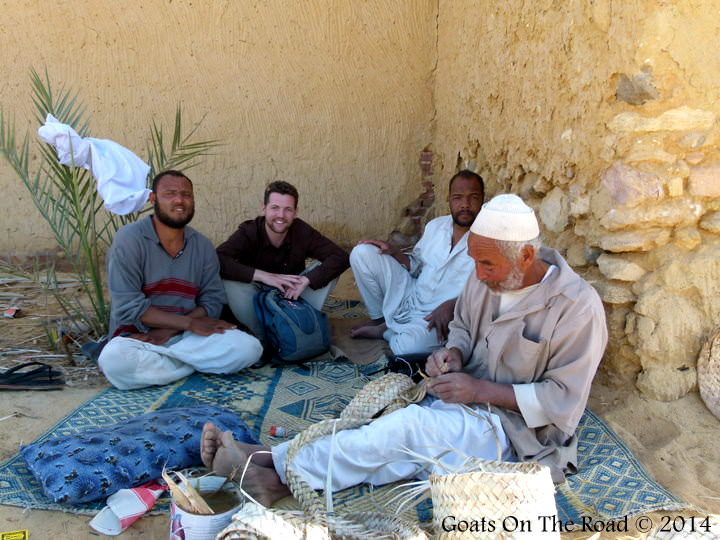 Eat locally
Food plays a very important role in travel. Not only is it exciting to sample new dishes with flavors that differ from the ones you're used to back home, but eating really brings people together. So, what better way to meet new people than over a local meal? Stop in at the little hole-in-the-wall spots and sit next to a group of strangers. I can almost guarantee that you won't be strangers by the time you're done your food.
Don't be afraid to have dinner at a busy restaurant, even though there may not be another tourist in sight. More likely than not, the food there will be fresher, more authentic and will taste better! Apart from enjoying the actual flavor of the traditional foods, by eating locally, you'll be helping out the economy, the farmers and the residents.
When you're in Thailand, if you have the choice between buying your bottled water at the 7-11 or at the little mom and pop shop next door, go for the little shop and help to support a family. Rather than purchasing your fruits and vegetables at the grocery store, always shop at the farmer's markets, or side of the road stands. The produce will be fresher and the prices will be lower. As an added bonus? Eating locally will save you money!
There are many ways in which your travels can have a positive impact on the countries that you're visiting, these are just a few of the ways in which you can forge connections and help out, while also having an amazing trip.
Do you volunteer, teach or eat locally when you're on the road? Tell us about it below!