Nick and Dariece | November 16, 2015 11:00 PM ET
3 of South Africa's Lesser-Known National Parks
Photos by Goats on the Road
Watching animals in their natural habitat is magical no matter where in the world you are. But, there's something extra special about seeing African wildlife up close! While traveling in South Africa, you will have the opportunity to spot elephants, leopards, lions, zebras, hippos, buffalo, giraffes and much more.
Many people opt for the larger Kruger National Park, which is popular due to its size (two million hectares), the diversity of wildlife and the options for accommodation. However, it can be very busy at that park and there is a chance you could contract malaria in that area of South Africa. Instead, why not check out these three affordable, lesser-known national parks?
Addo Elephant National Park
This is an excellent park, especially for those who are interested in a self-drive safari! Being able to travel at your own pace and stop when you want is the best way to see the animals. Not to mention, it will be just you and your chosen companions in the vehicle rather than a bunch of strangers.
The park provides a picture map with check boxes, so you will know which animal you're looking at and you can tick it off your list afterwards. At Addo, you can expect to spot many elephants, lions, buffalo, zebra, antelope, hyenas and many bird species. There are also leopards here, but they are very shy and your chances of seeing them at this park are quite low — but who knows, maybe you'll get lucky?
There are eight camps available for sleeping here, with accommodations ranging from basic tents to luxury lodging. Or, you can sleep outside of the park in one of the nearby hotels or "backpackers" (hostels) and then drive to the park early in the morning. The entrance fee for foreigners to Addo NP is 216R, or $16.50. For less than $20, you can spot animals in the wild all day. Now that's a good deal!
iSimangaliso Wetland Park — St. Lucia Estuary
In 1999, the iSimangaliso Wetland Park was named the first World Heritage Site in South Africa. There are five main ecosystems here: offshore reefs & beaches, wetlands, woodlands, coastal forests and lakes. The St. Lucia Estuary is where you'll want to go to spot hippos and crocodiles. There is a chance that leopards, rhinos, elephant and antelope will amble into view as well, and as this is a wetland park and estuary, there are many birds here.
As with Addo Elephant National park, you can do a self-drive safari, and there are many viewpoints that you can stop at to enjoy the vistas. You can even get out of your car if you're feeling brave enough. There are many accommodation options in this massive park, from camping to lodges. The best part about this park is that doing a self-drive safari is free!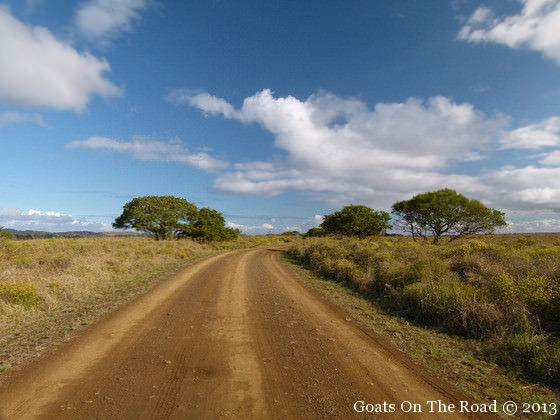 Hluhluwe Umfolozi (Imfolozi) National Park
Here, if you're lucky, you can spot the "Big 5," which is an old hunting term referring to rhino, leopard, elephant, buffalo and lion. Apart from the Big 5, you can see cheetah, blue wildebeest, giraffes, antelope and much more. This is the oldest gaming park in Africa and the conservation efforts towards the rhino are world-renowned! There are two camps in the actual national park, with many more sleeping options about 12 miles away. Again, you can do a self-drive safari here, for a mere 110R, or $8.50!
We highly recommend going on a safari while in Africa, and especially in South Africa. The feeling of being alone with the animals, with nothing between you and your small rental car is an adrenaline rush like no other! Bring a picnic, lots of water and binoculars, and get a map of the park when you arrive. All you need is a sense of adventure and once you spot your first big animal, you'll want more. For more information on traveling to South Africa, click here.
Have you ever been on a safari in Africa? What was your experience like? Share with us below!