Nick and Dariece | August 29, 2016 9:00 PM ET
5 Activities in Malta You Won't Want to Miss
Malta is one of those countries that is often overlooked by travelers. It sits quietly in the Mediterranean Sea, with Sicily to the north, Libya to the south and Tunisia to the west. Due to its interesting location and history, Malta offers a wonderful mix of people and culture.
Malta may be a small island, but it's jam-packed with activities to keep you busy for a week, two weeks, or longer. Here's a list of five activities to add to your itinerary.
Go On a Winery Tour
Even though wine production in Malta dates back over 2,000 years, Maltese wines aren't internationally famous - especially when compared to its Italian neighbors to the north. There are just two grape varieties that are indigenous to the island, Gellewza (red) and Ghirgentina (white).
There are five major wine players on the island, with the Marsovin Winery being the star. Not only is Marsovin the largest producer of wine in Malta, but it's the only company producing a sparkling white wine (brut).
You can visit the estates and cellars, and even do a sampling of the delicious reds and whites. Don't miss the Caravaggio or the Primus, two incredible wines.
Try to time your visit for July to take part in the Marsovin Wine Festival in Valletta!
Laze On The Beaches
As with most Mediterranean beaches, the ones in Malta are mostly rocky, with impossibly clear water. Because the island is so small, the locals utilize every inch of the coastline, with pretty much anywhere being considered a swimming spot!
Even in places that aren't designated as a beach (the city of Sliema for example), you'll find some great places to cool off, without any sand in sight. In fact, some of Malta's best swimming holes are surrounded completely by rocks.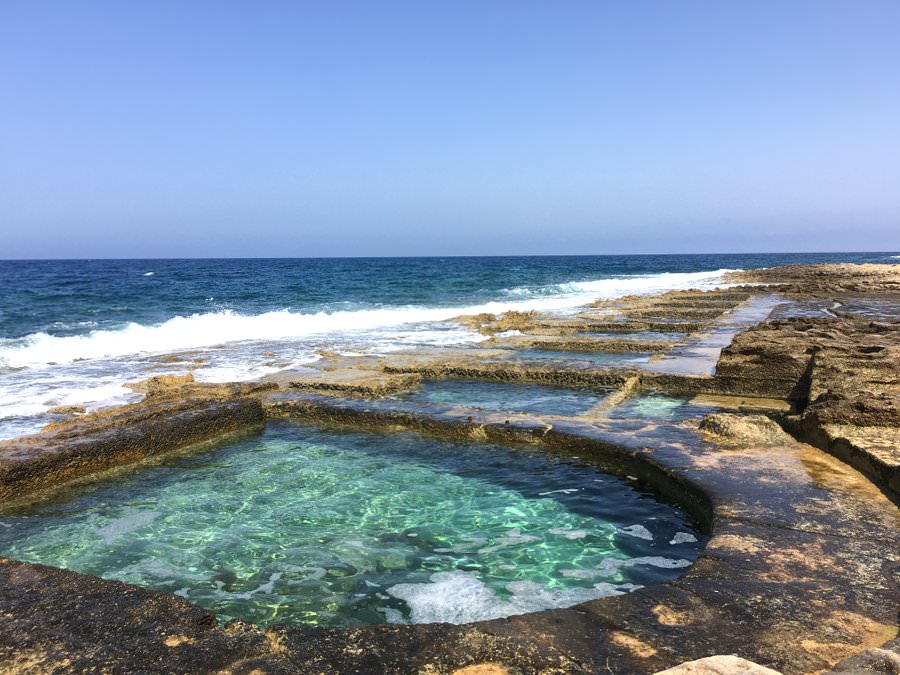 St. Paul's Pool, Wied il- Ghasri (near Marsalforn) and coastline near Sliema are excellent rocky swimming spots.
For sandy beaches, don't miss Mellieha Bay in the northeast of the island, which is the largest sandy beach in Malta. On the opposite coast is the beautiful Golden Bay which offers the softest sand on the island.
Go For a Hike
At first sight, you may think that there aren't many places for hiking in Malta. However, if you stop by the Visit Malta office, or just check them out online, you'll see that there are actually seven walks that you can do independently.
It's amazing that the tourism board has put together these maps for tourists, as many other countries always want you to hire a guide for hikes. Basically, you just follow colored markings to ensure that you are on the correct path. Different walks have different colors.
There are seven routes available, all you need to do is decide which type of landscape and sites you want to see: Dramatic cliffs? Rocky scrubland? Lush valleys? Ancient watchtowers? Fishing villages? Make sure to bring the map, your smart phone with Google Maps app (if you have one), a hat, sunscreen and lots of water - there isn't much shade available in Malta.
Go To a Show
The Teatru Manoel was built by the Knights Of Malta in 1731, and is one of the oldest working theaters in the world! Many other theaters are just open for tourists to visit, but here in Malta, in the gorgeous capital city of Valletta, you can actually see a performance.
The small theatre seats just 623 people in its oval-shaped auditorium and there are three levels of wooden box seating. During intermission, spectators pour out onto Old Theatre Street to enjoy a glass of wine from the wine bar across the street. Not a bad way to wait for the show to resume!
Try to time your visit to Malta to see a symphony, a play or an opera. The acoustics in this theatre are amazing.
Get Out On The Water (Or Under It)
Since Malta is an island, it makes sense that there are many water activities available. Apart from lazing on a beach, you can go snorkeling, scuba diving, or sailing! There are many boat trips leaving from the Sliema harbour bound for the sister island of Comino. These boat trips tend to be "booze cruises," with all-inclusive drinks and food. They are more for the younger party crowds.
For a quieter day of sailing, you'll need to hire a private boat.
The underwater world is beautiful. Although there isn't as much sea life when compared to other areas of the world, Malta and its sister island of Gozo are known for their dramatic rocky formations, and interesting caves.
You can dive under the famous Azure Window, Inland Sea and Blue Hole on Gozo Island. Around Malta, there are lots of shipwrecks to discover, as well as caves and tunnels! Check out St. Andrew's Divers Cove in Gozo, they're a professional dive shop with well-maintained equipment.
These are just 5 of the many unique things to do in Malta! If you've been to the island nation, tell us which activities you would add to the list!