Nick and Dariece | August 15, 2016 11:00 PM ET
5 Amazing Outdoor Activities in Grenada
There's no denying the fact that we absolutely love the little Caribbean island of Grenada. This is somewhere that is near and dear to our hearts, and although it may be small in size, there are numerous things to see and do!
If you're interested in getting some exercise during your vacation in Grenada, there are many activities you can partake in - after you've spent a sufficient amount of time lazing on the pristine beaches, of course.
Here are our top 5 outdoor activities on the little Island of Spice:
Scuba Diving
In Grenada, there are over 30 dive sites to choose from! For the history buffs or those who are interested in seeing more than just marine life, there are 15 shipwreck sites to explore - for both beginners and advanced divers.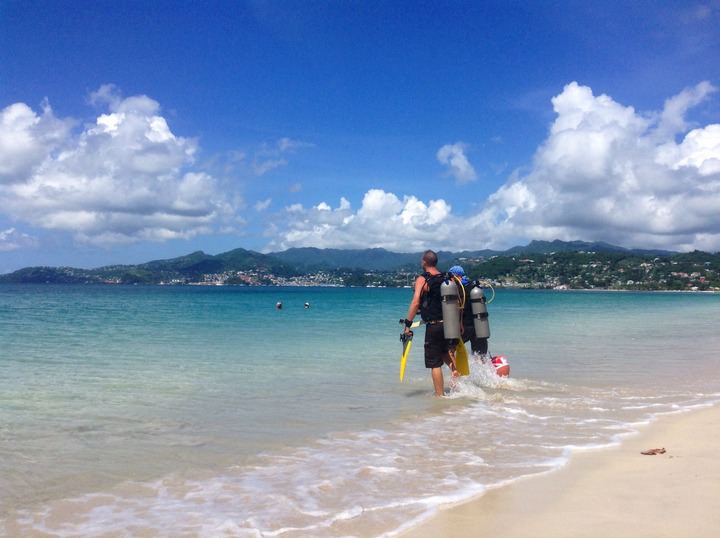 The Marine Protected Area is a beautiful spot for getting under the water. The coral is healthy and colourful, and there are many marine species to spot. Look out for the usual tropical fish, plus stingrays, eels, seahorse, turtles, and if you're lucky maybe a reef shark or a nurse shark.
There is even an underwater sculpture park, which was founded in 2006. The sunken sculptures encapsulate Grenada's history, while simultaneously creating an artificial reef, which is now home to many fish and coral species.
The scuba diving company, Dive Grenada, has funded and constructed an artificial reef just offshore from Grand Anse Beach. Using sunken cement blocks as the "reef," coral and other marine life are now flourishing here. You can learn more about their project here; it's brilliant!
Get suited up and check out the underwater world in Grenada, it won't disappoint.
Hashing
Hashing is something that isn't found everywhere, but luckily for you, you can go on a hash while in Grenada. The Hash House Harriers are an international group of "drinkers with a running problem". As you can guess, this is more of a social get together, although exercise is involved.
Basically, a group of hikers (the "hashers") get together every Saturday to walk or run on a predetermined trail. You follow piles of shredded white paper to know that you're going the right way. However, sometimes false trails are set and you must yell the correct lingo "Are You?!" which is basically asking your fellow hashers up ahead if you're on the correct trail. Hopefully, you'll receive the response "On, On!" meaning, yes, keep going.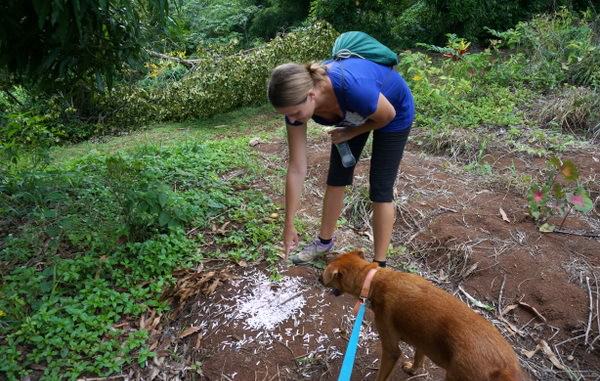 Hiking 7 Sisters Waterfalls
The Grand Etang National Park is a beautiful, peaceful place in Grenada. The park is surrounded by a thick rainforest consisting of banana, bamboo, mahogany and gommier trees, to name a few. There are many walks you can embark on here, but one of the most popular is the 7 Sisters Waterfalls.
After about a 25 - 30 minute walk, you'll arrive at the beautiful falls. Bring your bathing suit because swimming is possible here, and trust me, you'll want to go for a dip after the humid walk!

READ MORE: 17 Photos That Will Make You Want to Travel to Grenada
Picnics On Beaches and Walking From Bay to Bay
One of the most amazing things about Grenada is its lack of development. There are still many quiet coves, bays and beaches that you can discover. In fact, it's possible to hike from bay to bay, while stopping at the many rocky points for breathtaking views.
Enjoying weekend picnics is a favourite pastime of the locals, so pack some food in your backpack and after walking for a little while, choose a quiet beach that suits you, and enjoy!
There are too many bays to list, and apart from the beaches at the north and eastern side of the island (southeast is OK), most of the beaches are safe for swimming - however, always heed the advice of the locals.
Note: For safety reasons, we don't recommend visiting deserted beaches alone.
Kayaking in the Bays
What better way to see the island than from the sea! Conservation Kayak offers kayaking tours around the Woburn Bay area, near Hog Island and Whisper Cove. The company is run by two professional, knowledgeable guides and the groups are small in size.
During the tour, you'll learn about the mangroves, ecosystem, flora and fauna, and if you're lucky, you might even spot an iguana or snake in the trees along the shoreline. Swimming is possible as well if you're feeling up to it, and if you join the longer tour, you will enjoy lunch on the lovely Hog Island.
This is a perfect day outing in Grenada.
When you travel, do you prefer to laze on beaches, or be active? Tell us in the comments below!