Nick and Dariece | March 03, 2016 11:00 PM ET
5 Exciting Ways to Embrace Plovdiv, Bulgaria
Photos by Goats on the Road
The UNESCO listed old town of Plovdiv is just one of the many reasons to travel to Bulgaria's under-the-radar city. This small town is jam-packed with sights, restaurants and activities to keep a traveler busy for a week, or more. During our trip to Plovdiv, we met people who had planned on spending a few nights, but ended up staying for two weeks. We too extended our trip from three nights to five! There's just something about little Plovdiv that makes you want to linger...
Here are some of the top things to do in Plovdiv:
Wine Tours
Within a mere 15 to 20-minute drive from the city, you can be sniffing, swirling and sipping on fantastic wines! There are 90 wineries within 50 miles of the city, many of which are small boutique estates. You can visit the wineries independently, but we recommend that you go on a tour so that you can enjoy all of the samples of wine without having to worry about driving back to the city afterwards. After all, in Bulgaria, the "tastings" are more like full-sized glasses of wine.
READ MORE: Europe: What Backpackers Should Know Before They Go
Check out Bulgaria Wine Tours. They are affordable and will create a custom day based on what you are interested in. The wineries of Villa Yustina and Starata Izba Parvenetz are completely different from one another, yet both offer wine aficionados a wonderful experience.
Visiting Roman Ruins
A unique aspect of Plovdiv is that there are Roman ruins literally in the middle of town. Here's how to find them: At one end of the pedestrian street, you can see ruins, which have been partially excavated. This is a portion of the stadium, most of which still remains buried underneath the walking street! Many of the shop owners actually have portions of these ancient ruins in their basements.
Another popular spot for seeing Roman ruins is the amphitheater, which is actually still in use today. Unfortunately, we were there in the winter, so no shows were scheduled, but in the spring and summer months, you can see live music, plays and opera. Finally, in the old town, at the Rahmet Tepe lookout point, you'll see remnants of an old wall. This is a great lookout spot, popular with locals and tourists.
Bar Hopping
For such a small town, it's surprising that Plovdiv has so many funky bars and restaurants. One neighborhood is especially fun for doing a mini pub crawl. It's called Kapana (The Trap) due to its labyrinth-like lanes, where you could easily get lost, or "trapped."
This area is an excellent spot to sip coffee during the day, and sample craft beers at night. Check out Cat and Mouse Bar and 1890 (a jazz bar). The newly opened Beer Stop Pub is a great spot for some brews as well. For live music, check out Rorschach's Spot, which often has local bands. Spirits are very affordable in Bulgaria, with a beer at a restaurant going for $1.50 and up, and a bottle of wine for around $8. There are also cheaper wines available, but be warned, they come with a brutal hangover!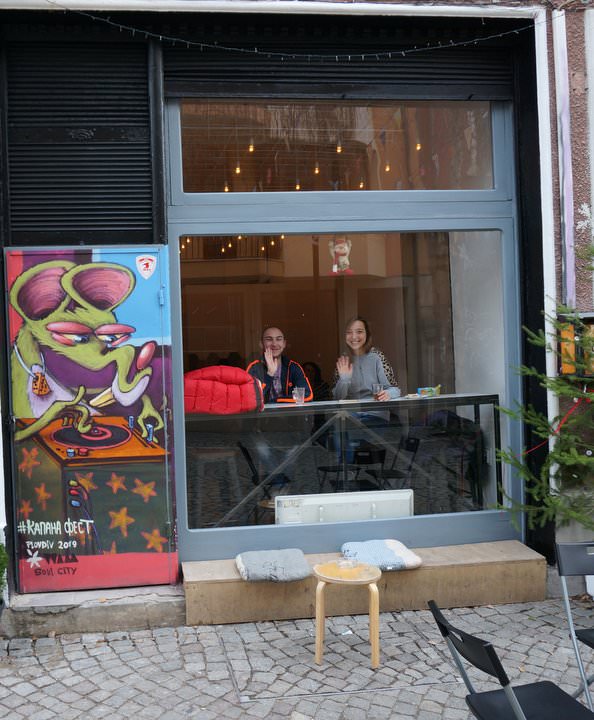 Walking Tour
A free walking tour is offered every day in Plovdiv...365 days a year! This is an excellent opportunity to learn about the city's history and is a great way to get orientated before setting off on your own. The meeting point is in front of the Municipality Building on the walking street. The tour lasts for around two hours, and depending on the time of year, the groups can be very small, or very large. You can join when you like, and leave the tour at any time. But, we recommend staying through to the end.
Strolling on the Pedestrian Street
Every city should have a pedestrian street! The one in Plovdiv is the longest in Europe, spanning one mile. Here you'll find numerous clothing shops, Roman ruins, an ice skating rink in the winter and street performers year-round. This is where everyone comes during the weekends and in the evenings.
READ MORE: 4 of Europe's Most Delectable Food Tours
There are a few coffee shops as well, which spill out onto the street, making it a great people watching spot. Plus, the popular "Alfreddo" Italian gelato bistro is an excellent place to relax and have a light meal. You'll never be bored in Plovdiv! This is one incredible city, which has something for everyone. Check out our quick video of our time in Plovdiv and get inspired to visit!