Nick and Dariece | June 18, 2015 9:00 PM ET
5 Packing Hacks That Beginner and Veteran Travelers Will Love
No matter how much time you've spent traveling the world, you can always improve the way you pack your bag. Some hardcore, ultra lightweight travelers go as far as cutting their toothbrushes in half to save space and weight! We're not going to go that far in this post, but we're going to outline a few awesome hacks that can save you space and weight in your bag.
This can of course also save you money, as you may just be able to squeeze your luggage beneath that pesky "maximum allowance" for your flight.
1. Packing Cubes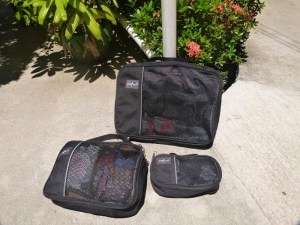 This is by far our favorite packing hack. Now that we use these little zipper squares, we don't know what we did without them. You can fit all of your things and squeeze them tightly into these cubes and they will help to keep your bag compressed and organized.
I personally keep my tops in one, my bottoms in another, and my undergarments in a smaller one. They also help for those moments when you're in a freezing cold airport and you just need to pull out a sweater. Instead of rifling through a suitcase full of randomly folded clothes, you can simply pull out your "tops" packing cube and voila! You're warm.
2. Roll Your Clothes, Don't Fold Them
I believe this concept was first made famous on the Oprah show many years ago, but it is truly one of the easiest space savers you can do when packing. Rolling your clothing may not keep them wrinkle free, but just try to re-pack your bag this way and see how much extra space you end up with. You may be surprised!
3. Go Internal
These days, many travelers, especially those who work on their computers, pack around external hard drives. But as technology evolves, we're able to get more and more space into smaller and smaller packages. In fact, nowadays you can easily fit 2 TB into most computers! There's no need to carry those heavy external hard drives around. Upgrade your travel electronics and go internal. You can pick up a 2TB HDD for a Macbook Pro for under $150.
4. Use The Hoodie Pillow Trick
Big companies have come up will all sorts of ways to help travelers save their necks and get more rest on those long travel days, but these inventions all look ridiculous and they're pretty much useless. All you need is to roll up your hoodie and use it as a pillow. Check out the image below and never pack a silly-looking pillow again.
5. Compartmentalized Electronics Bags
We just picked up the Vanguard Up-Rise and we're glad we did. This bag has Velcro compartments that can be removed and rearranged for the ultimate gadget protection. As digital nomads, we carry around a lot of gear. My Vanguard has a drone, mirrorless camera, GoPro, selfie pole, laptop, all cords, kindle and a 13 inch Macbook Pro and it all fits comfortably, safely and securely in my bag.
Having everything in one place and its own little compartment really makes it easy to pack and to use the gear when I need to. Even though I always carry my electronic bag on me and never check it under buses or planes, I still like to make sure it's well padded and this bag is as protected as they come.
What would you add to this list to make travel life easier?