Nick and Dariece | October 25, 2014 7:00 AM ET
5 Reasons To Teach English in China
China is a fantastic country full of friendly people, beautiful sites, breathtaking scenery and a deep and rich history. So why not live there for a while? Teaching English in China has never been easier and with so many great cities to choose from, with a little bit of research you may just find yourself wanting to move there! Here are 5 reasons to teach English in China.
1. The Students: If you're envisioning a bunch of wild fifth graders throwing pencils at the teacher and yelling obscenities, you're thinking of a Western classroom. Enter a Chinese classroom and you'll be amazed by the level of respect that the students have for their teacher. In China, a laoshi (teacher) is a very prestigious position and one that comes with a certain level of honor. The fact that you're a teacher from another country only makes your position more cherished, and you'll find that not only will your students become attached to you, but you'll also dread bidding them farewell as they move on to another grade.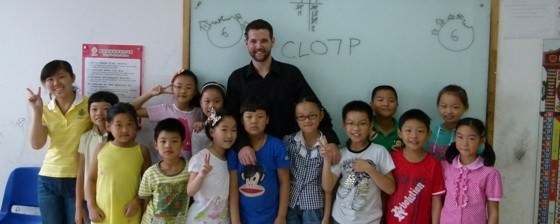 2. The Pay: $1,500 may not sound like a lot of money to survive on each month, but first you need to take into account a few things about your likely contract in China. Most agreements include free housing, often a modern, 1 or 2 bedroom apartment all to yourself.
They also include health insurance, flights to and from China and bonuses at the end of each quarter. This all adds up and you'll soon find out that China is also a very affordable place to live. Think of going out with a group of friends for dinners and beers and only paying about $6 / person! Bus rides cost pennies and taxis will take you huge distances for less than $5. You'll find that your paycheck goes a long way here.
3. The Job Market: These days, there are literally thousands of job openings in China. There are schools searching high and low for people just like you. People who speak English as a first language is one part of the criteria, but in reality, even if you speak it as a second language, you should have no problem finding a job in China.
A university degree is a bonus for schools looking to hire foreign teachers, but it's not a requirement for many, despite what you may read online. Most schools will want you to at least have your TEFL certificate (Teaching English As A Foreign Language Certificate). Luckily, these are easily obtained online through reputable and accredited schools like TEFL247. Click Here to sign up for a course now and get 60 percent off.
4. The Experience: Teaching English in China will likely be one of the most rewarding and exhilarating experiences you will ever have overseas. It's amazing watching your students learn and grow over time, taking kindergarten kids who can barely speak Chinese, and slowly teaching them to speak conversational English is an experience you'll never forget. Having the chance to live in a foreign country is a major life-changing memory and there aren't many places more foreign than China!
5. The Opportunities: Once you've got some experience under your belt, you'll be amazed at the opportunities there are for you to teach English in China, and around the world. Not only will you have a better chance of finding teaching jobs, but tutoring, modeling and sales positions are all plentiful for foreigners in China.
Having the look of an outsider has never been more profitable and there are lots of stories about foreigners being hired simply because they are from another country. This may sound odd, but these jobs tend to pay extremely well!
More and more people are realizing that China is a great destination to work, travel and live, and Teaching English is the ultimate job for immersing yourself in the Chinese culture. Most contracts last a year, which will give you plenty of time to get to know the country and its people and who knows... maybe even speak a little bit of Chinese!
For more about how to find jobs and what teaching English is like, see our Teaching English In China section!