Nick and Dariece | May 12, 2016 11:00 PM ET
5 Things You Must Experience in Vinales Cuba
If you're looking for the real Cuba, you'll find it in Viñales. This small town in the Pinar del Rio Province is the place to go if you're interested in seeing how Cuban people traditionally live in the countryside.
Viñales is known for being an authentic town that (despite tourism), isn't putting on a show for tourists. This town is the real deal! The natural surroundings and slow-paced vibe will draw you in, and you may find you stay longer than planned.
When planning your trip to Cuba, make sure you don't miss out on the town of Viñales and these 5 experiences:
Sunset Viewing Over the Magotes
One of the many unique aspects of Viñales are the magotes dotting the countryside. These isolated, round hills are made from either dolomite, limestone or marble, and jut out of the ground to create the perfect backdrop for photos, and sunset scenes.
Obviously, the higher up you are, the better the sunset views will be. We suggest heading out of town, up the hill (as opposed to into the valley), and finding a quiet spot to enjoy the sun dipping behind the magotes.
If you have a bicycle or a motorbike, it'll be much easier to find a quiet spot. But, if you would rather be surrounded by fellow travelers, you can head to the Finca Agroecologica (farm) and enjoy a drink and conversation as the day comes to an end.
READ MORE: A Mini-Guide to Viñales, Cuba
Visiting a Tobacco Farm
There are a few places in Cuba where tobacco is grown. Viñales happens to be one such place and is an excellent destination for learning about the tobacco planting, and cigar making process.
Los Islenos Farm is a great spot to visit and learn about tobacco production in the area. We stumbled upon this place when we were hiking through the Valle de Silencio, and were able to chat with one of the owners (in English) not only about tobacco farming, but about life in Cuba.
Depending on which time of year you travel to Cuba, you'll be able to see the tobacco leaves either being planted, harvested, dried, or stored. Even if you're not a tobacco lover, puffing on a cigar in the middle of the Viñales countryside in Cuba is a must-do.
Exploring Caves
Just over nine miles west of Viñales is the Santo Tomas Cave, which is the largest cave in Cuba and the second biggest on the American continent! For this cave, you will need to go on a guided tour, which costs just $10, and includes a guide and a helmet with headlamp.
First you'll hike up a steep rocky hill before arriving at the cave's entrance. Make sure to wear good shoes for this adventure. Once inside, there aren't many small spaces, but rather wide open areas - in fact, there are 29 miles of galleries on eight levels. Tourists can only visit a select area however, but this is definitely a highlight and something everyone should experience in Viñales.
Staying in a Casa Particular
In the town of Viñales, practically every homeowner has turned their home into a casa for tourists. Most of the casas here have just 2 rooms available, as the locals still live there as well. This makes the experience different from some of the casas in Havana or Trinidad, where Cubans have rented out their entire home to travelers.
Make sure to enjoy a home-cooked meal in Viñales, as the food here is some of the best you'll have during your trip to Cuba. Roasted chicken, potatoes, salad, plantains, and fresh fruit are just some of the foods available. In order for the families to have time to find, purchase and prepare your dinner, make sure to let the owners know the day before that you would like to eat dinner at the casa.
Hiking and Exploring
Viñales has some stunning farmland, with rust-colored dirt paths meandering in between the crops. Hiking through the farmland is the best way to see the area, meet some local people, and see their traditional farming methods - which includes the usage of an ox and plow.
You'll notice in Viñales that there are small, colorful homes dotting the farmlands, and on the porches of those homes, you'll most likely see rocking chairs. The life on the farm is slow-paced and relaxed, and more often than not, you'll be invited to sit and enjoy a glass of fresh juice, and/or a cigar.
There aren't any "no-go" areas, but just make sure that you stay on the paths and don't trample anyone's crops. Hiking through the farmland will surely be a highlight of your travels in Viñales.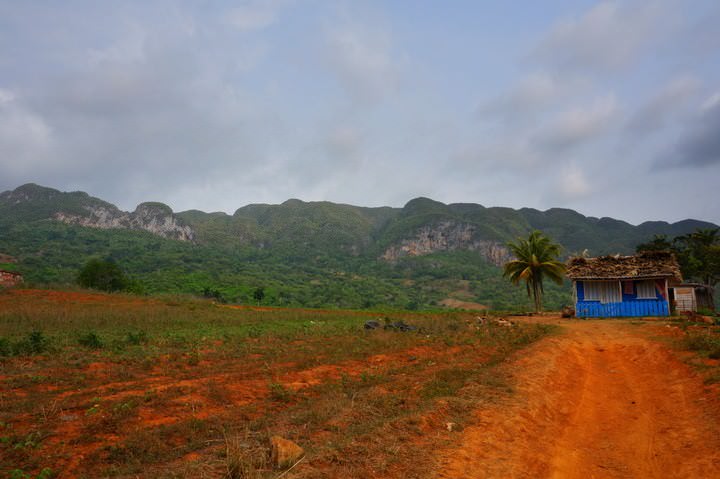 Have you traveled to Cuba? What about Vinales? Tell us about your experience in the comments below!