Nick and Dariece | December 28, 2015 10:00 PM ET
5 Tips For Blending in With The Locals in China
Photos by Goats on the Road
China is a fascinating country, with one of the oldest civilizations on earth. The people here are curious, the architecture is beautiful and the culture is very unique. Whether you're just a traveler passing through, or an expat putting down some temporary roots, you're bound to come across some of the quirky aspects of the Chinese culture, which is all part of the fun!
After living and traveling in China for over a year, we learned a lot about the Chinese way of life, quirks included.
(For more shocking rituals, traditions and games, check out our article here!)
Don't write in red
Writing someone's name in red ink is a definite no-no, as it means that you either want them dead, or that they will die soon. This is because during ancient times, the names of the deceased were written in red on their gravestones. This was hard for us to wrap our heads around as traditionally, the color red represents luck, prosperity and good fortune. People give red envelopes filled with money to newlyweds, which symbolizes good luck, while red lanterns and other decorations of the same color are displayed during festivals.
As a teacher using a whiteboard with various colored markers, we had to really think before writing a student's name on the board!
Chopstick etiquette
Eating with chopsticks can be a difficult task for newbies to China, but on top of learning how to use them, you must remember the do's and don'ts of these wooden utensils. In fact, there are around 10 rules to eating with chopsticks! Here are a few of the main things to think about:
Don't bang the chopsticks on the side of your plate, bowl or glass, either to get someone's attention, or to make a toast (it's not like at a western wedding!) The Chinese think that only poor beggars would do this when begging for a meal.
Never point the sticks towards others at the table, it's rude.
Eat the food that you've chosen, but don't put your mouth around the end of the chopstick to do so, this is both gross (as the food plates are communal), but it's also very impolite and people will assume that you lack proper family education.
One of the most important things to remember is to not leave your chopsticks stuck vertically in bowls, or in your food (rice in particular). The Chinese burn incense sticks for the dead, which are vertical sticks, like chopsticks. Basically this represents death, so don't do it!
Dress for the climate
Chinese people believe that it's bad for your health to go from a hot temperature into a cold one, and vice versa. So, when it's scorching hot outside during the summer months, instead of enjoying some respite from the heat in an air-conditioned building, they will just wear less clothing, put on a fan and drink more water. During the winter months, instead of coming home to a warm house, they will wear their jackets and warm clothing inside.
We found this difficult to deal with. In our apartment in China, we would have the heat on, but once we arrived at the school, the classrooms were freezing cold. We actually taught English in our jackets, boots and gloves!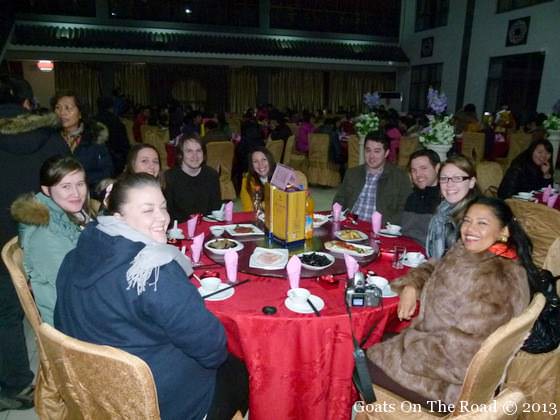 Physical insults are OK
"You're so fat."
"You have a big nose."
"You look ugly today."
Honesty is key when it comes to appearance in China. People tell it like they see it. It's completely normal to say exactly what you think about how your friend looks, no filter needed! However, what the Chinese do find very hurtful is when you insult their intelligence, that's the worst possible thing you could do. This is completely different from the western world, where friends poke fun of each other's intellect all of the time, but if you were to say something about their weight, clothing, or other physical appearance, that would be the end of the world.
When you are born, you are one year old
This is a confusing one! When a baby is born in China, they are automatically a year old. They are never just a day or a month old, but they have already (somehow) been on the earth for a full year. To make matters more confusing, when Chinese New Year comes around (in February), they gain another year! For example, if you were born in January, come New Year, you would be 2 years old, when in fact, you aren't even 2 months old.
This practice started in China, but is widely used by other cultures in East Asia.
Have you come across any unusual cultural quirks while traveling? Share with us below!