Nick and Dariece | January 27, 2015 11:23 AM ET
5 Tips for Saving Big Money while Traveling
You don't have to be a budget traveler to want to keep an eye on your finances while on the road. We all find our own special ways to keep our hard-earned cash in our pocket. The important thing to keep in mind when you're watching your pennies is that you should never limit your enjoyment of travel. If you want to go out for a nice dinner at night, you should be able to do so, without having to figure out if you have enough money left over from your day of spending.
If you travel across the planet and put too many limits on yourself, then you're not really getting the most out of your trip. Here are ten easy ways for you to save money while travelling.
1. Find Free Wi-Fi:
Nowadays, no matter where you are, you should be able to find free Wi-Fi. Internet cafes can charge upwards of $3 an hour to use the internet. This may not sound like a lot, but if you work online or need to go on numerous times per day, those dollars start adding up.
The most common way to get free Wi-Fi is to head to a restaurant or cafe, order a coffee and then spend the day online. But then you have to buy a coffee! Look around town for a community center or library and you should be able to use the computers for free. Another alternative is to sit in a Mcdonald's parking lot and check your emails.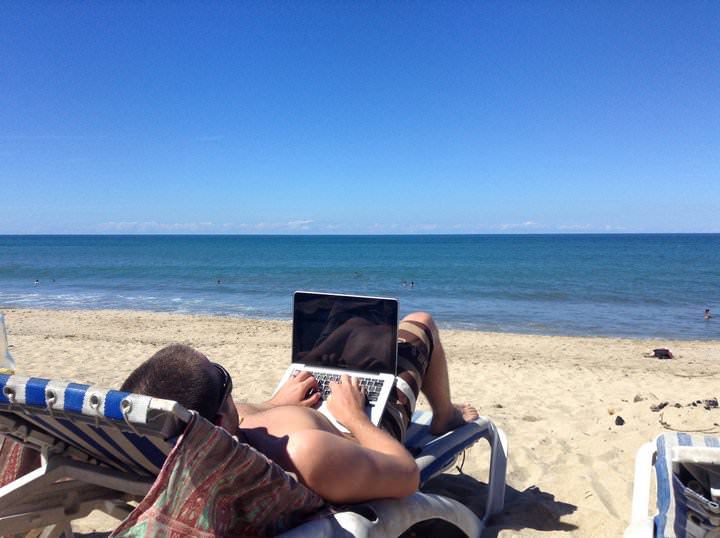 2. Utilize Free Rides:
Before your danger radar goes off, you should be aware that in many countries hitchhiking is legal and commonplace. If you're heading to a nearby town, there's often no reason to pay for an expensive taxi or a local bus. Toss up your thumb and wait for the next ride to pick you up. Hitchhiking is usually faster and can be a lot of fun, you never know who you're going to meet.
Note: In Iran, a thumb turned upwards means the same as the middle finger... so if you're travelling there, don't hitchhike that way!
3. Travel in the Off-Season:
This can be a huge money-saver. During the off-season, many hotels and apartments slash their prices in half and tour companies and travel agents often lower their rates as well. Plus, you should be able to save huge money on your flight to and from the destination. You can't predict the weather these days and you may just end up with a sunnier holiday than you would in peak season.
One thing you can always depend on is the excellent discounts that can be had in the off-season. Click here for information on travelling to the Caribbean in the off-season.
4. Hone Your Bargaining Skills:
Whether you're buying vegetables, souvenirs, taxi rides or tickets to events, you should be aware of when it is appropriate to bargain. If it feels like the vendor may be able to budge a bit on the price, you should be trying to get the item for less. Bargaining can save you big bucks and it can also be a lot of fun. Always have a smile on your face and play the game the way it's been played for thousands of years. This is all part of the fun of shopping abroad.
5. Travel Slower:
We're huge advocates of slow travel. Not only does it cost less, but it gives you the opportunity to have a deeper connection with the places that you visit. Rent an apartment and save huge money on accommodation.
Find your favorite fruit and vegetable salesman who you know as a friend and who always gives you "the good price." Explore the town and make friends who can show you the best local places. This is what travel is all about and the slower you go, the more you'll learn about the destinations you visit and you'll save lots of money along the way.
There you have it! Five easy ways to save money on the road, without limiting the fun of your trip. You'd be surprised at how much money you can save by utilizing the above 5 tips together. Next time you're on a vacation or a world trip, consider slowing down and looking for a few freebies along the way!