Nick and Dariece | May 16, 2016 9:00 PM ET
7 Highlights of a Trip to San Pancho, Mexico
Photos by Goats on the Road
Little San Pancho (or San Francisco), is a beach town on the Pacific Coast of Mexico. Tucked in-between the larger towns of Sayulita to the south, and quiet Lo De Marcos to the north, this unassuming beach destination has many activities, restaurants and adventures to offer travelers. With so many things to see and do in San Pancho, it's hard to narrow it down to just seven highlights, but here are our top choices:
Watching Sunset
The Pacific side of Mexico is the perfect spot for watching the sun go down each night. And in San Pancho, around 6 p.m., it's a bit of a mass exodus from the town center to the beach. Everyone brings a blanket, and some food and drinks, and watches the sun kiss the ocean. Children run around, surfers enjoy their last wave, parents chat and eat and some people even start bonfires! Sunset time in San Pancho is always fun on the beach.
Golfing
Did you know that San Pancho actually has a very popular golf course? For such a small beach town (population: 1,600), it's amazing that the Las Huertas course was built here, but we're glad it was. You can choose between nine and 18 hole rounds, and golf clubs and carts are available for rent. The cost of golfing here is very reasonable at $29 for the green fees and cart, and an extra $7 for clubs. After a great day of golfing, make sure to head to the restaurant and enjoy the views over the Pacific Ocean.
Eating
Eating may sound like a weird highlight for a beach town in Mexico, but the quality of food and the variety of restaurants on offer here is incredible. You would think that there would only be a few local restaurants, but actually, in San Pancho you can find some excellent international dishes.
Maria's is locally owned and operated. The food here is Mexican and international, with good portion sizes and pricing. Dolce Amore has some fantastic Italian food — make sure to try the lasagna. For the best, traditional tacos in town, don't miss Arbolitos, and for tasty seafood meals, eat at Las Palmas, which is located right on the beach. You'll also find many restaurants serving healthy foods like homemade wraps, salads and soups.
Learning Spanish
For those of you who are in town for two weeks or more, consider taking a Spanish language course. When traveling to a new country, it's always a good idea to learn a bit of the local language. The course in San Pancho is run by an American man, who lived in Spain for many years. The cost of a 2.5-week course (three classes a week), including materials is $350.
READ MORE: San Pancho: Under-The-Radar Pacific Coast Paradise
Witnessing the Turtle Release
San Pancho has an amazing conservation program in place for the Olive Ridley and Leatherback turtles. The beach here is a popular nesting area for these turtles in the months of August and September, with over 500 nests a year! Each evening, the conservationists from Grupo Ecologico patrol the beach to collect and move the eggs to their incubators, where the baby turtles will hatch 45 days later. The reason they move the nests is to protect the endangered turtles from poachers and the elements, and to ensure their safe delivery back into the wild.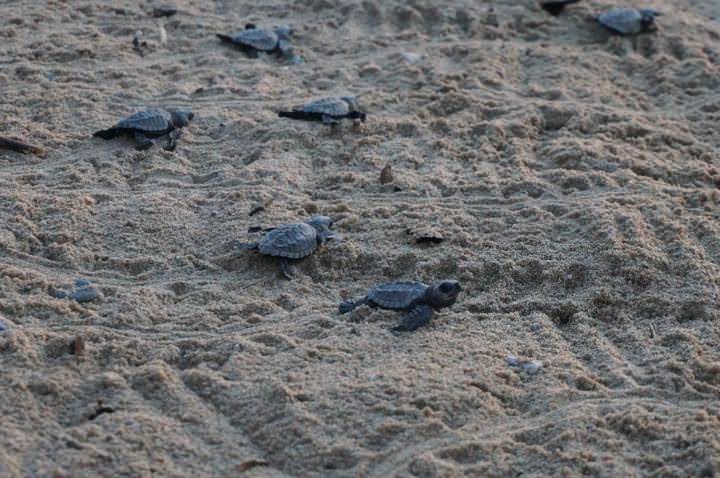 Every evening around sunset, you can watch the baby turtles being released from the conservationists, and see them slowly shuffle their way toward the ocean.
Fiestas in the Plaza
There is one plaza in San Pancho, and if there is going to be a festival or a party of any sort, this is where you'll find it. Look out for advertisements for various events, or ask around at restaurants and shops. If you have a chance to see some traditional dancing, make sure you don't miss it!
The Surfing
If you're a surfer, this is the town to come to. The ocean here is wild and unpredictable. One day it can be completely glass-calm and safe for swimming, while the other days, the swells can be huge. The neighboring towns of Sayulita and Punta de Mita are great surf spots for beginners, but San Pancho is the hotspot for intermediate and pros. Even if you're not into surfing, it's great to watch from the shoreline, with an ice-cold beer in hand.
READ MORE: 5 Underrated Mexican Beaches
San Pancho is a small town with much to offer travelers. It's amazing that this little underrated gem on the Pacific Coast isn't built up like its neighbors... let's hope it stays that way.