Nick and Dariece | September 08, 2016 11:00 PM ET
A Day in Delhi: What To See in 24 Hours
Arriving in India is like being transported to another planet. It is a land of extremes. Beauty and chaos. Noise and serenity. Opulence and squalor. It may take you a few days to adjust to its vortex, but once you get past the culture shock, India will never run out of jaw-dropping things to see and do.
If you have just one day to spend in the capital city, we're sure that you'll be experiencing complete culture shock, but it'll be worth it for the stories you'll have to share when you get back home. There's no place like Delhi.
Here is a glimpse of just a few of the incredible sites that Delhi has to offer:
The Qutb Minar Complex
This UNESCO World Heritage Site is a complex that is stocked full of ancient tombs and intricate monuments. In an attempt to create a symbol of triumph over defeating the last Hindu Kingdom in Delhi, this gigantic Muslim watch tower was built.
At 240 feet, this extraordinary tower is the highest single tower in all of India. The best time to visit is either during the week or in the morning, however if you arrive between 6:30 – 8 p.m., there is a decorative light show every evening.
Baha'i (Lotus) Temple
This is one of the most frequented buildings in the world, with numbers reaching as high as four million visitors every year! This temple is in the shape of a lotus flower, as it represents the commonality to several religions.
The Baha'i faith believes in the oneness of God, religions and mankind. It is a place where all people of any religion are welcome as a place of worship of the universe instead of one particular deity.
Its unique architecture is similar to that of the Sydney Opera House, and is a great place to play around with your camera for some amazing shots.
Jama Masjid
The Jama Masjid is located in the heart of the city and is the largest mosque, holding an astounding 25,000 people! This architectural phenomenon was built between 1644 and 1656 by Shah Jahan, the same man who built the Taj Mahal.
It has three gateways and two minarets standing 132 feet high, and was constructed using alternating strips of red sandstone and white marble. Escape the hustle and bustle of Delhi's streets by visiting this incredible mosque.
For women, make sure you have something to cover yourself up with and beware of scammers lurking near the entrance trying to sell you an entrance ticket. There is no charge to enter the mosque. However, whether or not you plan to use your camera inside, there's no getting around the camera ticket.
There is also the opportunity to climb up one of the minarets (121 stairs) where you will get an amazing view of the city. This requires another small fee for a ticket; however, it is a view like no other!
Chandni Chowk
Just a few steps away from the above mosque is one of the oldest and busiest markets in all of Delhi. It is nothing short of a whirlwind of activity, but experiencing this chaos is something that everyone should do.
A great way to see the mayhem is to hire a cycle rickshaw and see the colorful spectacle fly by.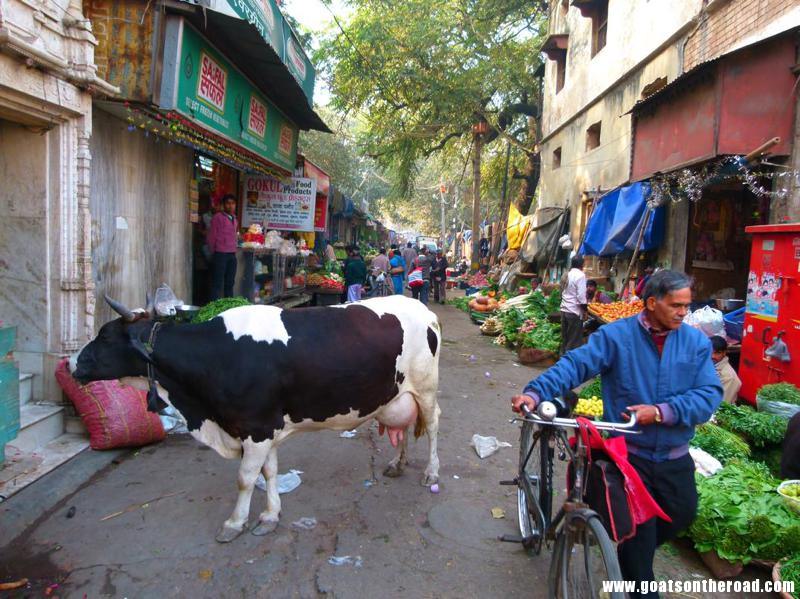 The National Gandhi Museum
The National Gandhi Museum is more than just a display of relics and exhibits. This is the exact location where Mahatma Gandhi was assassinated on Jan. 30, 1948. Concrete footsteps lead to his memorial where you can pay your respects.
As well, you will be able to go into the house where he spent his last 144 days. The rooms are preserved exactly as Gandhi had left them, and the collection of books and memorabilia serve as a reminder how much this one man changed the face of India forever.
There is no shortage of things to see and do in the fascinating city of Delhi. It is hard to choose just a few activities and sites to see, when you could easily spend a week with a full itinerary! With a population of over 10 million people, the city can feel incredibly overwhelming.
But if you look beyond the craziness and accept it as an adventure, you will look back on your time in this city with great fondness and incredible memories.