Nick and Dariece | March 10, 2016 9:00 PM ET
A Guide to Road Tripping South Africa
Photos by Goats on the Road
South Africa is one of the most underrated travel destinations on earth, and the country's rates are greatly discounted at the moment. Not because Expedia is conducting a super sale on, but because of the strong US Dollar. When we visited back in 2012, the conversion was $1 USD = 8 ZAR, but now it's $1 USD = 15.88 ZAR. That's a savings of nearly 50 percent!
A road trip through South Africa should feature prominently on everyone's travel list, and we're going to help you along the process. See: Road Tripping Through South Africa: Must-See Sights on The Western Cape.
Planning
Safety
Even though Cape Town is frequently listed as one of the most dangerous cities in the world, it is unlikely that you will feel unsafe while traveling there. After dark, like anywhere in the world, there are places you shouldn't venture, but if you're smart and have your wits about you, you'll be fine. Outside of the major crime hubs of Johannesburg, St. Petersburg and Cape Town, it's much safer. One rule that you should always follow when road tripping South Africa is to NEVER DRIVE AT NIGHT. It's simply not worth the risk. There are many tales of carjackings after dark, so it's best that you plan your day of driving to end before sunset. See: 5 Tips For a Successful South African Road Trip.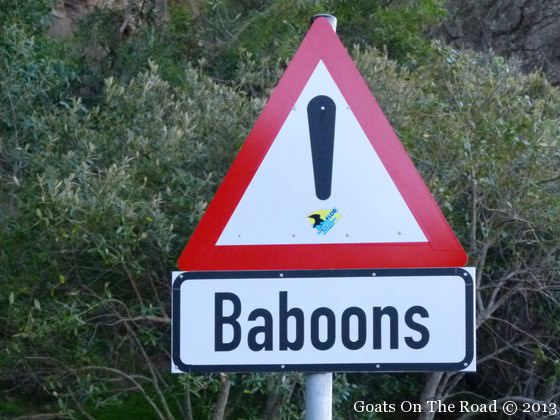 READ MORE: Bangu Masisi Takes The Reins of South African Tourism
It is also wise to only venture into the Soweto area of Jo'Burg on a guided tour. Crime rates can be high here as these are very poverty-stricken areas and crimes of opportunity are not rare. Your $500 camera may prove too tempting to someone who is struggling to feed a family. No matter where you are in South Africa, you should keep your valuables hidden and never look too flashy. If you abide by these few simple rules, you shouldn't have any issues in the country and you'll have nothing but great experiences.
(Note: We road tripped through South Africa for 5 weeks, and had nothing but positive experiences.)
Rental Car
It's definitely worth planning ahead when doing any road trip, and South Africa is no different. Start looking to rent your car early on, perhaps two or three months before arriving in the country. To ensure the best value, use these tips for renting a car and make sure you have a credit card that covers your rental insurance. A long-term rental booked in advance shouldn't cost you more than $20 a day with full insurance. Check out EconomyBookings.com for incredible discounts on rental cars in S.A. (Currently, there are cars for $12 a day if you rent for one month!)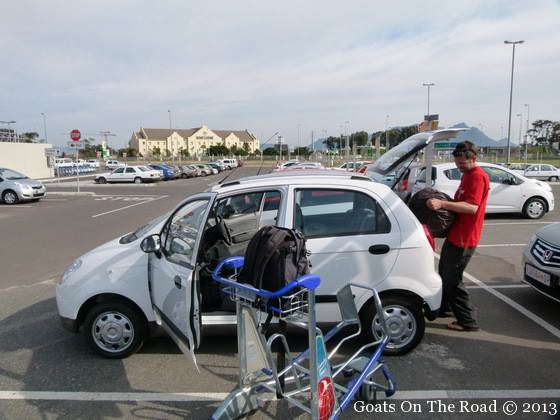 The Costs
Road tripping through South Africa can be as cheap or as expensive as you make it. The below budgets will give you a better understanding of how you will travel the country and what you're main expenses will likely be. Note: The below estimates are assuming that you booked your car long-term and in advance to save money.
Budget: $50 a Day
This is a very basic budget, especially if you've rented a car. It is possible to get by on this if you're camping outside of the "Backpackers" (hostels), cooking for yourself and seriously limiting your day trips, excursions and entrance tickets to sites and national parks.
Mid-Range: $75 a Day
We're a bit biased because we're mid-range travelers ourselves, but we feel that this price range gives you the best value for money. At this budget, you'll be able to bump up your tent lodging to the occasional single room and you'll have more money for exciting activities like animal safaris, scuba diving and grey white breaching tours.
Top-End: $150 a Day-plus
There are enough luxury accommodations, posh restaurants and five-star tours in South Africa for any extravagant budget you can imagine. Basically the sky is the limit at this price range. If you want to spend a week "glamping" (luxury camping) in Kruger National Park, it will be easy to do at the top end level.
Choosing Your Route
South Africa is full of hundreds of scenic highways and must see back roads, but you won't be able to drive on them all. It's best to order a map online or pick one up at the rental company when you arrive. Decide what you're most interested in and plan your itinerary based on your proposed activities.
READ MORE: Best Western Eyes Significant Expansion in South Africa
Wildlife:
If you're interested in wildlife, you'll probably want to plan to visit the Wild Coast and take in South Africa's best national parks like Addo, Imfoluzi and of course Kruger. For whale watching, make sure to visit Hermanus, which is said to have some of the best land-based whale watching in the world.
Wineries: For wineries and wine tastings, you'll want to take in some of South Africa's fascinating wine routes around Robertson, Cape Town and Stellenbosch. The tastings are free at many of the wineries!
Hiking: There is superb hiking and trekking all over S.A, but consider a side trip into Lesotho for some unparalleled scenic trails and mountain views.
South Africa is one of the most jam-packed, amazing countries that we've ever been to. Have you visited? Tell us about your experience!