When planning our trip to the colonial city of Camagüey, we couldn't find much information online, and when we did, it was often negative and basically made it sounds like Camagüey wasn't worth visiting. We're so glad we didn't listen to the reviews on the internet and in our guidebook, because after the days in this eastern Cuban city, we were left wanting more! Here is a mini-guide that will help you during your trip to Camagüey.
Where To Sleep
There are many hotels available in the city, but we highly recommend you choose to stay in casa particulares, which are homestays around Cuba. Check out this casa in Camagüey:
Miriam House
Joaquin de Aguero No. 525
e/25 de Julio y Perucho Figueredo
(53) (32) 282120
Miriam House is located north of the city center, but only a 20 minute walk away. You could always choose to take a cycle-taxi for 2CUC ($2) if you don't feel like walking. The walk from this casa into the city center and main pedestrian street is safe and scenic. To book your casas in Cuba, have a look at HostelsClub.com.
What To See
Camagüey is known for being Cuba's Catholic Soul, which is evident by the many churches and cathedrals in the city. There are many that are worth visiting, but definitely make sure to explore the Sacred Heart of Jesus Cathedral (located in Parque Marti), which has a gothic style to it and is unlike any others that we came across during our travels in Cuba!
Some other churches and cathedrals to check out are the Inglesia de Nuestra Señora de la Merced (located in Plaza de los Trabajadores) and the Inglesia de Nuestra Señora de la Soledad (located on the corner of Republica and Agramonte).
Apart from religious sites, the alleyways are definitely worth noting as must-sees! Zigging and zagging like a medina in Morocco, rather than in the typical Spanish grid-like pattern, are the streets of Camagüey. Wander up and down the alleyways, while getting wonderfully lost. This is where you'll find hidden gems and see local people enjoying themselves. Bring your camera and take your time, as this may be the highlight of your trip to Camagüey.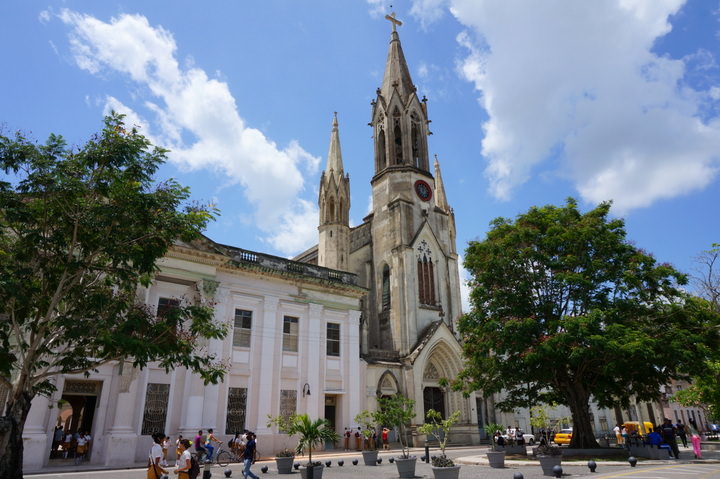 Like most Spanish colonial cities, the plazas and squares are where most people hang out during the day, but especially in the evenings. Surrounding the main plazas, you'll find restaurants, shops and colourful buildings. The top plazas to see in this city are Plaza Del Carmen, Parque Ignacio Agramonte and Plaza San Juan de Dios.
Where to Eat and Drink
Even though Cuba has a bad rap when it comes to its country's cuisine, we personally found the food in Cuba to be very good. Sure, the food isn't as exciting as in Mexico, India or China for example, but it's definitely delicious. Camagüey has many eateries offering local cuisine and Italian fare as well. Give these restaurants a try:
La Isabella Restaurant - Located on theater street, with a theatrical feel inside. The Italian food is good with pizzas starting from $2.35, spaghetti from $2.60 and a bottle of wine for $10. This is a great place, frequented by locals.
La Cava Restaurant & Wine Cellar - Located in the Parque Ignacio Agramonte, below the Cafe Cuidad. This restaurant is a great place to go to beat the heat outside. The service is professional and the tapas and wine are very affordable. Tapas are from $0.80 and mains are from $2.85.
Bodegon Don Cayetano - Located beneath the Soledad Church you'll find this restaurant. The prices are a bit higher than the other restaurants in the city, but the setting is great and oftentimes there is live music and dance here in the evenings.
Getting Around
The most enjoyable way to get around Camagüey is by foot! There is a kilometer-long pedestrian-only walkway, and there are many sidewalks in other areas of the city. However, sometimes the heat can be unbearable or you'll be exhausted from walking for so long. When that happens, you can flag down one of the many cycle-taxis which cost 1 CUC around the city. To get from the center to the northern area of Camagüey, or to the bus station, expect to pay 2 - 3 CUC.
To get to Camagüey from Trinidad, you can take the Viazul bus which costs 15 CUC and takes five hours.
Put Camagüey on Your List!
Even though the plazas, restaurants and alleyways are fantastic in Camagüey, the best part is that there are far fewer tourists than any of the other cities we visited in Cuba! Also, the cost of traveling in this Cuban city is less than others. Tour operators and cycle taxi drivers will give you the correct price right away, which is hard to come by in Cuba! The streets are alive and bustling, the people are friendly and there are many sights to see. Put Camagüey on your list; you won't be disappointed.