Malta is an excellent destination for all types of travelers. If you're interested in history, you'll find many ancient sites to discover. A water-lover? Well, there are numerous activities you can partake in on this Mediterranean island. Feel like wandering around old European towns and sipping on wine in the evenings? That's possible in Malta as well!
The island may be small, but you could spend months traveling in Malta and not see everything.
Where To Stay
Where you choose to stay in Malta will depend on what activities you want to do, and how high your budget is.
This is where you will want to visit for great restaurants, wine bars, churches, plazas and events. It's also a great hub for transportation by bus. However, the cost of hotels here are more than other places on the island.

The Sliema and St. Julian's area is busy! There's a gorgeous seaside promenade that's great for walking. Here you'll find lots of shopping, large grocery stores, many nightclubs and bars, and a wide choice of restaurants. Along the sea it's quite loud and bustling, but if you head up the hill (away from the water), you'll find numerous quiet back streets.
If it's a beach hotel you're after, you will want to have a look at the Mellieha Bay area, or Bugibba / Qawra. All of these areas have hotels, restaurants and bars. The Mellieha Bay is a great spot for swimming and sunbathing on actual sand, while the Bugibba / Qawra area is rocky.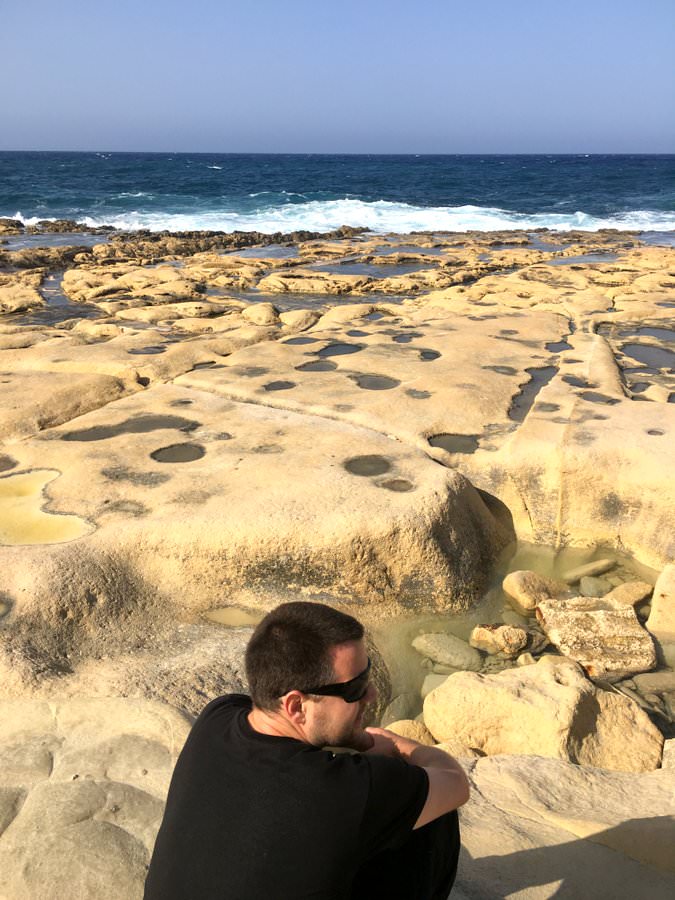 For a great seafront option on St. Paul's Bay at Qawra, have a look at Seashells Resort. For Valletta, check out Tano's Boutique Guesthouse. In the Sliema / St. Julian's the Fortina Spa Resort is in a good location.
For those on a budget, click here for hostels around Malta.
READ MORE: Living in Malta - An Introduction to Our Temporary Home
Where to Eat
The food options in Malta are endless, there are so many restaurants here! With the influence from the Italians to the north, the British rule for over 150 years, and the many immigrants from the Middle East and Northern Africa, you can find lots of fantastic international restaurants here.
Not to mention, the great Maltese food as well!
There are too many restaurants to list, but here are a few must-visits:
HIM: This is an Italian restaurant in Gzira / Sliema, which serves up authentic, wood-fired pizzas. But their real claim to fame is the fact that they serve up freshly made buffalo mozzarella!
New Country Terrace: Located at the harbour on Gozo Island, this restaurant has wonderful panoramic views over the sea to Comino Island. The food here is delicious and well-priced. Try the mussels and the salmon!
Michael's: This Mediterranean restaurant is found in Valletta. Owned by a father / son chef duo, the food here is modern and local and the atmosphere is a little more upscale. Make sure to call for a reservation.
Fonatella: Part of the restaurant is a tea / cake bar with a gorgeous outdoor terrace, with views over Malta. The other area is called Vinum, and it's a wonderful wine bar and restaurant. This restaurant is locatd in the walled city of Mdina.
Ta Marija Restaurant: This is the place to come to sample Maltese food, while enjoying traditional dancing. They offer a set meal here for just $28, with huge portions and free-flowing wine!
Mint: This seafront restaurant is one of our favourites! The food here is organically grown, seasonal, fresh and wholesome. You can find it in Sliema.
What To See and Do:
The list of activities in Malta varies widely, you'll never be bored here.
Hypogeum of Hal-Saflieni: This subterranean structure dates back to 3300 - 3000 BC! It's an ancient cemetery with three levels. Over 7,000 bodies have been found here. Only 80 tourists are allowed to visit per day, making it essential that you book ahead.
Megalithic Temples: These temples are some of the oldest structures in the world! They date back to 3,500 BC and are found on the island of Gozo.
Kayaking: The kayaking around the island of Gozo, and Comino is incredible. Starting in Mgarr, you'll paddle along the coastline of Gozo, before crossing the channel over to Comino and the stunning Blue Lagoon. The rocky coastline is spectacular from the sea. Check out Gozo Adventures for a great tour.
Hiking: There are numerous trails for walking in Malta. You may think that the island is too developed to have great hiking trails, but there are still many wide open areas, with lots of farmland. Check out VisitMalta.com for maps of the color-coded trails.
Church Hopping: There are 359 churches on the islands of Malta and Gozo! Some must-sees are the St. George Basilica in Victoria, The Rotunda in Xewkija, Rotunda of Santa Marija Assunta in Mosta, St. Paul's Cathedral in Mdina and St. John's Cathedral in Valletta.
The Azure Window: Located on the island of Gozo is this natural wonder. The arch is a great place for scuba diving (with the blue hole next to it), and was the location for a Game Of Throne's episode. This is a must-see.
READ MORE: Visiting Gozo Island: Our Weekend Getaway From Malta
Scuba Diving: Speaking of scuba diving, there are numerous shipwrecks to explore, rocky caves and tunnels, and of course, the blue hole and inland sea. The diving in Malta doesn't offer all that much sea life, but it is still outstanding. Check out St. Andrew's Divers Cove on Gozo.
Convinced?
If you haven't traveled to Malta yet, we highly suggest you consider this little island nation for your next holiday! If you're in Europe, you can easily get here with an Air Malta flight. For those of you in North America, you will need to land in a larger hub in Europe first - such as England, Germany, Istanbul or one of the Scandinavian countries - and then proceed to Malta.
We spent two months in Malta and could have stayed longer!