Photos by Goats on the Road
Everyone has heard of the city of Rome. It's one of those iconic cities in our world with much to offer travelers. Rome was founded in 753 BC, and remnants of that ancient time still remain intact and available for tourists to visit. This is one city that everyone should travel to at some point in their lifetime, and we recommend giving yourself a minimum of five nights to see and explore Rome.
As with the city of New York, there are many interesting neighborhoods in Rome. The most popular areas to stay for travelers include: Trastevere, Navona, and near the Roma Termini.
Trastevere is a trendy neighborhood, which is located across the river from the main sights. Navona, Campo de Fiori and the Jewish Ghetto are right in the heart of everything. These areas are within walking distance to the main sites.
The Esquiline Hill neighborhood is where you can find budget accommodations, and is where the main train station (Roma Termini) is located, meaning you'll be well-connected.
READ MORE: Rome's Top 5 Attractions According to Locals
Near the Roma Termini Station, we recommend staying at the Beehive Hostel, which is actually more like a boutique hotel. This stylish, eco-friendly accommodation is run by an American couple and the rooms here and the overall feel is very warm and welcoming. They also have a great on-site cafe serving up wholesome breakfasts.
In Campo de Fiori, the prices of accommodation will be higher than near the train station, as you're paying for the location. If you stay in this neighborhood, you'll be just minutes from the Pantheon, Navona Plaza and the Trevi Fountain.
In this area of Rome, we can recommend the Spanish Suites Campo de' Fiori. The rooms here are in a building from the 1800s! The staff are very friendly and the rooms are very well-kept and modern.
Where to Eat
Food plays an integral part in everyday life in Italy. Italians are very passionate about their food! There are many great places to eat in the city, and some to avoid. Generally, if the restaurant says "tourist menu," or is filled with tourists only, it's best avoided.
Emma Pizzeria
(Address: Via Monte della Farina, 28/29 00186)
This is a great place to go for affordable pizza. The basics start at around $7.50, with the most expensive pizza costing $20. Make sure to try the buffalo mozzarella, the quality and flavor is much higher than regular mozzarella.
I Suppli
(Address: Via san Francesco a Ripa 137, Roma)
When in Rome, you must sample suppli, which is a ball of rice mixed with herbs and tomato sauce with cheese in the center. This ball of rice and cheese is then breaded and deep-fried, melting the cheese into a gooey, stringy center. I Suppli serves quick, cheap and delicious suppli. $1.20 for one.
Borgo 139
(Address: Borgo Pio, 139, Roma)
This shop makes fresh sandwiches/paninis using excellent ingredients. They have roasted pork, which they slice right in front of you, buffalo mozzarella, basil and much more. They have 25 sandwiches to choose from. Most are around $5.50.
What to See and Do
This list could be huge! Rome is a country that is filled with "must-sees." I'll list a few of the top sites here, but make sure to ask the locals for their favorites as well.
Pasta-Making Class: In my opinion, if you're going to be eating your way through Rome, you should know how your food is prepared! A pasta making class is fun, informative and delicious. You can join the class with Walks Of Italy and during the evening, you'll make your own pasta (ravioli and spaghetti) with guidance from a chef, and you'll learn how to prepare the sauces. But most importantly, you'll drink wine all evening and eat your creation at the end!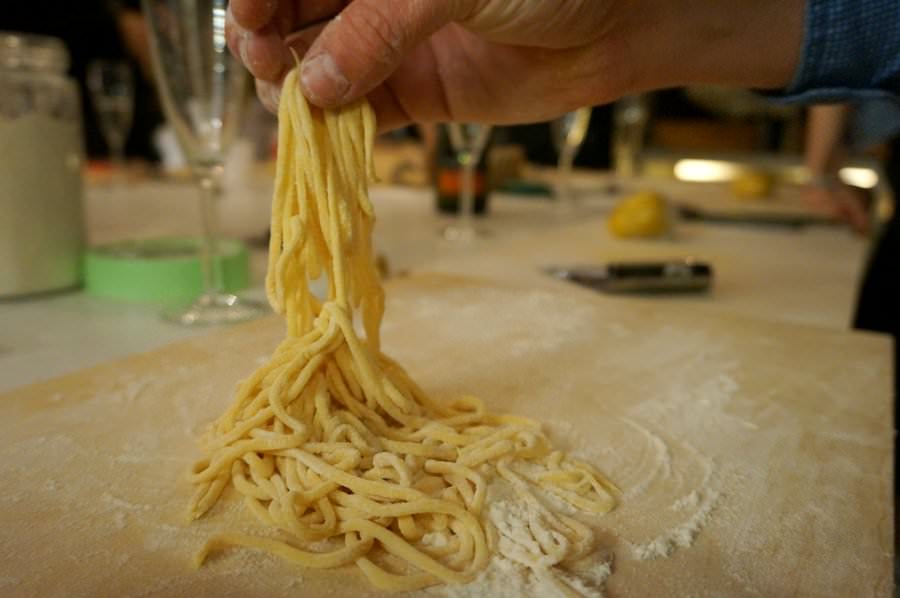 The Pantheon: One of the most amazing buildings anywhere in the world. The Pantheon was built between 118 and 128 AD, and is made from granite columns and a cement dome. To this day, the dome is still the world's largest unreinforced concrete dome. Make sure to visit the inside as well. The entrance is free.
The Colosseum: This oval amphitheater is located right in the center of Rome. The construction of the Colosseum was between 70 and 80 AD. Seeing this building from the outside is one thing, but visiting the inside of the Colosseum is an amazing feeling. Try to join a tour that will allow you to visit the lower levels, where the gladiators actually fought one another, and animals. Click here for an interesting tour with Walks Of Italy.
Walk the Neighborhoods: One of the best things you can do in Rome is to walk around and explore. There are many well-connected bus lines so if you tire of walking, just hop on the bus. The Trastevere area and the Campo de' Fiori/Jewish Ghetto are great places to wander.
The Trevi Fountain: This is one of the most amazing sites that we have ever seen. You may think that it's just a fountain, and who cares? But, it is huge! The carvings and intricate design are incredible, and at the base is a large pool of water. It's said that if you throw a coin over your right shoulder and into the fountain, you will return to Rome.
Vatican City: You'll want to give yourself a lot of time to visit this city-state. This is the Roman Catholic Church's headquarters! It's where the Pope lives, and where you'll find ancient Roman sculptures and the incredible Sistine Chapel.
READ MORE: 10 Photos From Italy That Will Have You Packing Your Bags
Visit a Wine Bar: The really fun thing about Rome is the nightlife, bustling restaurants and wine bars. From around 7-10 p.m. you'll find people having a pre-drink. This is what Romans do before going out for dinner! Glasses of wine can be bought from the bar for around $3, and when the bar is too full, people spill out onto the streets, with glass in hand.
There is so much to see and do in Rome, and of course you'll want to try to do everything, but we suggest leaving some time on your itinerary to just relax and explore. Sitting on steps in a plaza and people watching, strolling through back lanes and popping in for a gelato, or two, is what Rome is all about.