Photos courtesy of Goats on the Road
Shanghai is one of the most recognizable cities in the world. There's skyscrapers towering over temples, McDonald's setting up shop next to noodle stands, and Tang Zhuang suits rubbing shoulders with western attire. Here you'll be able to experience both the ancient and the modern when visiting this bustling metropolis.
Where to Sleep
If you're traveling on business, there are numerous upscale hotels in this city for you to choose from. But if you're backpacking or traveling to Shanghai independently, you'll probably want something a little more budget friendly. Our go-to hostel is:
Mingtown Etour International Hostel
No.55, Jiangyin Road, Huangpu District
The rooms here are spacious and clean, the staff speaks English and there is a good restaurant onsite. It's also within walking distance to the Pedestrian street and the Bund.
Where to Eat
Shanghai is filled with restaurants! Whether you feel like having western, Asian, Indian or Mexican food, you can find it here. However, one of the things that you must try on your trip to Shanghai are the dumplings. This city is known for its xiaolongbao soup dumplings. These steamed or fried morsels are stuffed with meat and aspic, which melts when steamed inside the dumpling to create a savory soupy broth.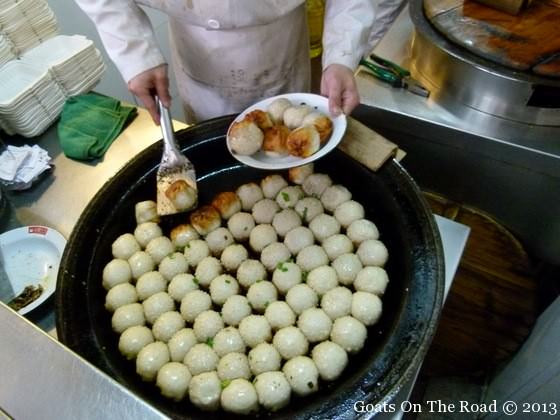 Our recommended dumplings in the city can be found here: Yang's Dumplings located at #97 Huanghe Road (People's Square) — these are fried on the bottom. The dumpling shop right across from there, #99 — these are steamed in bamboo baskets.
Another good restaurant for traditional Chinese food is Nanjing Ding Tai Fung located at Nanjing West Road 1376, Shanghai ShangCheng 1 Floor A, 104 — near Xikang Road.
Definitely make sure to try the street food as well, the noodle dishes are great!
What to See and Do
There are so many things to do in Shanghai. Just sitting around people-watching could be considered a "must-do." There are bars, museums, temples, restaurants, malls, parks, gardens, back streets and much more. Definitely don't miss out on these activities and sights:
Walk the Bund
This promenade is a must-see both during the day and at night. Across the Huangpu River are the towering skyscrapers of the city, which are lit up in the evening. On the promenade side, you can see many old buildings from when the British and French occupied this port.
Visit the Jing'an Temple
Surrounded by modern high rises and malls is this old temple. The cost to enter is 30 RMB, but it's worth it for the peace and calm you'll feel as soon as you enter. This Buddhist Temple isn't to be missed.
Check out the Laocheng (Old Town) Huang Miao Area
Although touristy, the sculptures, architecture and gardens here are beautiful. This is a good spot to come on a hot day. Entrance to the Yuyuan Garden is 40 RMB.
Wander Down The Pedestrian Walking Street
During the day, this street is pretty quiet, but come nighttime, this place is buzzing with people! There are street performers, buildings lit up with bright neon lights and people dancing/ exercising. This pedestrian-only walkway leads all the way down to the Bund.
Dance On The Street
Speaking of dancing ... why not do as the locals do? People gather around in the evenings to follow one leader and perform a choreographed dance, which is done to very loud music. This is a great way to get the heart rate going.
Explore the Old Town
Every city in China has an Old Town area, and the one in Shanghai is incredible. Stepping away from the Bund and leaving the hustle and bustle, you'll enter some alleyways, which is where you'll find the "real" China. This area has crumbling buildings, stunning Chinese architecture and local people living their traditional day-to-day lives. Check out the area around Remin and Zhonghua streets.
Costs and Budget
China is a very affordable destination. Traveling around the country, expect to spend about $75 a day for a couple, including transportation costs in between cities. In the city of Shanghai, if you are staying in a hostel, that will cost you around $10 for a dorm bed and $15 a person for a private room.
Food in Shanghai can be very expensive, or very affordable depending on where you choose to eat. If you're sticking to small eateries, dumplings and noodle stands, then expect to pay between $1-$3 for a meal.
Transport in the city is very good. Most people opt to take the very efficient subway (metro) line. A ride downtown between two stations costs around $0.95, with a "ceiling" price of $1.42. There are many color-coded lines on the metro, so pay attention to where you want to go!
If you're not interested in the metro, you can walk, take the sightseeing bus or a taxi (which is the most expensive option). To cross the river, a normal ferry costs $0.08, while an air-conditioned ferryboat will cost you $0.31. As a solo traveler in the modern city of Shanghai, you could get by on $25 a day — now that's a good deal!
Have you ever been to Shanghai? What did you think of the city? Share in the comments!