Photos by Goats on the Road
Valladolid is a dream destination for tourists looking to visit the Yucatan Peninsula. This city of just 50,000 people offers travelers a more authentic Mexican vacation, complete with traditional food and drink, nature and wilderness, and plenty of activities to keep you fit and busy. Unfortunately (or fortunately, depending on how you look at it), Valladolid is often overlooked by tourists who typically prefer to stay in cities along the coastline. After reading this mini-guide with our tips and pictures of this inland urban area, we're sure that Valladolid will be on your travel radar!
READ MORE: 15 Photos That Will Make You Want To Visit Valladolid
Where to Stay
For such a small city, the accommodation options in Valladolid are plentiful, and whether you're looking for a budget hostel, or a traditional casa, you'll be able to find it here. These are our top picks:
Casa Hamaca Guesthouse: This guesthouse is run by an American man named Denis, who has been living in Mexico for many years. Denis employs local people, and has many programs in place to help out with the community. He always promotes the culture and encourages his guests to visit many of the traditional sites and shows in Valladolid. The guesthouse is located in the center of town, but feels miles away due to the tall trees and plants providing a barrier from the wind and noise.
The rooms here are all tastefully decorated, and no two are the same. As this guesthouse is called "Casa Hamaca," each room has a hammock strung across it.
Hotel Boutique Casa Quetzel: This boutique hotel is set in an ideal location, just steps from the incredible San Bernardino Convent, and near to many restaurants. It's also set on a quieter back street than most accommodations. The rooms here are spacious, bright and well decorated. There's a kitchen for guest use, and a pool for cooling off.
Hostel Candelaria: If you're looking for a less expensive stay in the city, check out this hostel, which is the most popular one in the city. The rooms here are colorful and clean and there are many common areas — including an outdoor seating and kitchen area. A free breakfast is included in the price, and bikes are available for rent.
Where to Eat
There are many restaurants in Valladolid, most of which serve up traditional, regional dishes. These are our recommendations: Yerbabuena: This is a healthy, vegetarian restaurant in Valladolid — which comes as a welcome relief to those who have been feasting on heavier Mexican meals during their travels. The food here is locally sourced, freshly made and run by two very kind people. The prices are good and the seating in the back garden is perfection.
Conato 1910: This is a smaller restaurant that is set just down the street from Casa Hamaca, near to the Parque Francisco. The food here is a fusion of Mexican, Italian and international, however, the portion sizes are huge, the flavors are spot-on, the prices are excellent and the service is really good as well.
El Meson del Marques: Set around a lovely green courtyard, this restaurant is the place to go to escape the heat! The queso relleno dish is a traditional meal in the Yucatan, and the one on offer at this restaurant is very good, albeit a bit rich. This dish consists of a hollowed out ball of Dutch Edam cheese, which is then stuffed with ground pork and seasonings. After that, it's baked until the cheese is soft, and is covered in a sauce of raisins, chickpeas, onions, tomatoes, olives, capers and peppers. Quite the mix!
Check out the street vendors and smaller eateries for tamales, quesadillas, sopes, soups and tacos.
What To Do 
You'll never be bored in Valladolid. We spent two weeks in just this city alone! There are many activities and things to do in the city itself, plus there are many day trips you can go on.
Go on a cycle tour of the city: For just $30, you can go on a bike tour of Valladolid, which includes a trip to the local market, San Bernardino Convent, the Oxman Cenote, the Village of Dzitnup, and then back to the city to finish the tour off with a shot of traditional Mayan liquor. Check out MexiGo Tours for this trip.
Visit the Zaci Cenote: One really unique aspect of Valladolid is the fact that there is a cenote located right in the city center! At 150 feet wide and 260 feet deep, it's definitely possible to swim here. This is the place to go when the temperatures soar.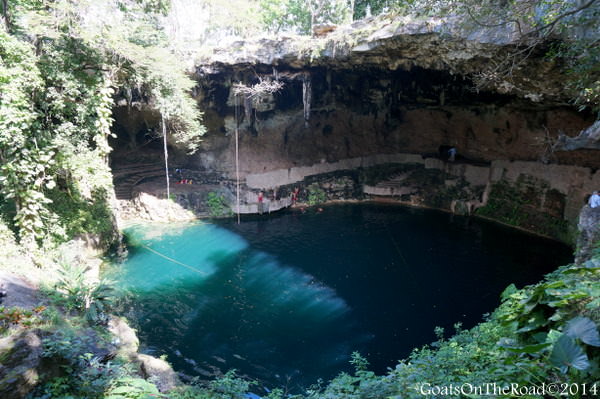 Witness The Momentos Sacrados Mayas Show: In the village of X'ocen, which is located about nine miles from Valladolid, you can see this outdoor theatre performance. This is an excellent way to get a glimpse into the daily lives of the Mayan people. The show is about 1.5 hours long, and we highly recommend it.
Casa Los Vernados: This casa is home to 3,000 pieces of Mexican folk art, making it the largest collection outside of any museum. Daily tours run at 10:30 am, and there is a suggested donation of $5.
Visit Ek Balam: Most travelers opt to visit the Wonder Of The World, Chichen Itza, and while we do recommend that you make time to see that site, don't miss the lesser-visited Ek Balam! You can combine these Mayan ruins with a trip to Rio Lagartos nature reserve and lagoon. A full day tour can be had from Valladolid with MexiGo Tours.
Taste Tequila: Just 10 minutes outside of the city is the Mayapan Distillery. Here you can learn about the tequila making process — from plant to bottle. And of course, you can sample some of the booze!
READ MORE: Do You Believe In Pueblos Magicos?
Valladolid is still one of our favorite destinations in Mexico. It's relaxed and welcoming, and for such a small city, it's amazing how many activities and excursions are on offer.