Nick and Dariece | August 30, 2014 11:00 PM ET
Dining Abroad: 10 Photos To Make You Hungry
Travel is so much more than just meeting local people and visiting famous sights. What about cuisine?! Sampling new dishes from around the world is definitely a huge perk of traveling abroad. Eating western foods may be in your comfort zone, but why not try some other meals from around the globe? Mix things up a bit and give your taste buds something new! Here are 10 photos that we're sure will make you hungry:
1. Chilaquiles in Mexico. If you can believe it, this is actually a breakfast food in Mexico! Not exactly the healthiest option, but definitely an authentic and delicious one.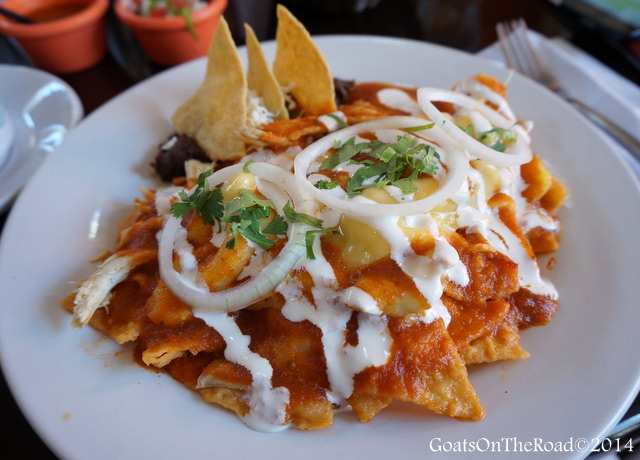 2. Dumplings in China. Authentic Chinese food is some of the best, and most diverse, in the world. They have a variety of dumplings on offer, with these ones being stuffed with rice, steamed and served in a bamboo basket.
3. Pad Thai in Thailand. This is probably the most popular dish in the Land of Smiles and for good reason! With over 15 ingredients, and for only a couple of dollars, this is a fantastic meal — either for lunch or dinner.
4. Grilled Kebab in Turkey. Grilled chicken, lamb or beef are very popular in Turkey, especially in the east of the country. Chunks of meat, or ground meat, are seasoned, skewered and grilled on bbqs. You can find them on the street or in restaurants. Typically, vegetables, rice and salad will accompany the kebab.
5. Fresh Fish in Russia. Lake Baikal in Siberia, Russia, is the deepest lake in the world, which makes for some great fishing options! Enjoying the catch of the day on Olkhon Island is a definite must on your trip to Russia.
6. Curry & Naan Bread in India. Not only is India a fascinating country, but they have some amazing culinary delights on offer. With the majority of the population being vegetarian, many of the dishes don't contain any meat, which doesn't matter because the vegetable, cheese and lentil curries are fantastic. Make sure to order some fluffy naan bread to sop up the last of the curry from the bowl!
7. Ghormeh Sabzi in Iran. Iranian food isn't very popular in the west, which is a shame. Each region of Iran has its own spice of flavourful dishes. The meat used in this meal depends on where in the country you are. Since this ghormeh sabzi was prepared in the desert, the meat of choice was camel!
8. Blackened Barracuda in Grenada. House sitting in Grenada has some wonderful perks, one of which is the fact that fresh fish is available every day! This blackened barracuda with salads is a must try.
9. Lamb Gyro in Greece. Gyros are a pita served either open-faced or as a wrap. Grilled lamb or chicken are the meats of choice, accompanied by tomatoes, onions, cilantro and fresh tzatziki sauce. This is a favorite for lunch.
10. Refried beans, guacamole and eggs in Mexico. The breakfast options in Mexico are fantastic. Refried beans and guacamole are found on almost every plate you order in this flavourful country. Enjoyed with a side of Spanish eggs, it makes for a great start to the day.
Feeling hungry yet?!
The next time you travel somewhere, or the next time you go out for dinner in your home country, why not try something different? Instead of going out for steak and potatoes, how about visiting the newest Indian, Chinese or Mexican restaurant? Just some food for thought.
Read on: For more culinary delights, check out Must-Try Meals From Around The Globe or Mexican Food: 16 Must-Try Dishes in the Yucatan.
Have you tried any of these foods before? Share with us in the comments below!