Photos by Goats on the Road
If you've ever watched a "Game of Thrones" episode, you will have seen Croatia's ancient city, as many of the scenes from that series are filmed here. In fact, King's Landing is Dubrovnik!
Choosing this city as a location for the TV show must have been a no-brainer as it is brimming with amazing architecture. You'll find thick outer walls, fortresses and a beautiful old town sporting cobblestone walkways.
When we arrived in Dubrovnik, it was pouring rain. Yet, even through the downpour, we could tell that this was a special place. We entered through Vrata od Pila (Pila Gate) on the west side of the city, and walked over a drawbridge to enter the fortified old town. This portion of the city is set on a rocky outcropping over the Adriatic Sea, with 6,365 feet of uninterrupted stone walls surrounding the Grad (city).
READ MORE: 'Star Wars Episode VIII': Inside Dubrovnik and Other Filming Locations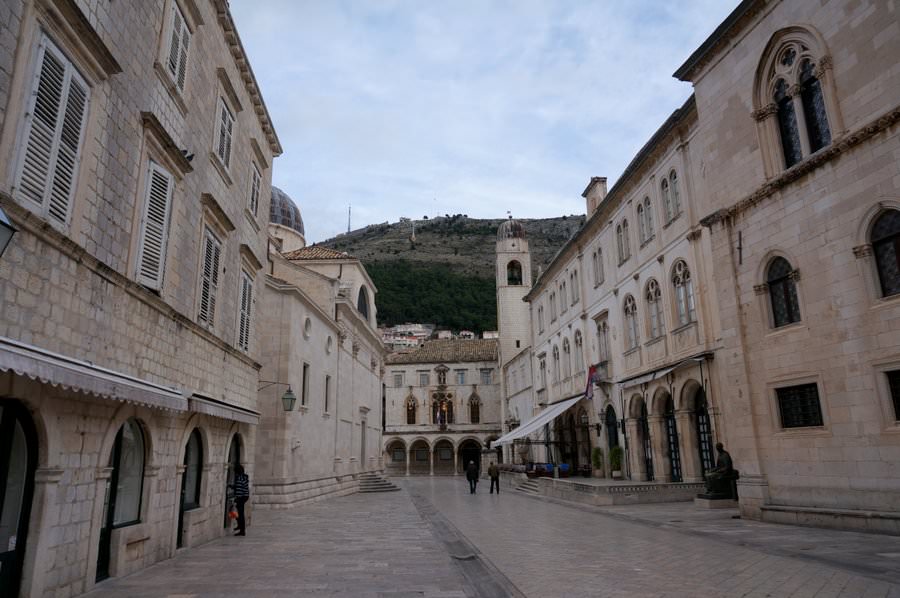 Even though we were getting soaking wet and our backpacks were feeling heavier by the second, we were in no rush to get to our apartment (which was probably a good thing, as the marble streets were very slippery when wet).
Everywhere we turned was a beautiful archway, an ornate church or fort walls to stare at. We arrived at Celenga Apartments completely drenched, but that didn't matter, we were in Dubrovnik! Once the rain subsided, we went out exploring and were right about this city, it is magical.
First on the agenda was getting wonderfully lost. The great thing about the old town is that it's pedestrian-only! You can wander around without having to worry about getting hit by a car while you're gazing up in awe at the beautiful buildings. The main road, The Stradun, runs from west to east through the old town, and off of that main road you'll find many little narrow alleyways.
We decided to go north from the Stradun and found ourselves hiking up many stone-cut steps before reaching the top. The homes here are still occupied by local people, although many of them have turned their homes into apartments for tourists. We were here in the off-season, though, so there were hardly any travelers around, just local people enjoying the day.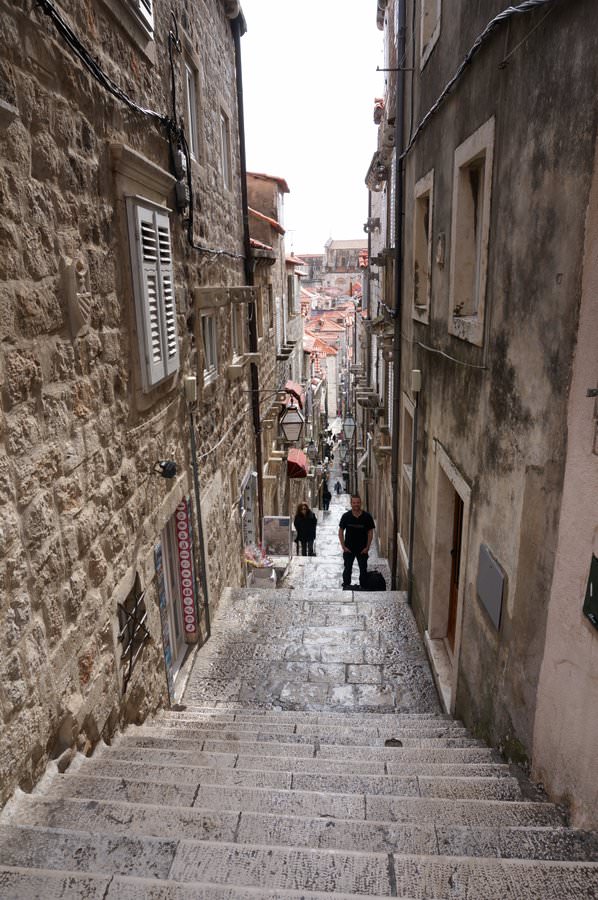 Laundry was hanging from drying racks above the streets (even though it was raining!), many cats scurried by, plants and trees wound their way up the stone walls, and little shops with lanterns hanging out front were plentiful.
Walking around the old town's neighborhood is a must, but you must also head down to the water's edge. The port is a bustling place with men fishing off of the rocks, and tour boats heading in and out. This is also the place where you can hire a boat to take you to the nearby islands for a day trip.
On the south end of the city, which is right along the water's edge, you'll find some excellent bars right on the rocks! Walk through a little hole in the wall and you'll find yourself on the outside of the fort walls, and at a bustling bar with incredible views. Prices here are higher than at other bars, but it's worth every penny.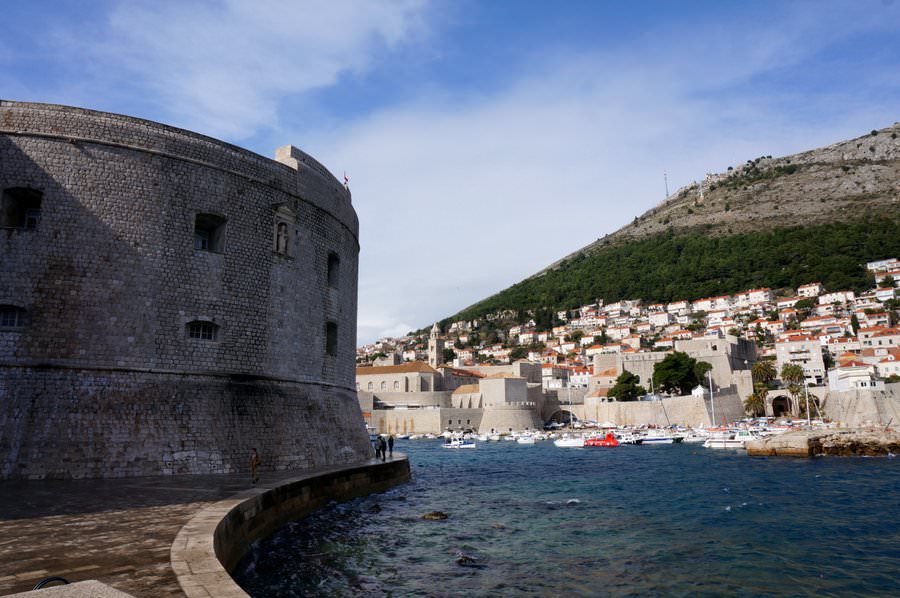 Apart from walking through the unique alleyways and exploring the seaside, we made our way outside of the walls to the Gradac Park. The old town is incredible, but we always love finding natural, tree-filled spots for walking. This area turned out to be so much more than just a park. The views from here looking back over the old town and of the Lovrijenac (Lawrence) Fortress are spectacular! This fort is often called Dubrovnik's Gibraltar, and is definitely a site to see.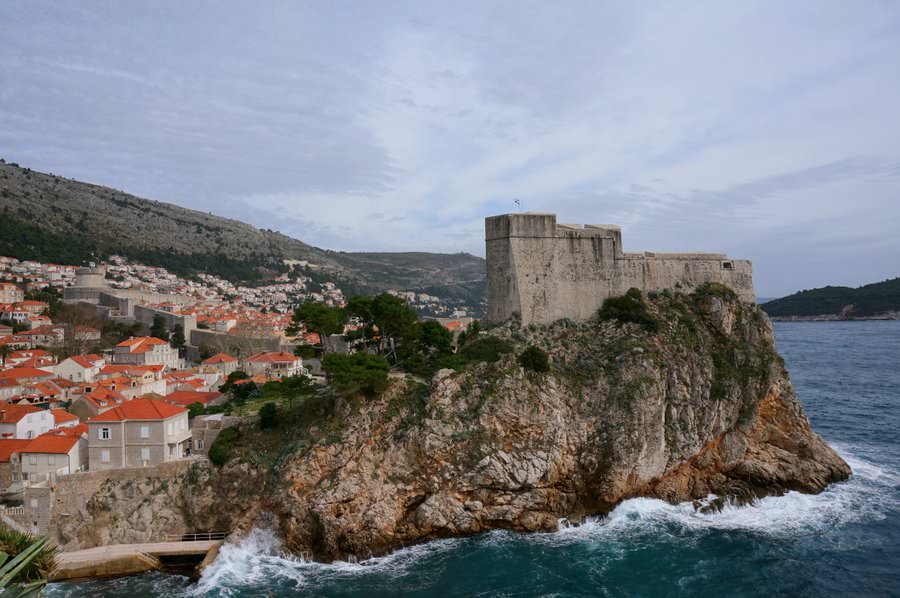 After gawking at the fort and views of the city, we entered into the lush park. Lining the walkways were trees, plants and benches for sitting. There are two ways to take, one meanders closer to the water's edge, while the other one takes you uphill into the forest area. Another option is to go left down a steep hill, as opposed to entering into the actual park. This is where you'll find a small cemetery, a church, and many jagged rocks, with some flat spaces dispersed throughout. During the summer months, this is a good spot for sunbathing and swimming.
READ MORE: Top 5 Highlights of Split, Croatia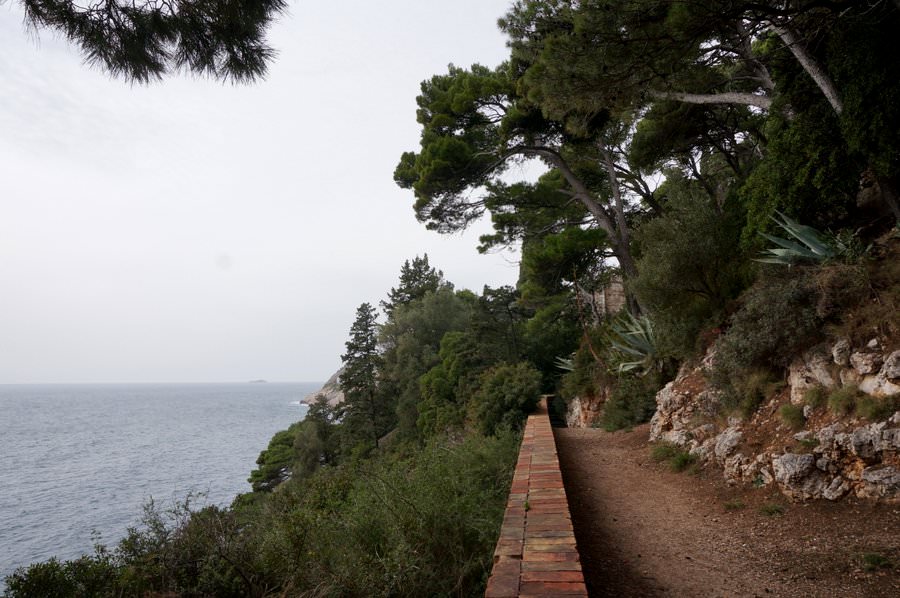 Seeing the nature and the forts is definitely a must during your trip, but we also enjoyed visiting the incredible cathedrals, monasteries and palaces. Even though we visited during the offseason, we still found many incredible things to do. Dubrovnik is something out of a fairytale. It truly is unlike anywhere we have ever been before.
If you're planning a trip to the Mediterranean any time soon, make sure that Dubrovnik is planted firmly on your itinerary. It won't disappoint.