Nick and Dariece | June 23, 2016 9:00 PM ET
Exploring The Gobi Desert in Mongolia: A How-To Guide
Photos by Goats on the Road
The Gobi Desert is one of the most interesting places we've ever visited. Whether you're a fan of deserts or not, if you're traveling to Mongolia, the Gobi Desert should be high on your travel itinerary. The Gobi spans two countries (China and Mongolia), covers 1.3 million square kilometers, and is the fifth largest desert in the world. Visiting this incredible place is best done from the capital city of Ulan Bator. Here's how to arrange your Gobi Desert Tour.
Finding A Tour Operator
This is the most important part of the planning process. There are some reputable companies, and some that are best avoided. Make sure to do your research before agreeing to join a tour. Also, don't book this ahead of time from your home country, as the costs will be significantly higher than if you reserve in Mongolia. The best way to go about finding a driver and guide for your Gobi trip is to ask around at your hostel or hotel, or head into a travel/tour agency in Ulan Bator. During our trip, we were told a few horror stories from travelers who went with Golden Gobi, so we chose to avoid them.
READ MORE: 5 Countries You Never Thought You'd Visit ... Until Now!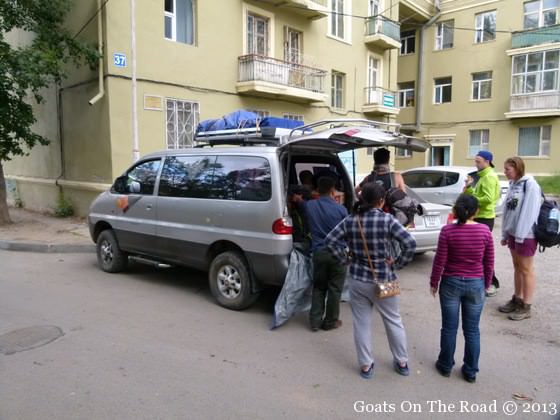 We ended up choosing to arrange our tour through our hostel, Sun Path Guesthouse. Except for the fact that we wished our guide knew a few more facts, the tour was excellent. Another company that gets glowing reviews is Ger-to-Ger. Always check with your fellow travelers, look at travel blogs online and do a TripAdvisor search before booking your trip. As a reference, we paid $45 per person per day, and there were six of us. We did bargain the price down, and we went for six days instead of seven. This price included everything.
What To Bring On The Tour
Once you've figured out how you're going to get to the desert, you'll want to think about what to bring with you. Your food and water will be covered, but there are some other necessities:
1. Moist Towelettes
Unless you're on a luxury trip, there won't be any showers in the desert. You'll be able to find a hose and a washbasin, but that's about it. Bring some moist towelettes to wipe the dust off of yourself during the day. These are a lifesaver.
2. Toilet Paper
The ger (yurt) camps don't have any.
3. A flashlight or headlamp
For those late-night walks to the outhouse.
4. Entertainment
A deck of cards is a good idea, so is a book and some music.
5. Sleeping Bag
The gers will have blankets for you to use ... but who knows when they were last washed. Plus, they often smell like goats.
6. Snacks and Water
Meals are included and for our trip, 1.5L of water per person was included. But, for us, this just wasn't enough. We suggest bringing some extra water (it's best to be over prepared in the desert), and some snacks for those in-between meal times, and for the road trip.
The Sights and Activities
The Gobi Desert is a very unique place. Here you'll find sand dunes, rocky mountains, towering cliffs, and a gorge with a river running through it (which is actually covered in ice for 10 months out of the year!). The terrain in the Gobi is incredible. During a typical week-long trip, these will be the highlights/stops on your tour:
1. The Flaming Cliffs
These cliffs jut out of the ground and when the sun hits them just right, they take on a reddish (flaming) hue. This is also the first place where dinosaur eggs were discovered.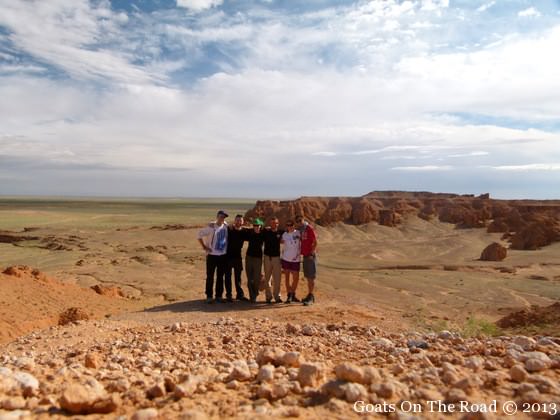 2. Sand Dunes
You can ride a camel to the dunes if you like, or walk. Hiking around the dunes is amazing, make sure to stay up there for views of sunset!
3. Yolyn Am Gorge
This gorge is covered in ice for 10 months of the year! If you're there when it's not covered in ice, you can walk through the beautiful gorge, or go on a horseback riding trip.
4. Rock Temple with Caves
This beautiful spot is where the Monks hid in the 1930s when the Mongolian Soviet government was attempting to kill all of them.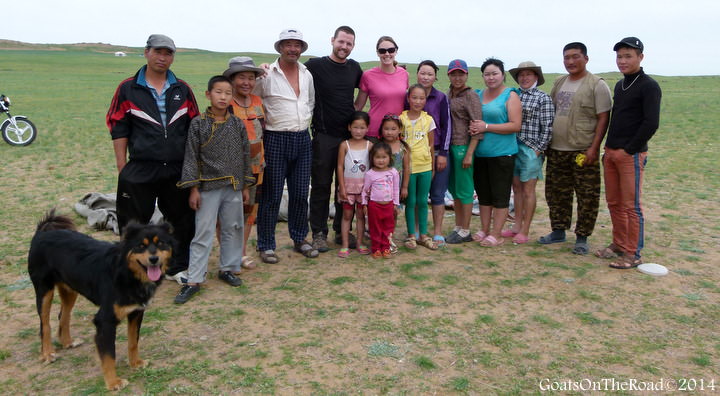 READ MORE: 3 Great Hiking Destinations That Won't Break the Bank
These are some of the stops that will be on your itinerary, but the true highlights will be all of the random, in-between things that happen. You'll probably sample the local fermented mare's milk. You may be able to try making traditional dumplings. You'll meet many people and be invited into their gers. You'll probably pass by some nomadic families who are building their ger from scratch — and you can help them out. The unplanned events are the best!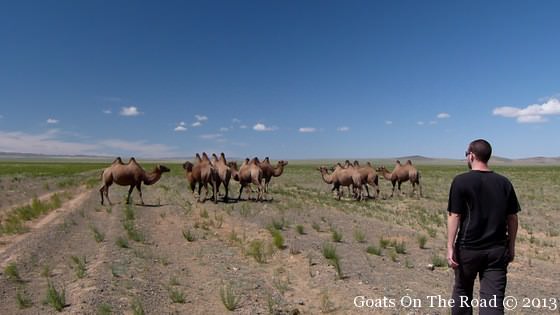 The Gobi Desert is a magical place, and although a lot of time will be spent in the van (around six hours every day), it's worth it when you arrive at your ger, in the middle of nowhere and are able to mingle with the nomadic people. Don't miss out on the Gobi!