Nick and Dariece | December 10, 2014 11:00 PM ET
Fishing With A 70-Year-Old Man in Kyrgyzstan
While we were travelling through Central Asia last year, we had so many unique experiences, but one that stood out in my mind was my fishing trip with a 70-year-old Kyrgyz man named Batash in the town of Arslanbob, Kyrgyzstan. Rarely do I meet someone who shares my passion for fishing, but this man was a real master at his own art of rod and hook.
We met in the center of town and hopped in a rickety old car (typical of the vehicles in Kyrgyzstan) and headed out towards the river with the Kyrgyz techno music blasting. We had a guide, Lechen, who acted as a translator and through him we learned that our new friend had been fishing the waters for over 40 years.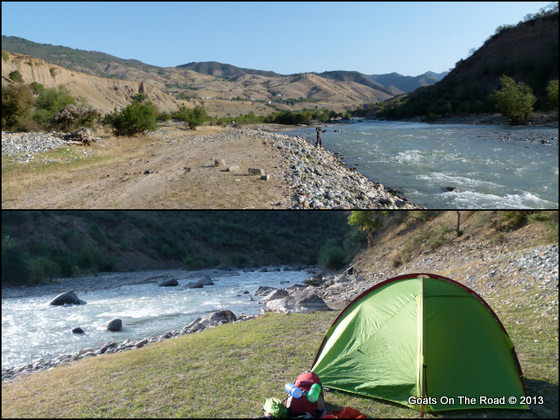 When we arrived at the river, Batash and I quickly readied our rods. My set up was slightly different. I had been traveling with a 9 foot, 6 weight fly rod, complete with tied flies and a dry line. Batash looked at the thick, opaque yellow line and explained that it wouldn't work because the fish would see it. Through our translator I explained to him that the last 8 feet of the line is clear and the fish only see the hook.
While I tied my flies to my line, Batash was busy collecting strips of bamboo-like wood. When I asked him why he had such a large bundle of timber, he took out his knife, cut into the tube-shaped stick and revealed a pudgy grub hidden inside. He then took the squirming worm and placed it on his hook with a smile. No translation needed.
Batash and I casted side by side for hours. The roar of the river, the wind in the trees and the chirping of forest birds was the only music we had now and we both reveled in the nature. Without any common words between us, I could tell that we were both in our element. My yellow line dancing over the slow-moving water with each cast proved mesmerizing for Batash. He was definitely interested in this new idea of fly fishing.
After a few hours with no luck, we decided to switch rods and I was able to attempt to teach Batash how to fly fish. Despite my best efforts, he was convinced that his way was better and quickly returned to his old-fashioned rod and worm covered hook.
Check out our quick video of this amazing fishing trip (skip to 2:43 to meet our guides)!
Our first day of fishing was unsuccessful and I explained to Batash that I thought that his river had no fish in it. He scowled and explained that it was just a slow day and he would show me tomorrow.
We set up camp right next to the river and as the sun went down, Batash and Lechen lit a fire and cooked us up a delicious meal of kababs, salad and bread. Even though we had eaten hundreds of kababs in the region, these ones tasted the best because they were cooked on a fire and eaten under the stars in the middle of nowhere!
Enjoying The Campfire, A Great End To A Great Day
We sat up with our two new friends, talking and laughing. We learned that Batash used to be a hunter and he had seen dozens of snow leopards in his day. He also spoke of his time in the war and how life for the Kyrgyz people changed after the Russians left. It was amazing to talk to a man with so much life experience and Dariece and I both felt inspired and honored to hear such incredible stories.
That night we slept in our tents, under a sky freckled with an uncountable number of stars. When the sun was rising the next morning, we awoke to the smell of eggs and potatoes cooking on the fire.
After a quick meal we were back on the water. We fished for hours, but still came up with nothing! Batash and I figured that perhaps we were bad luck for each other, so we separated. He went far down the river and I headed upstream.
By around one in the afternoon, the sun was getting too hot to really enjoy fishing. Our faces were reddening, and my arms were tiring, so Dariece and I headed back downstream to look for Batash and Lechen.
As we approached the two men I noticed that Batash was smiling. His gold-plated teeth were gleaming in the afternoon sun and the creases in his weathered face were showing the years that his stories had told us about the night before. Batash had caught a fish. A very small fish, but a fish nonetheless. He glowed with pride as he handed me the tiny fish and explained to me in Kyrgyz that he was right all along, there are fish in Kyrgyzstan.
As the sun intensified, we packed up the car and headed back to Arslanbob. The raw nature of our lovely little camping spot slowly disappeared behind us and again the Kyrgyz techno music blasted through the blown speakers of our tiny little car. I held the bottle with the tiny fish that Batash had caught because he insisted that I take it with me and cook it that night.
But the fish was not the only thing I took back from this trip. I took back a new friend in Batash and an amazing experience that I will never forget. I'm sure, as I'm writing this, Batash is back at his favorite river casting his grub-covered hook into the rushing water and I just hope that one day I can return to Kyrgyzstan and join him for another day of fishing. But next time... I hope we have better luck.