Nick and Dariece | July 09, 2015 1:20 PM ET
Grenada: The Ultimate Destination for Water Activities
We're currently pet-sitting and house-sitting in Grenada, and will be on this incredible island for five months. We were also here last year for seven months...and yet, we wanted to come back for more. That's definitely saying something about how amazing this Caribbean jewel is!
Many people envision pristine beaches and lush jungle, and while that's true, Grenada also has some adventures waiting for you on (and under) the water!
Deep Sea Fishing
In January, the annual Billfish tournament takes place, with the YesAye boat captained by Gary Clifford, doing quite well each year. The term "billfish" includes sailfish, marlin and swordfish, and although these are the most sought after fish around Grenada, you can also catch barracuda, mahi-mahi and tuna.
Even if you're not an avid fisherman, you can still head out on a half-day tour on the YesAye. Who knows; maybe you'll get lucky and catch yourself some dinner for the night.
Kayaking
There's an amazing kayaking company here called Conservation Kayak, which is run by two very knowledgeable guides. The trips take you around the coastline to show you some of Grenada's beautiful nature. The kayak routes vary, but each of them starts at a beautiful marina called Whisper Cove, and continues on to show you Hog Island, around Calivigny Island, Woburn Bay, and more. Getting out on the water is a great way to see Grenada's coastline, mangroves and ecosystem.
Scuba Diving
Grenada isn't really known internationally for its scuba diving, but it soon will be! The reefs are healthy, the shipwrecks are interesting and the marine life is plentiful. There are also underwater sculptures that you can visit. There are many conservation efforts in place here, but one that is especially interesting is the artificial reef that Dive Grenada is creating. Basically, they have sunk cement blocks in the shape of a pyramid in the hopes that coral starts to grow there, which will in turn start the growth of a new reef. So far, it's actually working quite well, and people are becoming aware of the importance of fish sustainability and biodiversity.
Check out our article and video of the awesome dive sites around Grenada!
Sailing
The Caribbean is known for being a hot sailing destination, and for those who make it as far south as Grenada, you will be in for a treat! If you don't have your own sailboat or yacht, you can always hire one for a day trip, or longer. Check out Footloose Caribbean Yacht Charter and book yourself a trip to the neighboring islands, or just a day of sailing up the coastline of Grenada. Being out on the water is magical, and being able to stop for snorkeling in the bays, BBQ lunch on the boat, and watching the sun set over the sea as you're returning back to the port, is an experience everyone should have.
To see what a day of sailing the gorgeous Caribbean Seas looks like, check out our article and video here.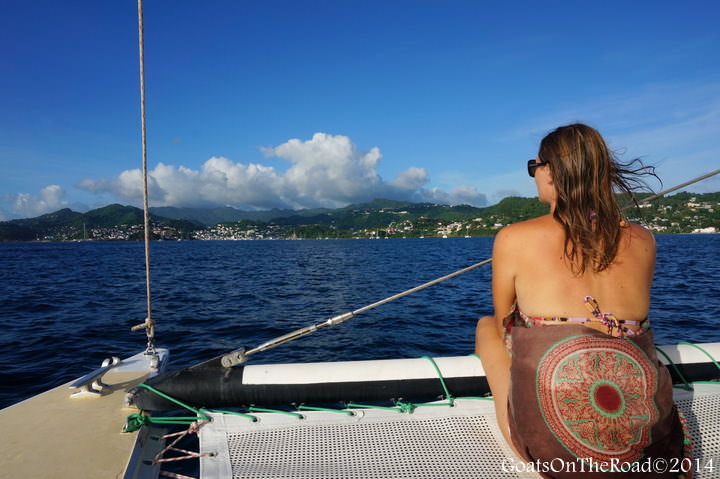 Whale Watching
Seeing animals in their natural habitat is such an incredible feeling. Year round you can spot pilot, bryde's, sperm, pygmy and sei whales, but between the months of December and April, you can also see orcas, curvier beaked and humpback! Friendly dolphins also frequent the waters. Check out First Impressions and book yourself a trip aboard their catamaran to spot these beautiful creatures.
Grenada might be a small country, but it's filled with lots of activities to keep visitors and residents busy year-round. With the Atlantic Ocean on one side and the Caribbean Sea on the other, this is a very diverse island, one that should display prominently on your travel bucket list!
For more information on Grenada, check out:
The Ultimate Guide to Traveling Grenada
61 Awesome Things To Do in Grenada