Nick and Dariece | January 11, 2016 11:00 PM ET
Happy Island: The Caribbean's Ultimate Beach Bar
Photos by Goats on the Road
When planning our trip to Saint Vincent and the Grenadines, we learned about an island made out of conch shells (or lambi shells as they call it in the Caribbean). As you can imagine, this immediately piqued our interest. And then when we heard the islet was home to a bar, we were even more intrigued, and couldn't wait to see this unique atoll for ourselves!
Located a little over 300 feet offshore from Union Island in the Grenadines is the aptly named Happy Island, created by a man named Janti who was an environmental officer. As tourism picked up in SVG, he was tasked with cleaning up the large number of discarded conch shells littering the beaches.
Luckily for all of us, Janti came up with an excellent disposal idea for all of the seashells. He piled up thousands of them in the sea, one on top of another until the mound became big enough to accommodate a couple of chairs and a small bar!

To keep the structure sturdy, he added some cement to bind all of the shells together. The little bar was opened in 2002 and has since slowly progressed into a larger structure. The conch shells still comprise the main frame of the bar, but more cement surfaces have been added ... as well as a room for Janti's sleeping quarters. That's right, he now lives out on the island! He also decided to add two more rooms for guests to sleep in if they've had a few too many rum punches that night.
RELATED: St. Vincent and the Grenadines are in the Small Ship Spotlight
The island is in a great location as there is a reef protecting the bar from large waves and stormy seas. Because of the reef, the water surrounding Happy Island is calm and great for a quick swim. From the island, you'll have views of the gorgeous (and exclusive) Palm Island, Union Island and Tobago Cays — which are known as being the jewels of the Caribbean.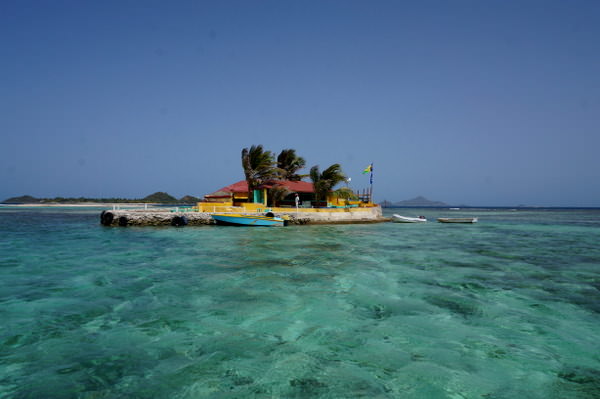 When we visited, we hopped on a taxi boat to take us across from Union Island, which was only about a five-minute ride. Janti, who is a Rasta and self-described aristocrat, greeted us. He told stories of how the island came to be, while pouring us some pina coladas and rum cocktails. Caribbean music was blasting from the speakers and a full boatload of people from the nearby island of Carriacou came by for a drink and some dancing.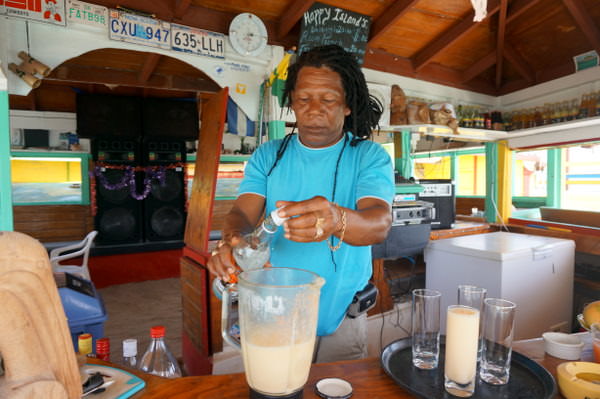 The vibe out on this little island was incredible! I'd be surprised if the music, dancing and laughter from all of us wasn't heard back on Union Island. There isn't any food available here — although if you called ahead, perhaps Janti could arrange something for you.
Drinks are very affordable, especially for the amount of booze added to them. Plus, you can't put a price on the locale of this watering hole. The setting is incredible. Cocktails are 20ECD ($7.40) each.
RELATED: A Digital Caribbean Slide Show For 2015
This is the ultimate beach bar (if it can be classified as that) in the Caribbean, or anywhere in the world for that matter. Whether you're sailing through the Grenadines, visiting the islands on a cruise ship or traveling independently, we highly recommend stopping here. Even though there have been some additions to the island since its creation, it's still very small and it still offers tourists and locals a very "happy" atmosphere. Go and see for yourself!
Where is your favorite beach bar? Have you ever been to Happy Island? Tell us below!