Photos courtesy of Goats on the Road
Exploring side-streets while gazing up at crumbling, neoclassical buildings, sitting in a gorgeous plaza while people watching or spending the day at the lovely Playas del Este beach are just a few of the things you can do during the day in Havana, Cuba. Evenings can be spent strolling down the seaside Malecón, listening to live salsa music and dancing the night away!
This is just a fraction of what this city has to offer. After spending a week in the city, we can now say that it's our new favorite, which is saying a lot. After seeing these photos, we're sure you'll see why we love it so much.
Fresh guarapo (sugar cane juice) being poured for us and our new friend. Freshly squeezed juice is available all over Havana for just $0.04 a glass!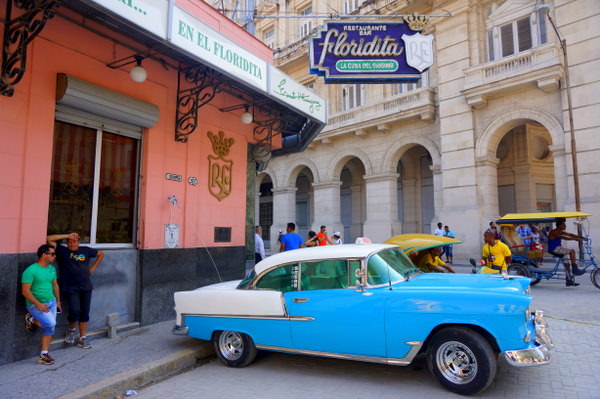 This bar was a favorite hangout spot for Ernest Hemingway. It's also known for its daiquiris.
A local vendor serving up a massive churro, (a deep-fried, thin doughnut) similar to those found in Mexico.
A colorful Cuban woman posing for the camera.
The gorgeous Cathedral of The Virgin Mary of the Immaculate Conception, located in the Plaza de la Catedral.
Colorful, crumbling homes in Central Havana.
Gorgeous blue hotel, with blue classic cars out front!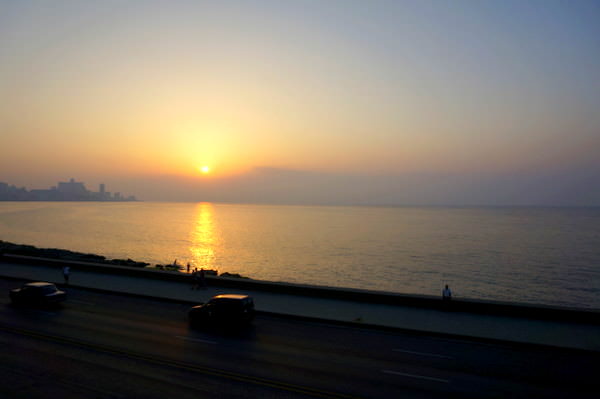 The perfect view of the sun setting over the Malecón and dipping into the sea.
The Great Theater of Havana, located near Parque Central, is one of the most beautiful buildings we have ever seen.
Live music is frequently played along the Malecón, and everywhere else in the city!
These are just a few of our favorite photos from Havana. From the moment we landed until our plane took off, we were constantly taking pictures. This has to be the most photogenic city we've ever been to! For more information on the incredible city of Havana, check out: Havana, Cuba: Could This Be Our New Favourite City? and The Ultimate Guide to Independently Travelling Havana, Cuba