Nick and Dariece | January 18, 2016 11:00 PM ET
Nomadas: Merida's Most Popular Hostel
Photos by Goats on the Road
What do you look for when choosing a room for the night? Are you interested in comfort? Affordability? Cleanliness? Attentive staff? Most hostels check off all of those requirements. But still, many people shy away from staying at hostels during their travels, based on an assumption that this type of accommodation is reserved for grubby backpackers.
This, however, couldn't be further from the truth.
These days, hostels are one of the top accommodation choices. More and more people, no matter their budget, travel style, or age, are opting to stay at these lively, vibe-y places.
Why stay in a cookie cutter hotel room, closed off from any other people, when you could stay at a hostel with many common areas and exciting activities, while costing a fraction of the price?
Don't get me wrong, there are many hotels these days, which have lounges downstairs, or common areas for meeting other travelers, but they are few and far between. Not all hostels are equal, but for the most part, they are a good choice for a night's stay. In particular, Nomadas in Merida, Mexico is still, by far, our top hostel choice to date!
RELATED: Treaty Ushers in a New Era for US-Mexico Air Travel
The Rooms
The hostel is set in an old colonial home, which has room for up to 100 guests. There is a wide variety of room choice. Dorms (all female or mixed), double rooms with a private bathroom, or double rooms with a shared bathroom. Some have air conditioning as well. They are spacious, with unique Mexican touches to the colorful walls, bright blankets and decor. Expect comfortable beds and general cleanliness. Dorm beds cost 179 pesos ($10.75), double rooms with shared bathroom are 389 pesos ($23.40).
Amenities
There are many amenities included with your room, which is one of the greatest things about this hostel! For the cost of your dorm bed, $10.75, you get a place to rest your head, plus many extras. Breakfast of coffee/tea, fresh fruit, bread and cereal is included each morning, there's an area for doing laundry, maps and advice are given at reception, and Wi-Fi and computers with Internet connections are available to guests. There is also a large outdoor kitchen, plus refrigerator at your disposal.
Towards the back of the spacious property, you'll find a massive outdoor swimming pool! This has to be the best amenity of all. Surrounding the pool are lounge chairs, while hanging over the pool are some hammocks. This is the ultimate chill-out spot, and trust me, you'll be wanting to cool off and relax after walking around the bustling city of Merida every day.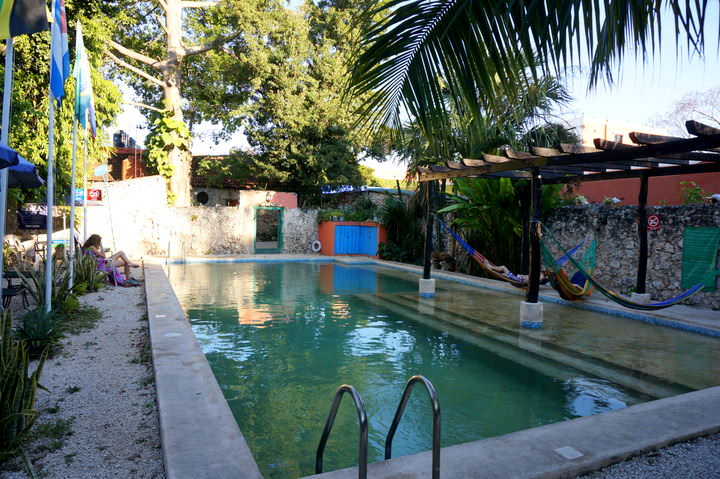 Activities
This is where Nomadas really shines. Of all of the hostels we've stayed at (and there have been many), we've never been somewhere that offered so many FREE things to do. These activities would normally cost quite a bit anywhere else, but the generous owners of Nomadas offer travelers a glimpse into Mexican culture and activities, for free.
Salsa Dancing lessons are available Monday to Friday, and a musician playing traditional trove guitar, while singing to everyone, comes to the hostel each evening from Monday to Friday.
Morning yoga classes taught by an Argentinian man who trained in India, are available Monday, Wednesday, Friday and Sunday.
RELATED: Hostel Etiquette: How Not to Be a Rubbish Roommate
A cooking class is offered and guests can join in on Tuesday, Thursday, Saturday and Sunday. The meals being cooked are traditional Yucatan dishes. If you want to eat the finished product, you will pay a small fee, but learning how to cook the recipe and helping with the preparation is free. Pretty incredible, right?!
Staff
Staff at any accommodation option whether it's a resort, hotel, guesthouse or a hostel can really make or break your vacation. Luckily, the staff here will only enrich your trip! They are a wealth of knowledge regarding the city itself, and the surrounding sights and day trips that you can partake in. 
Looking for the best restaurant in town? Want to know where to party for the night? Don't know how to book your onward transportation? Just ask at the front desk and they will be able to help you out.
Atmosphere
The vibe at this hostel is a very upbeat one, which probably comes as no surprise given all of the activities that are going on! Although fun and lively, there are places for just relaxing as well; this isn't a crazy party hostel. There is an open area with many tables and chairs where you'll find people reading or working on laptops, and at the front of the hostel, there are a few couches for sprawling out on while watching TV. Even though the age group here is diverse, everyone has one thing in common: a love for travel.
And so, because of all these great reasons, we highly recommend this hostel.