Nick and Dariece | January 08, 2015 9:00 PM ET
Sailing The Quirimbas Archipelago: A Travel Tale From Mozambique
"There must be a way to get from here to there!" our German friend excitedly explained as he pointed to the map. We were planning a route from our current location in southern Mozambique, to the very northern reaches of the country - an area that is difficult to get to, but filled with many rewards for the intrepid traveler.
After a few days of discussions, we decided our good friend must be right and we set off on an epic journey. We traveled for many days, and through many towns, by way of hitchhiking, bus, truck and boat before finally arriving at our dream destination: The Quirimbas Archipelago.
Our starting point was Ibo Island, the only island in the area with any sort of amenities for foreigners. We found one guesthouse to stay at, which also happened to serve food. Not much else was open on the island and, apart from the four of us travelers, there were no other westerners around.
The owner of the guesthouse spoke of the beautiful, virtually empty islands of Matemo and Rolas. This piqued our interest immediately and we knew we had to find a way to get there. With a little bit of luck, we were able to arrange for a crew of three local men to sail us to these islands where we would spend two nights and three days before returning to Ibo. We stocked up on vegetables, bread, water and snacks from the local shops and were told that the crew would provide us with fresh fish each evening.
With grins on our faces, the sail was hoisted and we were off!
The water and the sky were incredible shades of blue; it was the perfect day for our adventure. After a few hours of skimming over the glass calm sea, we arrived at Matemo Island. As we disembarked from our boat and carried our gear onto land, we were in awe of how soft and white the sand was, and how deserted the island seemed. On one far end of the atoll was a small, very exclusive, fly-in/fly-out resort and on the other end was a local village.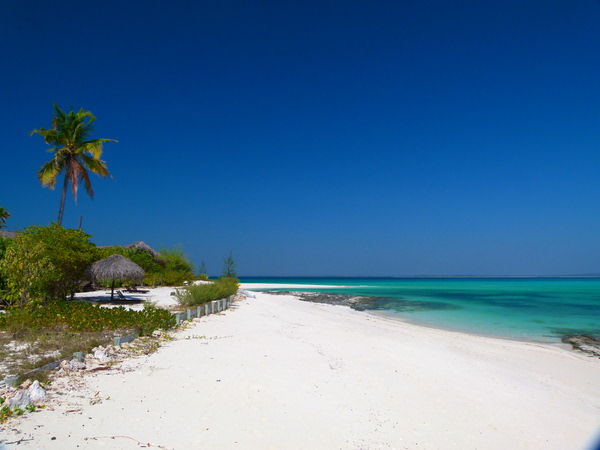 Beautiful Matemo Island, Mozambique
We set up camp in the center of the island with no one else around. Our camp consisted of mosquito nets hung from palm trees with blankets on the sand, a makeshift shower made from a plastic water bottle and stumps and rocks used for seating. This island was the perfect place and we all felt like Robinson Crusoe! We swam, explored and chatted until it was supper time. Fresh fish was cooked over an open fire, while we all gazed up at the twinkling stars in the pitch black sky.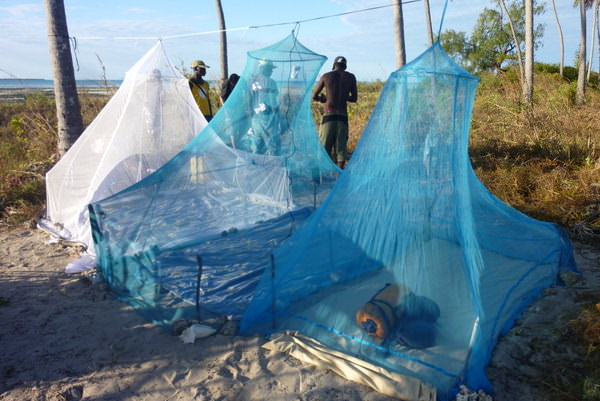 The perfect campsite on Matemo Island
Matemo Island was something out of a fantasy.
The following morning, we packed up our temporary home and set sail into the blue seas. As we neared Rolas Island, those same grins creeped over our faces. This island looked amazing from afar, and once on shore, it was just as incredible as we imagined. Here, we set up our camp again and figured out how to get some fresh grouper fish for dinner. We swam in the clear water, read our books and relaxed before the sun gently kissed the water. It was the perfect end to yet another perfect day in paradise.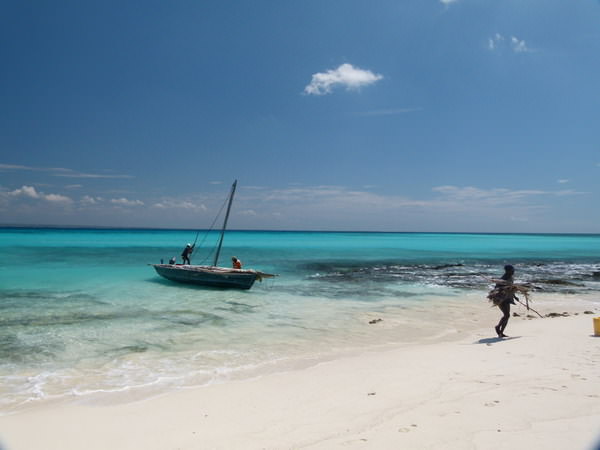 Lovely Rolas Island
After two nights of sleeping under the stars in this pristine archipelago, it was time to return to Ibo Island and share our adventures with the guesthouse owner who got us so excited in the first place. This truly was one of our most epic adventures, and will remain in our minds for a lifetime.