Nick and Dariece | January 02, 2016 3:00 AM ET
San Pancho: Under-the-Radar Pacific Coast Paradise
Photos by Goats on the Road
More likely than not, you've heard of the major Pacific Coast tourist destinations of Puerto Vallarta, Manzanillo and Mazatlan, but what about little San Pancho? This tiny gem (also known as San Francisco) is located just 30 miles north of Puerto Vallarta and is an excellent alternative to the popular beach destinations to the north and south.
The entrance to San Pancho is very simple and unassuming. However, once you drive down the main street, over the little bridge and make your way towards the beach, you'll realize what makes this town so special. Many of the streets here are cobblestone, which may be a bit difficult to walk on, but just adds to the charm.
The street — which runs from the highway down to the ocean — is lined with little restaurants, some shops and apartments for rent. Life here seems to move at a slow pace. People saunter around, while stopping to chat with friends on the street. There aren't many cars here and walking is the best way to get around and see everything.
There are many back streets that you can explore, but make sure that you don't miss the views of the golf course and the ocean from atop the hill behind Pakistan Street, on Tahiti Street. For a more natural walk along a shaded dirt road, make sure to wander along the path behind the hospital, which runs alongside the golf course. (There are so many things to see and do in San Pancho, click here to learn more).
The town can basically be divided into a few main areas:
• The "busy" street connecting the highway with the ocean
• The Plaza area
• The Golf Course
• The hills
It's really not hard to get lost here!
Renting a vacation home or an apartment is possible in San Pancho, and in fact, it's the norm. There is more of a vacation rental scene here than other cities in Mexico. The people who choose to travel here, plan to stay for a while. Finding a place to rent is easy, outside of the high season!
During the Christmas and New Year's holiday time, this quiet town is transformed into (what feels like) a bustling city. Locals come from all over to camp along the sandy shoreline with their friends and family, while tourists and expats come from other parts of Mexico to enjoy this slice of paradise.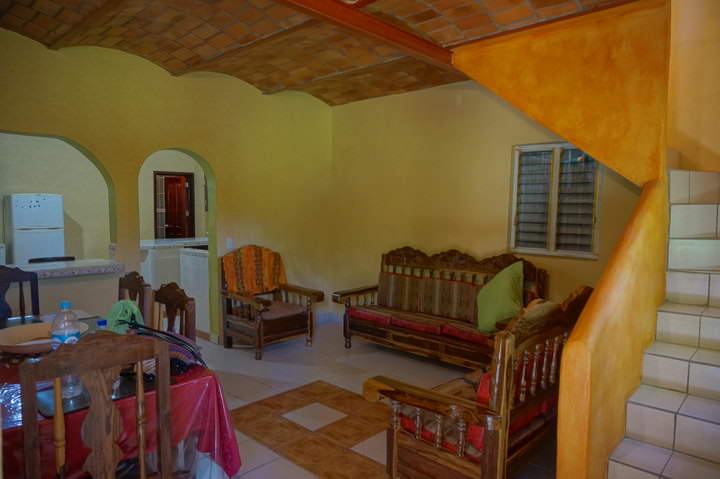 You can choose to rent an apartment independently by wandering around and looking for "For Rent" signs on windows, or, you can ask around at restaurants to see if anyone knows of a place for rent. Another option is to go through one of the vacation rental companies, but keep in mind that by doing so, the prices you will pay for the apartment will be much higher. You can find homes for rent for as little as 5,000 pesos ($300)! Check out this quick video to see the style of home you can expect for that amount of money each month.
If you're only planning on staying for a few days and are on a budget, you can pitch your tent on the beach for free, or you can check out the one hostel in town, Hostal San Pancho.
For foodies, you'll be excited by the restaurants and cuisine on offer here! It's surprising that for a town so small (2,000 residents), there are so many incredible, international food options.
If you're feeling like Italian food, check out the authentic cuisine at Dolce Amore. Prefer western style tacos with seafood? Stop in at the Baja Takeria. If you'd rather the traditional, Mexican style taco, look no further than Taqueria Los Arbolitos. This restaurant is open late, has seating on the street and the food is fantastic! If you're not sure which sort of cuisine you feel like, head to Maria's. This place serves a little bit of everything. Owned by a Mexican woman, this restaurant probably has the best food in the entire town, and it's always busy.
After eating your way through San Pancho, you should probably get some exercise! The golfing here is great, and there are yoga and Pilates classes that you can join as well.
Because this town is on the Pacific Coast, it makes sense that it's a bit of a surfer town. You'll see locals and travelers wandering down the streets towards the ocean, with their surfboard tucked under their arm.
The vigor of the ocean here varies from day-to-day. One day when you head down to the sandy stretch, you may see that the water is completely calm, with just a small ripple lapping up at the shoreline. While other times, you'll see rolling waves crashing down onto the sand.
Regardless of what the water is doing, the beach here is a beautiful spot to relax, eat and soak up some rays. However, if you want to go for a dip, it's important to ask a local before venturing in. When the ocean is rough, there are strong rip currents here, so you must be a good swimmer during those times, or, just avoid swimming that day.
In the evening, everyone flocks to the beach to enjoy the awe-inspiring sunsets and to see the releasing of baby turtles into the wild! This is a beautiful time of day. Make sure to bring some wine and food and enjoy the views. The sunsets here are some of the best in the world, making this the perfect way to end your days in San Pancho.