Nick and Dariece | January 28, 2016 9:00 PM ET
The 3 Best and Budget-Friendly Destinations to Visit in 2016
Photos by Goats on the Road
With each passing year, comes the chance to choose new travel destinations. Let's make 2016 an epic year, filled with memorable experiences, adventures and discoveries ... while not blowing the budget.
There are many cheap destinations around the globe, which consistently make the top lists (and more often than not include Southeast Asia!). So, for this list, we're going to share our three favorites, which are not only affordable, but safe, fascinating and authentic.
READ MORE: Ek Balam: Ancient Maya's Best-Kept Secret
Note: for the purposes of this article, all amounts will be listed in American dollars, which is a main reason why these destinations are so affordable at the moment. All U.S. dollar conversions shown are approximate due to the fluctuating exchange rates.
Mexico
This nation is teeming with history, nature and architecture. One day you can be strolling through colorful colonial cities, sipping on coffee grown in the surrounding hills, while the next you could be lazing on a pristine beach, margarita in hand. The ancient sites of the Mesoamerican world will have you shaking your head in disbelief at their grandeur and design. Exploring these sites is the perfect way to walk off the flavorful cuisine you'll be feasting on.
If beautiful cities, stunning beaches, incredible history and delicious food isn't enough to make you want to give Mexico a try, maybe price will be the convincing factor: In the past month the exchange rate has been between 17 and 18 pesos per one U.S. dollar.
Accommodation: Dorm beds cost around 150 pesos ($8) per person; double private rooms go for 450-600 pesos ($24-$33) per room, and a double room at a boutique hotel will cost 700 pesos ($38). The hostels and hotels in Mexico are clean and comfortable. No matter which accommodation option you choose, you'll be satisfied.
Food: Snack items are extremely cheap in Mexico. Sopes, tacos, quesadillas, tortas, etc. can be had for 7-20 pesos each ($0.40-$1.20), while a meal at a sit-down restaurant will set you back 50-150 pesos ($2.75-$8.25). Beers in a restaurant typically cost 20 pesos ($1.20) per bottle.
Transportation: Generally speaking, the cost of travel on a first class bus is between 98 and 140 pesos ($5.50 and $8) per hour on the road. The buses are luxurious, with many including Wi-Fi and a snack.
Entrance Fees: The cost of visiting ruins depends on which ones you want to see. Chichen Itza — the Wonder Of the World — costs 210 pesos ($11.50), while Teotihuacan is 51 pesos ($3). Scuba diving is around 1,000 pesos ($55).
South Africa
Located at the very southern tip of Africa, this diverse country is the epitome of adventure. There are endless hiking opportunities, numerous national parks, fantastic wildlife, underwater activities and anything else you can think of that will get your heart pumping. But there is more to this nation than the outdoors. You'll find traditional African cultures, museums filled with (the not-so-distant) history of apartheid and beautiful oceanfront towns and cities.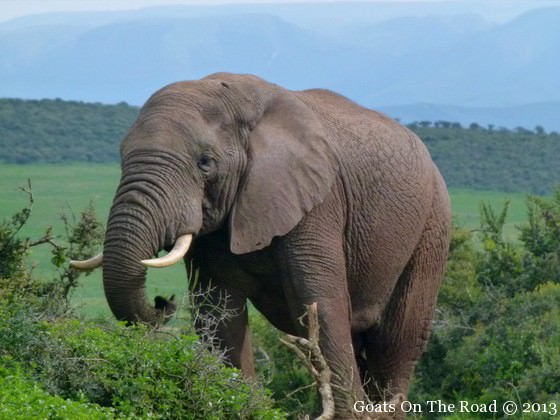 Note: In the past month the exchange rate has been between 15 and 17 rand per one U.S. dollar.
Accommodation: The popular budget accommodation option is called Backpackers, which provides an excellent value. Room cost is between 200 and 350 rand ($13 and $22), and includes a communal kitchen, bar and private bathroom.
Food: A mouthwatering, hearty "bunny chow" (which isn't made of rabbit) will set you back 10-35 rand ($0.60-$1.75). A dinner at the budget end of the scale will cost 75-150 rand ($5-$9.25). Beer and wine are very cheap in South Africa right now as well — a bottle of wine at the grocery store is around 50 rand ($3), while a bottle of beer costs 12 rand ($0.75).
Transportation: renting a car in South Africa is a great way to see the country. If you book online, for an extended period of time, you can find cars for $20 a day. Another option is the BazBus, which is the tourist/backpacker bus. For 4,600 rand ($300), you can hop on and hop off of this intercity bus as many times as you want over a three-week period.
Entrance Fees: There are endless amounts of things to do in South Africa. Cage diving with great white sharks, whale watching, scuba diving, zip lining, hiking, going on safari, canoeing, winery tours, etc. The costs of these activities range from free to 1,200 rand ($75). The cost of the cable car up to Table Mountain National Park in Cape Town is 230 rand ($15).
Cuba
Even though Cuba's currency is pegged to the U.S. dollar, the cost of traveling here is still very affordable. This is a country that can be traveled on an extreme budget, or with some luxuries included. There are two currencies in Cuba, the Cuban Convertible Peso (CUC), and the National Peso (CUP).
The exchange rates are:
1 USD = 1 CUC
1 USD = $0.04 CUP
1 CUC = 25 CUP
Accommodation: Casa Particulares are where most travelers choose to stay during their trip to Cuba. These are basically homestays, but you have your own space in the house. The cost of a double room in a casa is between $15 and $35, oftentimes including breakfast. Budget hotels are around the same price.
READ MORE: US Airlines Are Quietly Prepping For Cuba
Food: This is where you can really save some money in Cuba. The peso food here is very cheap. Basic egg sandwiches are 9 CUP ($0.36), cheese pizza is 6-30 CUP ($0.24-$1.20), while freshly squeezed fruit juice is 1-2 CUP ($0.04 - $0.08). A meal at a sit-down restaurant will cost more, with a seafood dinner coming in at $8-$10. Beers and cocktails are affordable at $1-$3 each.
Transportation: There are numerous transport options in Cuba, just take your pick! Private taxis cost between $2.50 and $7 within the city, while a shared taxi (collectivo) costs 10 CUP ($0.50). The tourist bus (Viazul) costs around $4-$5 per hour of travel. A cycle taxi is between $1 and $3 for a journey, depending on your bargaining skills.
Entrance Fees: There are many museums, galleries and forts to see in Cuba. The majority of which are in Havana. Expect to spend between $5 and $8 to visit these sights. Horseback riding tours costs around $5 an hour, while caving is $10 including a guide and gear.
These are three of the most budget-friendly countries of the year! Which ones would you add to the list? Share with us in the comments below.