Nick and Dariece | December 18, 2015 9:00 PM ET
The Joys of Living a Minimalistic Travel Lifestyle
Photos by Goats on the Road
As digital nomads, we're always on the move and constantly packing our backpacks for our next adventure. After living in Grenada for seven months last year, we loaded up our backpacks with everything that we owned, and although it may seem hard to believe, everything fit into just 102 liters (27 gallons) of space! That's it, that's all of the room we had to fit our entire lives into, and it's all that we needed.
(Note: We don't assume that this life is for everyone, but if you are considering living a more minimalistic way of life, read on!)
Since selling our home, vehicle and possessions back in Canada to travel the world in 2008, we've realized that we don't actually need all that much to be happy in life. When we were living at home, we were like everyone else around us: buying the newest TV's, wanting a nice car, keeping up with the latest fashion trends, etc. These days, those are the furthest things from our minds, and when we look back on our past lifestyle, we can't believe how much of our hard-earned money we spent on material things. For us now, it's all about living with less, but having more.
We're not interested in possessions or material items (unless they help us to lead our nomadic way of life), we'd rather spend our money on experiences and activities that enrich our lives. The items that we own are pieces of gear that we must have for blogging, or items we need for traveling. Everything in our bags has a purpose.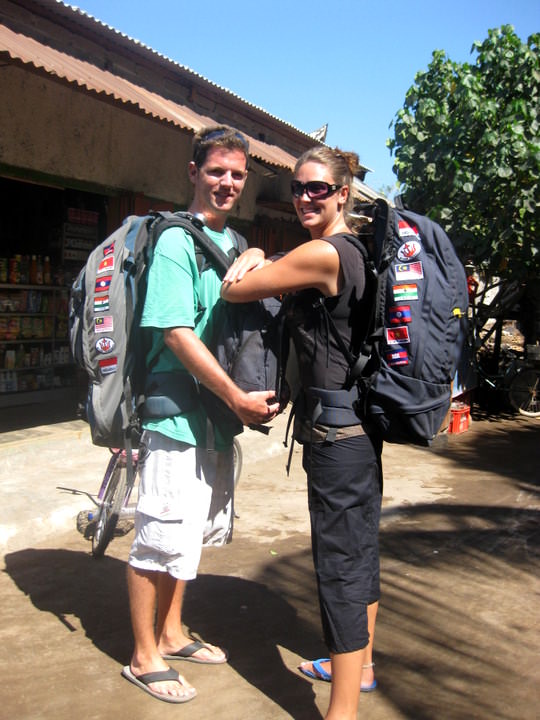 Of course, there are things that we all want, but if you really think about it, there's not actually a whole lot that us humans need. We personally feel that by living with fewer possessions, we've created a lifestyle that allows us to have more! We can pick up and move around simply and easily. We don't need a house or a storage container to keep all of our stuff. We have total freedom to go where we want, when we want, while keeping our lives with us on our backs.
Our motto: "Keep your life on your back and get more back from your life" Of course, this lack of stability and moving around might not be for everyone, but it has worked out for us.
These days, the moments that bring us the greatest joy are being with each other, doing yoga, working on our website, exploring exotic sites and cities, hiking around the jungle, walking our (temporary) dogs, eating great food, drinking fantastic wine and spending time with our friends (and family when they come to visit us). In order to fulfill those joys, all we really need is a yoga mat, laptops, hiking shoes, a corkscrew, each other, lots of time and some money!
Since giving it all up back home, we really feel like we've gained so much more. Our experiences are richer, our lives are simpler and our stresses are basically gone. Plus, we have loads of free time to spend doing what we love, with those that we love.
Obviously, even though we've downsized, we still have clothing packed in our bags, but unlike our previous way of life, we only have what we absolutely need, and we really "wear" our clothes. We literally continue to put on the same outfits until they're worn, torn and tattered. There's no need for us to waste money on having an overabundance of shirts, pants and dresses, when all that we need are a few stylish/practical hiking, yoga and travel clothes. We do have some new items in our bag for a night out, but nothing like we used to have in our wardrobes in Canada.
We think that it's best to buy what we need, and not live beyond our means.
We honestly feel so light each day. Physically light, and mentally light as well. We don't have the stress or pressures of owning a home, having bills to pay, or trying to keep up with the Joneses. We never feel as though we're missing out on anything by just having the possessions that we do, and we don't want a huge house filled with furniture and electronics. To us, life is all about being debt-free, carefree and stress-free.
Because of our choices to leave our lifestyle in Canada, pack light and live the nomadic lifestyle that we do, we're able to be happy and totally free each and every day. In our opinion, that's what life is all about. This life isn't for everyone, but it's attainable for anyone who wants it bad enough. If you have the money for the device that you're reading this article on, then you probably have enough money to live a freer life.
Even if you just travel domestically, you can spend less time working and more time enjoying the things you love. We've never been computer experts, we don't come from rich families and we don't have university degrees. Before leaving it all to backpack the world, we had only been out of the country on a couple of all-inclusive vacations.
If you are considering living a similar life, and you would like some more information, you can check out our story here. We also house-sit for a portion of the year, which allows us to have free accommodation. Click here to learn more about house sitting. In order to make money on the road, we run a travel blog, which covers our costs of living, our savings and our travels. Click here for information on sustaining your travels and making money abroad.