Nick and Dariece | November 23, 2015 11:00 PM ET
The Pros and Cons of Teaching English in China
Photos by Goats on the Road
Do you want to travel the world, but aren't sure how to make any money while on the road? Are you a native English speaker? Do you have a university degree and a TEFL Certificate? If you answered yes to these questions, then teaching English could be the job for you.
There are many job opportunities worldwide, but here we will focus on teaching English in China, and the pros and cons that go along with the job. China is fast becoming an economic powerhouse, and with that are one billion-plus people who want to learn English in order to do business with the West.
This is where you come in, and lucky for you there are many teaching jobs available. It's possible that you will be teaching at a University level, or to adults, but most likely, you'll be an instructor to the adorable, well-behaved children of China.
You'll probably be teaching students between kindergarten and high school levels, which you'll be grateful for when you're having an awful morning and you arrive at class to see your smiling, enthusiastic students faces. Your day will instantly turn around and your mood will be lifted!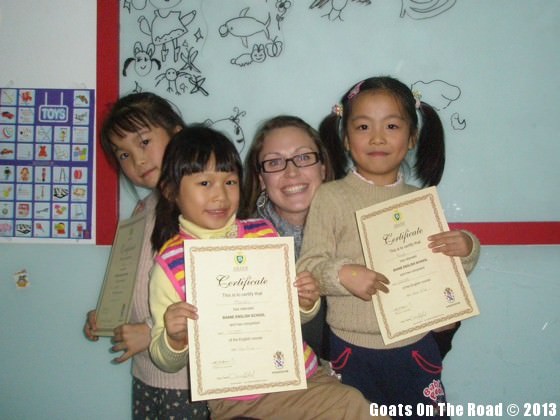 Giving hugs, high-fives and pats on the back to your students is completely ok, and in fact, is encouraged by the parents. Although this may seem weird and wouldn't happen in schools in the West, it's totally normal in China! Your students will love you and will want to excitedly tell you about their day or weekend.
You'll become an important person in their lives and they will truly look up to you because you are a foreigner, and because you are a teacher. Oftentimes, they will bring you gifts and you'll even be invited to their homes. Whether or not you take them up on this offer is up to you, and the parent, but receiving those invitations and kind gestures is a nice feeling nonetheless.
The school that you'll most likely be teaching at will be a "cram" school, which are after hour classes for students to attend and they are found all over the country. After the children (aged five and up) have already spent the day in their regular school, they then go to private "cram" classes. From there, they will leave for another extracurricular activity of some sort such as calligraphy, poetry, karate, violin or piano.
If you are teaching on a weekend (most likely you will be) the students will have already been to many lessons and classes of varying nature before arriving at your English class. As a Westerner, it can be difficult to understand the amount of pressure placed on these kids to get good grades and succeed. It's also hard to watch as your overworked and exhausted students try to perform and answer correctly while in your class. This is definitely a con of being an English teacher in China, and something you'll need to be aware of.
Having said that, there is a plus side to this downside. The Chinese thought process of "succeed and achieve" won't be changing anytime soon, and while that may be hard to understand, you get to be the joy and the fun in the children's otherwise very serious days!
English lessons are taught using drilling methods, written methods and learning games. You get to choose which activities you want to do with your students, and which "free play" lessons you want to include in the class. Make your class fun, include rewards for trying, ensure your students laugh while learning and praise them as often as you can. If you can make your class a joy for them to be in, they'll be looking forward to their lessons with you and in turn, will be more willing to learn.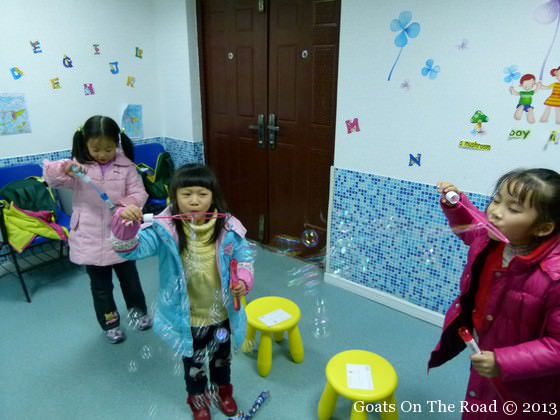 While in class you'll probably notice how well-behaved your students are — especially compared to how you probably were as a student! They'll sit still while attentively listening to you and you'll automatically be given respect by the kids, as teachers are highly valued in China and children are taught to respect them.
Although this is a positive thing, you may have to work a bit harder to earn the respect of their parents. Parents basically rule these cram schools and if they don't seem pleased by what's going on in the class — their child isn't learning "fast" enough, or the teacher is being too "easygoing" — then they will take their business elsewhere.
Which brings me to my next point... At many schools in China, there are opportunities to earn retention bonuses! If your students decide (or more realistically, their parents decide) that they will continue on in your class, you will receive a bonus. A cool $50 here and there can really add up, especially with the cost of living in China being so low. You'll also be compensated for your flight to and from the nation and receive a large contract completion bonus at the end of your year!
There are other things included as well — housing costs, Mandarin lessons, health insurance, assistance with residency permits and taxi fare to and from school (if applicable). Each school is different, but the opportunity to make a lot of money while teaching English in China is definitely possible. As a couple, we were able to save $21,000 teaching in just a year.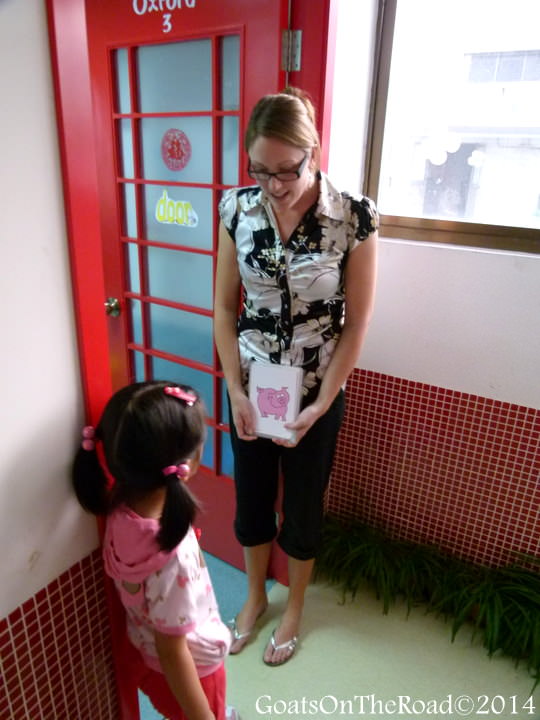 There are many pros and cons to being a teacher anywhere in the world, hopefully the above will give you some insight regarding what to expect as an English teacher in China.
If you're interested in getting a job teaching English in Yangzhou, China, send us an email and we can put you in touch with a great school! If you need to take your TEFL course, click here and enter the promo code Goat10 to receive a 35 percent discount on your course.