Nick and Dariece | January 05, 2016 11:00 PM ET
The Ultimate World Trip Packing List For Women
Photos by Goats on the Road
Figuring out what you should pack into your suitcase or backpack may seem like an impossible task, especially for us women who want to look good with a variety of outfits while traveling the world! But trust me, after backpacking for over five years now, I've come to realize that you really don't need as many items in your bag as you may think.
Here's a list of what to pack for an around the world trip:
Clothing
First and foremost, before I tell you how many of each item, it's important to note that you're going to want versatile articles of clothing — selections that you can mix and match, that can go from being casual to dressy, and from warm climates to cold ones. By doing so, you'll save lots of room in your bag.
2 x pants: A hiking pant, which can also be used for walking around a city, or can even be worn out to dinner. This item is a must. I have the Halle Pant from prAna, which is stretchy (great for hiking), yet fitted where it matters, making it flattering. I also recommend bringing a loose, light cotton pant that can be used to cover up if there are mosquitos, be worn to bed, or on those travel days when you're on an overnight bus/train/plane. A solid color is a good idea.
1 x leggings: Leggings are great because you can turn a casual outfit into a dressy one by throwing on a pair of these. Wear them under a short skirt if the temperature is cool outside, or wear them under a long shirt for a night out. Plus, you can use the leggings for extra warmth underneath your other pants if need be.
1 x capri pants: Sometimes it's not hot outside, but it's not cold either. Capris are perfect for that. Plus, you can dress them up by wearing a nice shirt, or, they can be casual with just a t-shirt on top.
1 x shorts: If a warm climate is part of your world trip, you'll want a pair of shorts. Black is the best as it will match with anything.
1 x skirt: Every girl wants a skirt in her wardrobe. Choose a short one because you can wear leggings under it to make it more appropriate if needed, or, you can wear it by itself in hot countries and/or to the beach.
5 x t-shirts: Cotton t's are the best for traveling. Choose colors that will match with the bottoms you have packed. Five is plenty.
2 x dress shirts: Choose a couple of no-fuss shirts that you can wear out for a night on the town. Something that won't wrinkle easily, and is comfortable.
1 x long-sleeved top: In many countries, you'll need to cover up your arms and your bum. Having a 3/4-length top, or a full sleeve top is perfect. You'll want a lightweight, quick-drying shirt. If it's long enough in the torso, you can wear it over your leggings as well.
1 x thermal top: You'll want to have a tight-ish fitting thermal base layer top for those cold climates. If it's fitted enough, you can wear it underneath a sweater or jacket.
1 x sarong: Every woman should have a sarong! These can be used as scarves (either for warmth or for a nice accessory), a beach cover-up, a towel or blanket, and you can wear them to cover your head if you're in a conservative country.
1 x jacket: Everyone should carry a windproof, waterproof, lightweight jacket with them. If it's very cold where you are, you can always wear layers underneath to stay warm. Wind chill and getting wet from the rain are what will make you extra cold. Prevent that by bringing this type of jacket.
Extras: bras, socks (quick-dry) and underwear.
Shoes
Shoes take up a lot of space, so be careful about which ones you choose to pack. You'll need a hiking shoe for jungle and mountain treks (if you're into those sort of activities), and you'll want a sturdy, yet casual shoe that you can wear around the city that you're in. To save space, check out the Primal 2 shoe from Lems. They actually roll into a ball! For sandals, I suggest just a pair of flip-flops. Colorful ones are fun, but if you go for black, then you can wear them with anything.
Toiletries
This is where women can go crazy with packing! You will need to get your head around the fact that you're now traveling, not going to work every day. You'll be dressing more casually and you won't be spending hours getting ready to go out. Don't bother with hair care products, or any fancy skincare items either. Most women who are traveling don't even wear makeup; neither will many of the local women in many countries.
Here are a few things to consider bringing:
1 x mascara
1 x lip gloss
1 x toothbrush and toothpaste: Just get a small tube of toothpaste to start with. You can purchase more on the road.
1 x deodorant
1 x shampoo and conditioner: Again, just purchase two small bottles of this, you can buy more on the road. In order to save even more space, many women opt for the 2-in-1 shampoo and conditioner.
1 x razor for shaving
1 x tweezers
1 x nail clippers
1 x perfume: If you really must bring perfume, make sure it's a small bottle, or better yet, a sample sized tube!
1 x bar of soap: Get a natural one, that way you can use it to wash your face as well.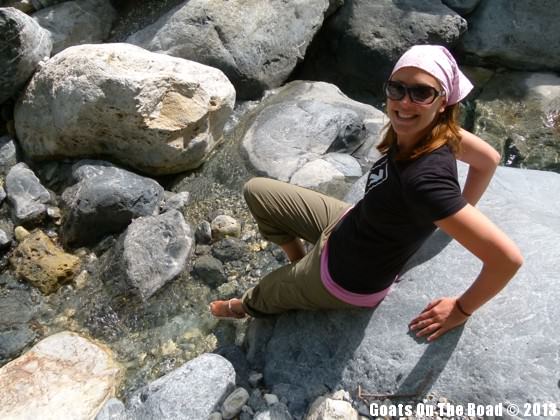 Other
Obviously, there will be some other must-haves that you'll want to pack for your travels:
1 x Diva Cup: This silicone menstruation cup is a lifesaver for women who travel. Trust me!
1 x towel: Many hostels and guesthouses don't provide towels, and even if they do, sometimes you'll want your own. Make sure to get a quick-dry, antimicrobial towel.
1 x multipurpose knife: These have many uses, you'll want one.
1 x headlamp: This is great for when you're coming home at night, are out camping, or if you're in a dorm room and need to find something without turning on the lights!
Electronics: laptop, smart phone, camera, etc.
Hair elastics and hair brush
1 x first-aid kit 
Accessories: I choose to purchase local bracelets and rings from the countries I'm visiting. I also suggest having a pair of earrings that you like.
Depending on where in the world you are traveling, your packing list will vary. If you're going on a camping/trekking trip, obviously you'll be wanting a sleeping bag and tent. If you're only sticking to SE Asia or other tropical regions, you won't need to worry about having overly warm clothing. But for the most part, this list will cover you for all travel situations, and countries.
Did I miss anything? What would you add to this packing list? Share with me below!