Nick and Dariece | February 19, 2015 9:00 PM ET
Tips For Making the Most of Your Trans-Siberian Train Journey
We've all heard of the Trans-Siberian Railway, which is the most famous line in the world. There are actually three different lines, which all form the Trans-Siberian Train:
The Trans-Mongolian (which runs from Moscow to Beijing, via Ulan Bator)
The Trans-Manchurian (which travels through Siberia and Chinese Manchuria to Beijing)
The Trans-Siberian proper (which runs from Moscow to the eastern city of Vladivostok)
This train journey is romantic, exciting and very adventurous! Here are some tips to help you make the most out of your trip:
Bring Something to Pass The Time
If you plan to take the whole journey from Moscow all the way into China via Mongolia (Ulan Bator) this will be a very long trip. Gazing out the window watching the scenery change is definitely a must-do, but what about all the other hours (days) you'll spend on the train?
You can only talk to your cabin mates for so long before running out of things to say! We highly suggest bringing some games such as cribbage, a deck of cards or any other small games, as well as many books or an e-reader. Having something to do to pass the time is important or you'll end up getting bored.
Mingle With The Locals
Chinese, Mongolians, Russians and people from Central Asia are all very friendly and will be willing and eager to chat with you. Make sure to bring a phrasebook and if you have to choose just one, make it the Russian language, as the majority of people you meet will speak Russian.
Even if you can't seem to communicate, having some photos to show them of your home country, or some vodka or beers to share is a great ice breaker! Russians and Mongolians love to drink vodka so don't be surprised if you're offered some shots. Sharing your food is another great way to mingle with your fellow cabin mates, who will most likely be from one of the countries you'll be passing though.
Bring Some Food
There are restaurant cars on the train. Between Beijing and the border of Mongolia, the restaurant car serves Chinese food and prices are in the local currency. From the border of Mongolia, the Chinese food car is dropped and a Mongolian one is attached. The food becomes Mongolian cuisine and the prices change.
Before entering Russia from Mongolia, the food car is dropped again, but the Russian one isn't attached for quite a few hours! It's a good idea to have some back-up food on hand for those times when there isn't any food available.
Make sure to have some extra drinking water as well and some cutlery and a plate/bowl.
Walk Around
This may seem obvious, but many people choose to stay in their cabins for the majority of the trip, which is a big mistake (in our opinion). Get up and walk around! That's the joy of being on a train, you have the freedom to move about without being stuck in your seat. By walking around the train you can meet other people and even be invited for a meal in the restaurant car.
When the train arrives at various stations, make sure to get off and get some fresh air. There will usually be vendors as well selling all sorts of food goods, which can lead to some interesting photo opportunities and a chance to see part of the landscape from the other side of the window.
Stay Safe
The Trans-Siberian Train journey is very safe, even for solo females. You'll be surrounded by families, solo local people, couples and other tourists. Everyone we met was very friendly and we felt comfortable the entire time. However, you'll want to keep your wits about you and be somewhat cautious.
Bring a padlock to lock up your bags at night and if you're on the bottom bunk, lift up the cushion and stash your bags underneath! There are security guards/staff on each cart who frequently wander around. If you're having any issues, speak to them.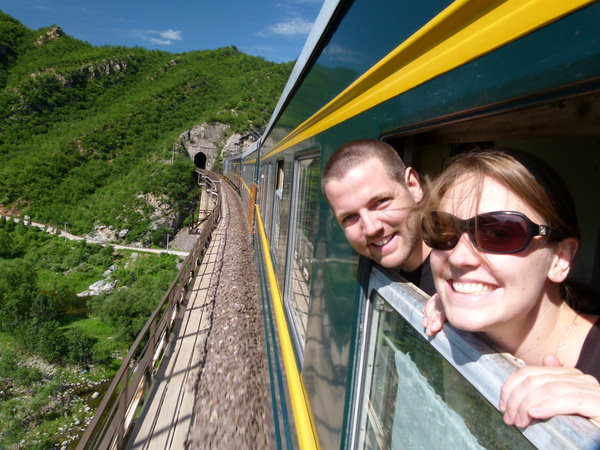 For more information on travelling on this famous route, check out these articles:
Travelling on the Trans-Mongolian Train: All You Need To Know
Travelling on the Trans-Mongolian Train: Beijing to Ulan Bator
Travelling on the Trans-Siberian Train: Ulan Bator to Irkutsk
Travelling on the Trans-Siberian Train: Irkutsk to Omsk