Nick and Dariece | July 27, 2015 11:00 PM ET
Tips For Staying Safe While Traveling
All photos courtesy of Goats on the Road
These days, if we followed every travel advisory stated by the Canadian government, we would never go anywhere! It seems that there is some kind of warning for almost every country (except for the "Western" nations). We personally have been to many countries against the advice of our government, and not once did we worry about our personal safety.
However, when traveling the world, it is important to be cautious and take care of yourself and your personal belongings. These tips won't tell you which countries to avoid, but how to stay safe while in-country.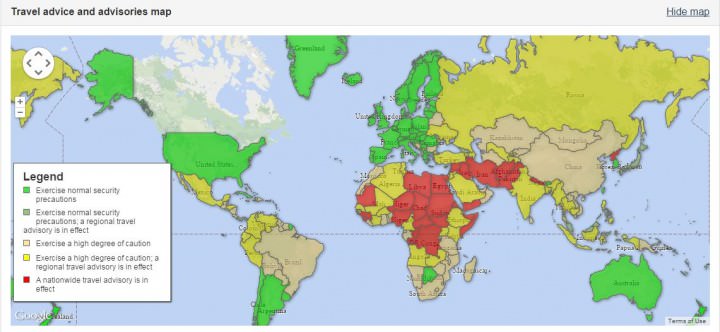 Keep Your Cash Safe
When you're traveling, you will most likely have a combination of currency on you at all times. We recommend having a credit card, ATM card, local currency and some U.S. dollars. Try using a money belt to hide your spare cash. We don't mean the usual pouch that goes around your waist; we mean an actual belt that has a secret zipper compartment for your money. The belts are actually quite stylish and no one will think that you're hiding any cash there.
You don't want to always have all of your means of money on your person at all times — if you get robbed, you'll be left with nothing! Split your cash up and spread it out over a few hiding places (just don't forget where you put it). Try stashing your cash in an empty pill bottle, under the sole of your shoe, in between pages of a book or in a special compartment of your backpack or suitcase.
Take a Taxi at Night
This may seem obvious, but in many parts of the world (especially Latin America and Africa), even though your hostel/hotel may be just a few hundred meters away, it's wise to take a taxi back to your room. We've met people who were robbed on their way home after a night out, and their hostel was only a 5-minute walk away! No matter the distance, take a taxi at night.
Carry a Cell Phone
During our first backpacking trip around SE Asia and India, we didn't have a cell phone, let alone a smart phone. In those days, people just didn't have them when backpacking. However, now we carry a phone with us, and won't go without it ever again. If your rental car breaks down, you'll want to call for help. If you've found yourself in the middle of nowhere, or in a sketchy area, you'll want to look up Google Maps to find your way out. If you can't find your way back to your hotel, or if you need help, you can always call the reception desk. Also, if someone is following you, or making you feel uncomfortable, you can always pretend like you're on the phone with someone (or actually call someone) and give him or her your exact location.
Use a Secure Backpack
These days, most travelers bring their expensive gadgets and gear with them, rather than leaving them at home. As great as it is to have your drone, DSLR camera and laptop with you, when you leave your hotel room, you'll probably be worrying about your electronics the entire time you're out. Another issue is that your bag could easily be slashed while you're walking through a busy crowd, which will result in your belongings being stolen without you even noticing.
Luckily, there's a new backpack on the market that will help prevent all of this. We just received ours in the mail and are really happy with them. The Numinous GlobePacs Backpacks are made with Kevlar, which makes them slash-proof! Other awesome features include an attached, retractable metal wire, which allows you to secure your pack to any fixed objects (i.e., metal bars of your bus seat, your dorm bed, the inside of a locker, the base of a toilet, etc.). The packs also have combination locks for the zippers and anti-puncture zips, meaning no one can open the bag using a pen or a knife on the zippers. Genius!
Click here to learn more and enter to win a Numinous Pack!
Get Local Advice
Before setting off for a day of sightseeing and exploration, make sure to heed the advice of locals. They are the ones you should be asking about where it's safe to go, and where you should avoid. Too many times we've heard of travelers heading off for a day of wandering around, and without realizing it, finding themselves in a really bad neighborhood... Your hotel will be able to give you advice, or check with owners of local shops or taxi drivers.
What advice or tips would you add to this list? Share with us in the comments!