Iran is a country that many people are fearful of, yet don't know all that much about. Prior to our month spent backpacking in Iran, we too didn't have a firm grasp on the country regarding its history, culture and the present political issues surrounding it. Even though Iran is located in the Middle East, it's a safe country to travel to. Relations with the U.S. have eased and now more people are interested in this diverse Persian nation. There are numerous reasons to travel to Iran, but here is our top three.
The Welcoming People
This has to be at number one on our list. Where else in the world can you walk down the street and be invited to a stranger's home for tea or dinner? Meeting people in Iran is easy. They are all extremely welcoming, friendly and curious about what you think of their country.
Iranians are desperate for the world to know that they are not "terrorists" as they are often portrayed as in Western media. We made friends with people in parks, on buses and at tourist attractions. We sipped tea with Afghan men who were living in Iran. We spent the afternoon with a couple and learned about their life, and recited poetry from Hafiz, the famous Iranian poet. We spent seven nights at a young couple's house and were fed and housed by complete strangers, who we now call our friends. The people of Iran are helpful, kind and incredibly hospitable.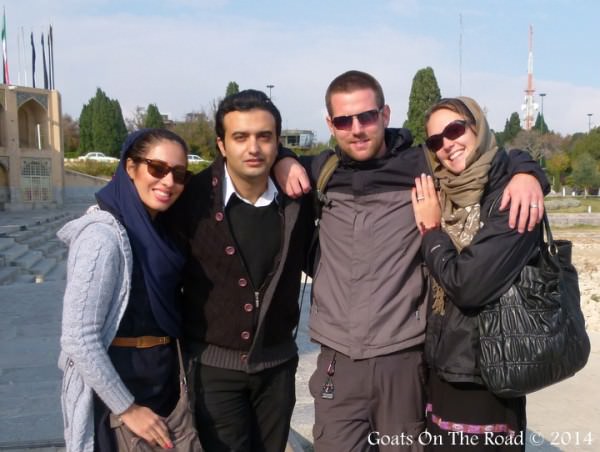 The Delicious Food
Have you ever tried Iranian cuisine before? It may not be as internationally known as Chinese, Indian or Italian food, but it sure is delicious! The main proteins consumed are chicken, lamb and fish, and most meals are served with rice and vegetables. If you're spending time in the desert, you'll most likely have camel as the protein!
The most unique aspect of Persian food is the spices and herbs used in the cooking. Apricots, pomegranates, prunes, raisins, saffron, cinnamon, lime and parsley are typical ingredients. Some must-try dishes include Fesenjan (stew made with pomegranate and walnuts, served over chicken), Gormeh Sabzi (stew made from parsley, leeks or green onion; coriander, seasoned with dried fenugreek leaves, beans and meat) and Tah Chin (savory dish made from rice, eggs, saffron and chicken and served in a square shape).
The Incredible History and Architecture
Iran is one of the oldest civilizations in the world! It's been home to settlements since 4000 BC. There is some incredible ancient architecture here, and many must-see sites. The UNESCO World Heritage Site of Persepolis was built by The Achaemenid Empire in 520 BC, the remains of which are still standing today. You can visit Persepolis easily as a day trip from the city of Shiraz.
READ MORE: Iran's Tourism Sector Continues to Grow
In the northeastern city of Mashhad, right near the border with Turkmenistan, you'll find the Imam Reza's Mausoleum, which is the largest mosque in the world by size, and second largest based on capacity. This place is of extreme importance to the people of Iran. You can read about Imam Reza here. The Tabriz Bazaar is located in the city of Tabriz, near the border with the country of Azerbaijan. This UNESCO-listed market is one of the oldest covered bazaars in the Middle East, and is the largest in the world! Anything you could possibly want to purchase, you can find here.
The country of Iran is one of those places that you probably never thought you would visit. But, trust us, after traveling to Iran, you'll be wondering why you didn't go sooner. Currently, Americans, British and Canadians must travel here with a guide. Although traveling independently is easy in Iran, these are the new rules, and actually, having a guide will give you the opportunity to learn much more about the people, the history and the way of life in Iran.
Have you ever considered traveling to Iran? Have you been there before? If so, what were your thoughts? Share with us in the comments!