Nick and Dariece | December 20, 2015 11:00 PM ET
Top 5 Destinations to Explore in Crete, Greece
Photos by Goats on the Road
Did you know there are around 6,000 islands off the coast of mainland Greece? Not all of them are inhabited, but others, like Crete, are perfect to visit during a Grecian island hop.
One of our favorite atolls in the country, Crete also happens to be the largest of the isles, both by area and by population. Greece as a whole has much to offer travelers, but Crete in particular is not to be missed!
Samaria Gorge
This gorge is 10 miles long and is said to be the largest in all of Europe. The hike starts at the Xyloskalo trailhead, altitude 4,100 feet, right in the midst of the towering White Mountains, and ends in the town of Agia Roumeli. If you enjoy hiking and being out in nature, this is the day-trip for you.
After paying your €5 ($5.60) entrance fee, you're ready to start the hike. As you enter the park, you'll be greeted with stunning views of the mountains and forest, plus a very difficult trail in front of you. The initial mile is a bit daunting, as you'll be on a steep, switch-back path, but the rest of the hike is a bit more level, so don't give up right away!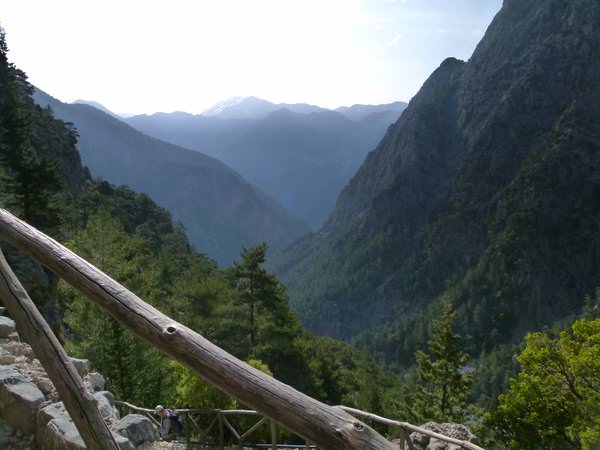 The scenery along the hike is incredible and due to the amount of trees in this park, you'll basically be walking in shade the entire day. There is a river running through the gorge, meaning you'll be crossing a few small bridges throughout the walk, plus, the water is a great spot to stop and have a picnic lunch. Apart from beautiful views, there are also a few Byzantine churches and Venetian castles! Many hikers choose to pass by these without a second glance, which is a shame.
In total, the hike will take between 6 and 8 hours depending on how fast, or slow you choose to walk. Keep in mind that the majority of the trail is a descent, so we recommend having trekking poles if you have any sort of knee problems. Bring a lunch, lots of water and wear good shoes!
Balos Beach
To date, this is still one of the most beautiful beaches we've ever seen. It takes a bit of effort to get here, but once you see the incredible cove, you'll realize that the journey was worthwhile. We were told that the drive here was too dangerous for a small car, and though the road was bumpy, it was definitely drivable.
After passing goats and making your way along the windy cliffside, you'll arrive at a spot that sort of looks like a parking lot. From there, you'll be going on foot! It's about a mile descent, down a rocky path, before reaching one of the most incredible bays. Turquoise blue water and a white sandbar will greet you as you arrive. There are a few sun chairs and umbrellas here as well, but not much else, so make sure to pack all that you need in terms of food and water, especially in the off-season. This picturesque place is definitely worth the drive.
Dikteon Cave
Located on the stunning Lisithi Plateau (which is a must-see in itself), is the near-24,000 square foot Dikteon Cave, which is said to be the birthplace of Zeus! It's a steep, 2,600-foot walk uphill to the mouth of the cave. Make sure to take the unpaved route, which is shaded and offers great views of the plateau along the way. Immediately upon entering the cave, you'll descend down a flight of wooden stairs, making it feel like you're going into a deep hole, rather than a cavern. Inside, you'll see many stalagmites, stalactites and a few small ponds and creeks. The entrance to Dikteon is €4 ($4.50).
Knossos
This Minoan Village has been colonized for over 7,000 years, and is one of the most important sites in Crete. Knossos is where the myth of the Minotaur came about. According to Greek legend, King Minos was given a white bull to sacrifice to the god Poseidon. Instead, he chose to keep it, which upset Poseidon. He punished the king by causing his wife Pasiphae to fall in love with the bull. The result? The Minotaur: a half-man and half-bull creation!
Even if you don't normally go on tours, you'll benefit more if you choose to at this ancient site. There aren't many signs or information available, and trust me, there is much to know. You'll wander through palaces, theaters, thrones, shrines and frescos. Expect to spend a few hours here exploring and imagining what life would have been like during ancient times.
Matala
Don't miss this hippie beach town! During the 1960s and 70s, this was the place to go for free love, free accommodation and a beautiful beach. There are many small caves cut out of the cliff on one side of the bay. Up until around 10 years ago, travelers and wanderers would squat here and sleep for free. These days, it's more of a tourist attraction for people to visit the wall of caves. Definitely check them out during your trip to Matala.
Apart from seeing the interesting sleeping holes, the beach here is rocky, but lovely, and the water is very clear. You can also visit the church and shop for souvenirs. But more importantly, just enjoy relaxing and unwinding!
Have you ever visited the island of Crete? What are your top things to see and do? Share with us below!