Nick and Dariece | October 05, 2015 9:00 PM ET
Top Spots for Train Travel Around the World
Photos by Goats on the Road
What's better than traveling by train? You are able to walk around and stretch your legs, you can stand when you want, and have a nap when you want. Plus, you get to see all of the in-between bits of a country that you would otherwise miss if you were flying above in an airplane.
Here are some of the top spots around the world that you should consider traveling by rail.
China
Once you've dealt with the somewhat difficult task of procuring a train ticket, traveling by train is great in China. The trains are clean and very comfortable; especially the high-speed ones. The seated trains are great for journeys of just a few hours, but for overnight trips, definitely opt for a sleeper train.
Hot water is available on all trains in China, (and in every hotel and business — practically everywhere) so definitely bring some food and drink that can be cooked instantly by simply adding water: oatmeal, instant noodles, instant potatoes, tea and coffee are great ideas.
The costs of traveling by train in China vary, but as an example, a seat on the high-speed train from Beijing to Shanghai will run you around 550 RMB, or $86. This popular journey takes 5 hours, with the train reaching a maximum speed of 190 mph.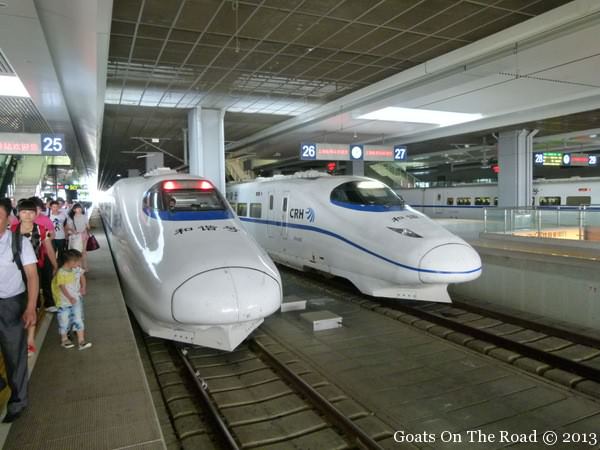 India
There are so many train routes in this country! Navigating the train system in India can be a bit of a task, but once you've figured out things like taktal and the various classes of seating, the journey is a piece of cake.
Some of the most interesting sights we've seen anywhere in the world have been from the window of an Indian train. You'll pass through rice fields, small villages and beautiful countryside.
The train stations in India are always very hectic, so give yourself lots of time before departure to sort out the right platform and to find your train car, and don't be afraid to ask for directions, as the people working at the Indian train stations are usually quite helpful.
If you're in the lower class (SL), there will be many vendors coming on board selling drinks and various snacks. If you're on the AC trains, you can order hot meals onboard. It's always a good idea to bring some of your own food and water as well. Blankets and pillows will be given on the AC class trains, but if you're riding in the cheaper SL class, you will need to have your own blanket.
For help on this confusing system, check out our Guide to Transportation in India.

China/Mongolia/Russia
The Trans-Mongolian/Trans-Siberian train is a classic journey that you should definitely embark on! We started our trip in Beijing, China and took the Trans Mongolian train through a wide range of terrain and towns before arriving in Ulan Bator, Mongolia. This journey was almost 30 hours long, but it didn't feel that way.
The sleeping quarters are comfortable, and you have the option between 1st, 2nd and 3rd class. Third class has four bunks to a berth, no air-conditioning, comfortable beds and a sliding door. Second class is basically the same as 3rd class, except the beds are a bit wider. There is no air-conditioning and the bathrooms are the same. First class has only two bunks in each compartment, a private sink and air-conditioning.
The restaurant car on both the Chinese and Mongolian side of the border offered delicious food, at an affordable price. In fact, we were actually given a free meal voucher when we stepped on the train in Beijing. Once you reach the border with Mongolia, a new restaurant car will be added to the train, serving Mongolian food. Even if you're not interested in eating, make sure to check out this car, it has beautiful wooden decor and is a good spot to mingle with other travelers.
Carrying on, you can go from Ulan Bator, Mongolia, into Russia! Many people take the famous Trans-Siberian train all the way to Moscow, but we decided to travel through Kazakhstan, which meant that we were only able to see the Siberian portion of Russia, which was beautiful. Lake Baikal is the deepest lake in the world and a popular stop in the area. Some people decide to disembark here for a few days, before hopping back on the train. From Ulan Bator to Lake Baikal (the town of Irkutsk) it's a 26-hour journey.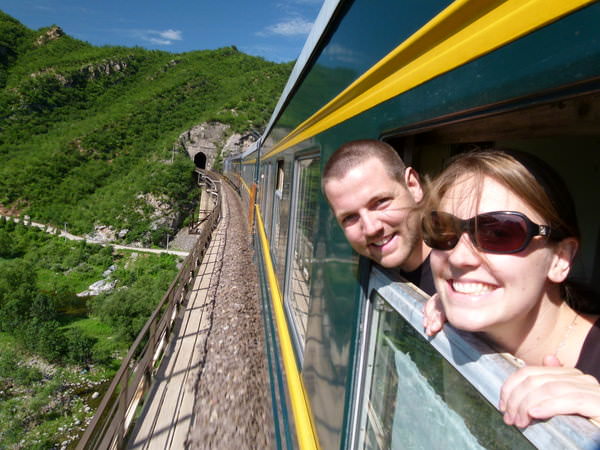 Europe
This is an obvious train travel destination! With the ease of moving around from country to country, and with short distances between many of them, this is probably the best way to see the region. There are, however, many cheap flights within Europe (Ryanair, EasyJet), so taking the train is more of a matter of preference than saving a buck.
You can choose between overnight, high-speed, regional and scenic trains, and can purchase multi-country travel passes. With so many beautiful lakes, colorful cities and towering mountains, we think traveling by train in Europe is the best option.
For booking trains in Europe, have a look at Rail Europe, which frequently offers discounts and sales, and a useful Eurail Global Pass. For $800, you can travel for an unlimited distance between 28 countries, for a maximum of 30 days. You simply hop on the train when you want, and hop off at one of the included 28 countries. Plus there is no limit on the amount of trains that you can take within the month. Not a bad deal!
Where in the world have you traveled by rail? Share with us in the comments below!