Nick and Dariece | August 03, 2015 9:00 PM ET
Understanding Cuba's Dual Currencies: Tips for Travelers
Photos courtesy of Goats on the Road
Cuba is one of the most unique destinations that we've ever traveled to. Homestays are readily available, tobacco is widely grown, salsa and rumba music floods the streets ... and there are two currencies to navigate!
When we were planning our independent travels in Cuba and reading about the dual currency situation, it all sounded extremely confusing. Since returning from our month-long trip, we now have a firm grasp on the money situation and have some expert tips and advice to share with you.
Cuban Convertible Peso
This is the currency that is worth the most in Cuba. The Cuban Convertible Peso (CUC - "kook") is pegged at the U.S. dollar 1:1, which makes it easy to calculate how much money you're spending. This is the currency that you will withdraw from the ATM machines and will be used in most of your purchases.
CUC is considered the currency for "luxury" items such as accommodation, tourist buses, Internet, tours, taxis and restaurants. In order to pay for a night's stay at a casa particular or a hotel, or to pay for your meal in a sit-down restaurant, this is the money you will need.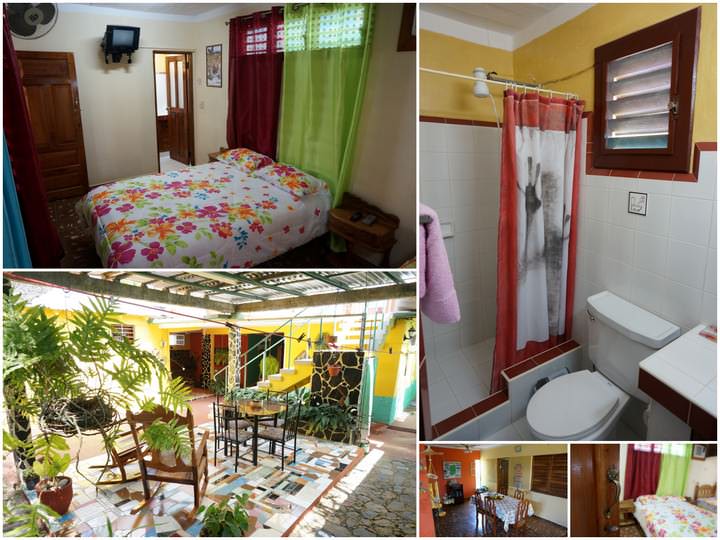 Cuban National Peso
This is the currency that the Cuban people are paid in (unless they are in the tourism industry, then they will receive CUC). The value of the National Peso (CUP) is very low.
1 CUC = 25 CUP  
1 CUP = 0.04 CUC
So, in order for a local person who earns the typical salary to purchase a nice meal at a restaurant, certain items at a grocery store or to use the Internet, they will have to come up with a lot of national pesos to equal the cost of these items in Cuban convertibles.
Which Currency Will You Spend?
Basically, you will just need to wrap your head around the CUC currency. Most of your items will be paid for using this money. However, we do recommend that you exchange some of your CUC for some CUP (National Pesos) at one of the moneychangers around the cities called Cadeca.
Local food and drink is a big reason to keep CUP on hand, as this is the only way to pay for a lot of these items, such as freshly pressed sugarcane juice or freshly squeezed mango juice at one of the peso restaurants. Or, maybe you want to save some money and have a local lunch, choosing from pizza, pork and rice, egg sandwiches, ham sandwiches and some ice cream for dessert.
These selections are cheap and tasty and you will find yourself interacting with the locals more if you opt to eat at one of these spots.
As an example: a glass of fresh mango juice is 2 CUP ($0.08) and a fried egg sandwich with cheese is about 10 CUP ($0.40). The food isn't first class, but it makes for a good snack, and the juice is fabulous!
What Does The Money Look Like?
This is part of the reason why tourists find the two currencies so confusing. They both look very similar! In order to know that you have received CUC, or that you are paying with CUC, look for the word "convertibles" on the bill. It's important to know what you're paying with, so you don't get scammed when receiving change.
You will note from this picture that both the CUC bill (on top) and the CUP bill (on the bottom) say "Diez Pesos." The graphics on the bills are different and once again, note the word "convertibles" on the front of the CUC bill.
Be Careful
There are some con artists in Cuba (especially in Havana and Trinidad) and they can smell a new tourist from a mile away! If you're eating at a sit-down restaurant, most likely you will be paying in CUC (also, you can check on the menu to make sure which currency is listed). When in doubt, ask before ordering.
If you're eating at a side of the road place, or purchasing produce from the market, most likely you will be paying in CUP. Always ask if you are unsure, as some people will try to tell you that the price is in CUC, when it should be in CUP.
Also, always check your change! That's another trick that some people will try to pull on unsuspecting tourists. If you pay for your item in CUC, make sure you receive CUC change! If you know the difference between the currencies, and if you make sure to ask/confirm before paying, you will have no problems.
For more information, check out these articles: Planning a Trip to Cuba: To-Do List Before Travel, The Ultimate Guide to Independently Travelling Havana, Cuba and The Ultimate Guide to Independent Travel in Cuba.