Nick and Dariece | January 04, 2016 11:00 PM ET
Victoria House Belize: A Top Accommodation Option on Ambergris Caye
Photos by Goats on the Road
The Central American country of Belize, and in particular, its northern cayes are popular destinations for tourists. Caye Caulker is known for being the more budget/backpacker option, while those looking for more amenities and upscale accommodations are often drawn to the neighboring Ambergris Caye. In our opinion, there is only one resort to consider when coming to Ambergris, and that's Victoria House.
The Location
Most of the resorts on this caye are set outside of the main town of San Pedro, and this resort is no exception. Although Victoria House is set two miles outside of town, you'll have no problems with transportation to the resort. The staff will be there waiting for you in a golf cart! If for some reason no one is there to collect you, hop in one of the many taxis lining the street and the resort will pay the fare when you arrive.
A great perk of staying here is that they have free bicycles for use by guests for getting to and from San Pedro, or for simply exploring the area on your own steam. If you have a big group of people, or aren't up for the exercise, you can use one of the resort's golf carts. They rent them hourly or daily. With your own wheels, you're never far from restaurants, sights and shops while staying here.
The Rooms
Even though Victoria House classifies itself as a resort, we thought of it as more of a boutique hotel when we stayed there. With just 42 rooms, this place feels intimate and casual. The rooms vary in size and style, however they all have garden and sea views. Choose from a Casita, Plantation Room, Suite or Private Villas.
We stayed in a Plantation Room and can highly recommend it. With a large balcony, views of the garden, pool and sea, and a tastefully decorated room with a four poster king-sized bed, how could we not recommend this room?!
All of the little details were taken care of as well. Sitting next to our bed was a wicker beach bag with towels for our use at the pool or beach. On our pillows we found locally-made chocolates, while on the folded towels laid brightly colored hibiscus flowers. In the bathroom we found natural hair and body products, while outside of the front door there was a bucket filled with water for dunking our sandy feet. The air-conditioning was turned on before our arrival, and the cool air was a nice welcome after a hot travel day.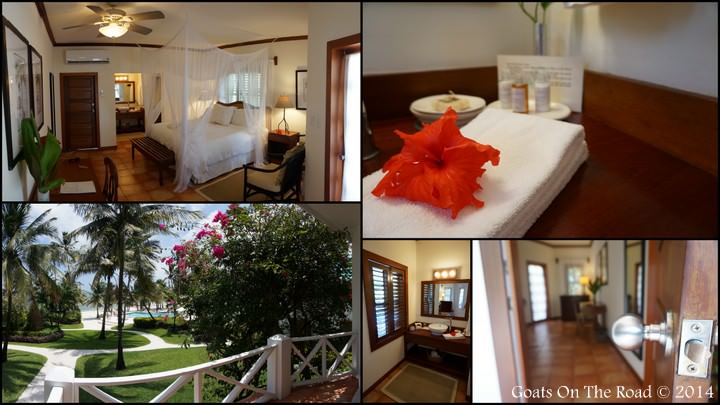 The Activities
If you're looking to relax, laze on the beach and do nothing on your holiday, that's understandable. However, if you're looking to be active and get some exercise, it's possible at this resort. Some activities such as kayaking, snorkeling and cycling are free of charge, but you will need to join a tour for scuba diving, deep-sea fishing or birding. All day trips can be organized through Victoria House, including inland excursions.
The Food
There are two onsite restaurants, and in my opinion, you won't need to eat anywhere else on Ambergris because the food here is so good! The Admiral Nelson Restaurant/Bar is a great spot to have lunch. It's located on the waterfront and has exceptional views of the sea, plus a wonderful breeze. There is a wide variety of food on offer, and the menu items are affordable. This is a casual spot where you can go directly from the pool to lunch.
If you're sitting by the pool and don't feel like moving, the wonderful staff will even bring your drinks to you. The other option for eating is at the more upscale Palmilla Restaurant. Even though it's not as casual of a spot as the Admiral Nelson, it's not a pretentious place. During the evening, opt for the outside patio seating where you can dine under the stars. The food at the Palmilla is excellent. We each had our favorite meals here and can recommend the slow-cooked beef ribs and the oven roasted rosemary chicken.
The Staff
The people who work at the Victoria House are the reason why our stay here was so memorable. We were greeted with smiles and a welcome drink, and were given a small tour of the grounds. The staff was conscious of the fact that we were exhausted from our travel day, and let us settle in to our room after just a quick tour and introduction to the resort.
Throughout our five days there, the bartender, room cleaner, receptionist and waiters all remembered our names! How they were able to hear the names of their guests once and remember them is an incredible feat. It just shows how dedicated to their guests the people working here are. Everyone was kind and talked to us as if we were their friends, rather than paying customers. We talked about their trips to the United States, our travel blog, festivals and what they do with their friends on the weekends. One man even invited Nick to go fishing with him and his brother!
Overall Opinion
To date, this is still our favorite resort that we've ever stayed at. Although the beach, grounds, room, staff and food were all superb, what really made us love this place was its vibe. Sometimes luxury resorts can feel a bit stuffy and pretentious, but even though Victoria House is an award-winning luxury resort, it felt casual, relaxed and comfortable. When traveling to Ambergris Caye, choose to stay at the Victoria House. You'll love it.