Nick and Dariece | August 08, 2016 11:00 PM ET
Visiting Ani: A Highlight of Eastern Turkey
Photos by Goats on the Road
We didn't expect to travel to Eastern Turkey during our five-week trip, and therefore, all of our planning was focused around the central and southern regions. However, once we were actually in-country and started talking to the local people, we knew we had to head east to see cities of Van, Kars, and most importantly, the ancient site of Ani.
Prior to backpacking around Turkey, we had never heard of Ani - not once. Yet there we were, traveling to the very eastern reaches of Turkey in search of these ruins, all based on local recommendations.
READ MORE: Cities in Ruins: Ancient Sites Worthy of a Visit
We hopped out of the van, and entered into what appeared to be a ghost town. The setting of Ani was mind-blowing. Dotting the plains were buildings (which were quite spread out). Some were fully intact, while others were crumbling. In between all of the ruins were bright red poppies and long, green grass.
The sky was a brilliant blue, and the sun was shining. This was the perfect day to be visiting Ani.
The medieval ruins of Ani have a turbulent history. Between 961 and 1045, this was the capital of the Bagratid Armenian Kingdom. Ani was once a prosperous city, rivaling some of the most powerful cities in the Middle East. At one point, there were more than 100,000 people living here!
During its history, Ani has been captured and occupied by Armenians, Byzantines, Persians, Georgians, Kurds and Mongols. The site has seen bombings, fighting and earthquakes. Today, this Armenian site sits within a Turkish military zone on the border with Armenia.
The history surrounding this area, and the fact that these ruins aren't frequented all that often by visitors, made it all the more interesting to us. We were in awe of every bit of architecture that we saw, Ani was amazing.
The Church of the Redeemer (dating from 1034-1036) was still standing; well, half of it was! The other half of the church was destroyed during a storm in 1955. To see half of a building still intact was pretty interesting, yet, had us wondering why it hadn't been restored...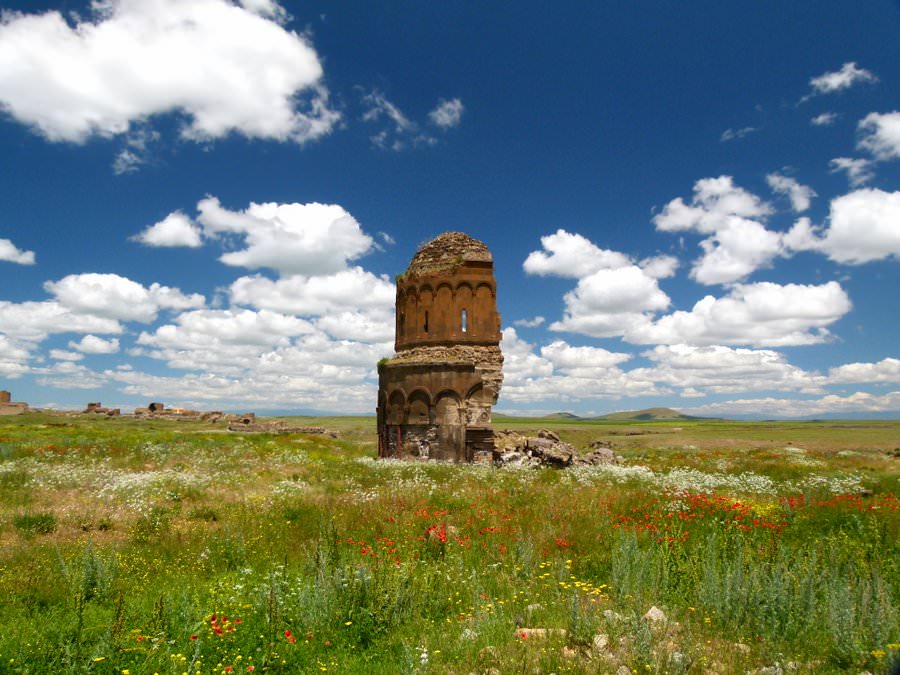 The Church of St. Gregory the Illuminator had the most amazing setting. It was located on a cliff side overlooking the gorge and river below. Inside the church was equally impressive. We found frescos of the bible and history of the Armenian church. The condition of the paintings were incredible.
Another favorite was the cathedral, which was built in 937. This cathedral was in immaculate condition. When Christians ruled the city of Ani, it was used as a church. When Muslims took over, it was converted to a mosque. The spacious inside was beautiful, with many intricate details and inscriptions on the walls.
Finally, we came to the only mosque on the entire site of Ani, which was built by the Seljuk Turks in 1072. This wasn't like any of the mosques we had seen during our travels around Turkey. There were no domes, and just one minaret. The shape was more of a rectangle rather than a circle. But, nonetheless, this was a mosque. We hiked up the spiral staircase for stunning views over the river to Armenian territory.
The Akhurian River runs close to the border with Turkey and Armenia - the actual border is contested by Armenia. For us to be visiting a historical Armenian site on Turkish soil, with Armenia just a stone's throw away, seemed a bit surreal. The Armenian people consider Ani to be an important cultural, religious, and national heritage symbol. The fact that this site is not located on their land (anymore), means tensions in this area are amplified.
How Ani is still standing after years of neglect, war and natural disasters is beyond me, but I'm sure glad it is! As a traveler, visiting this site is a wonderful experience and it's an easy day trip from the city of Kars. Hopefully Ani will become UNESCO listed (it's on the Tentative List), in order to prevent any further destruction of this important Armenian site.