Nick and Dariece | December 21, 2015 11:00 PM ET
Visiting Jordan: Beyond the Wonder of Petra
Photos by Goats on the Road
Jordan is a small country in the Middle East, bordered by Syria, Iraq, Saudi Arabia, Israel and The West Bank. Although surrounded by turmoil and war, this nation has somehow remained peaceful and safe for travelers to visit. Many people travel to Jordan to experience the ancient city of Petra, which truly one of the world's wonders.
However, during your trip to Jordan, make sure to not only visit Petra, but make a point of seeing the many other beautiful areas and sites around the country! We spent 10 days in Jordan and really enjoyed exploring all this tiny nation has to offer.
Amman
This is the capital city of Jordan, and even though it makes an excellent jumping-off point for many other parts of the country, it also has a lot to offer travelers. Many people give Amman a miss, but we suggest spending a couple of days here, before taking off to explore.
The Amman Citadel is located right in the center of the city, and is one of the world's oldest, continuously inhabited places. Stroll through the ruins and make sure to check out the Temple of Hercules, the Hand of Hercules and the Umayyad Palace. Definitely make your way to the Roman Theater, which seats 6,000 people and is still being used for concerts and events. Apart from visiting ancient sites, there are many markets in the city and interesting streets to explore.
The Dead Sea
You've probably heard of this record-setting sea — its banks are the lowest exposed pieces of land on Earth. The water's salt content is so high that there is no life in the sea, and there are even hard piles of salt scattered along the shoreline.
Due to the off-the-charts salinity, laying on your back, or front, without sinking is effortless. The sensation of sitting on water is very surreal. You can cross your legs and you won't sink, you can stand where it's deep and never fall to the bottom. Roll around on your back and stomach and bob in the water like a cork.
After you're done floating in your salt bath, head to one of the mud spas and scrub yourself with cleansing clay, a commodity sought after by those in western countries. After being in the salt and the mud, your skin will feel fantastic.
Note: If you have any cuts, chapped lips or chafing, I do not recommend going into the Dead Sea, as it will surely sting (trust me, we know firsthand!) Also, do not get any of the water in your eyes — keep your head above water.
Wadi Mujib Nature Reserve
Wadi Mujib is a river that flows into the Dead Sea, while the entire Nature Reserve itself is known as the "Grand Canyon of Jordan." Although it doesn't compare to the U.S. landmark, this 85 square mile reserve is very diverse and is definitely worth a visit.
There is a canyon that you can hike through, which is about half a mile high and a little more than a mile long. At the entrance to the hike, you'll pay your fee and be given life jackets. It may seem strange to receive a flotation device for a hike, but that's what makes Wadi Mujib so special — you hike through rivers and up waterfalls!
The views of the canyon walls towering above you as you make your way down the river are beautiful, the rushing water is warm, and hiking up rocks and waterfalls is exhilarating! Walking through water is quite the workout so be prepared to have sore legs the next day. On the way back, instead of climbing up the boulders, you'll get to slide down them. In my opinion, hiking through this canyon is one of the most exciting things that you can do in Jordan!
Jerash
This northern city is home to many well-preserved Greco-Roman ruins from the ancient city of Gerasa. However, much of the city still remains undiscovered below the surface. Spend your day wandering through the theaters, the baths, the temples, and gaze in awe at the towering columns. This is definitely a must-see site.
To get to Jerash, take a day trip from the city of Amman, either by taxi or by local bus. Make sure to pack a lunch as this is an excellent spot to have a picnic. These days, as Jerash is close to the border with Syria, definitely check online to find out the current situation before heading that way. We've heard recent reports that it's safe to visit, but always check before going.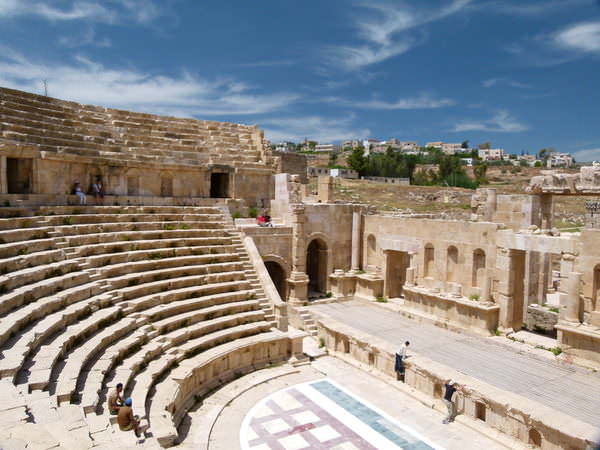 Have we convinced you to see more of Jordan?! Tell us below in the comments.