Top Story
Airlines & Airports | Laurie Baratti
As Americans headed home from their Thanksgiving destinations, U.S. airports saw their largest volume of passengers since the COVID-19 pandemic gutted air travel in March 2020.
Featured Airlines & Airports Video
On December 14th we will live a one of a kind experience in La Araucanía region: a new total solar eclipse for which the magical south of Chile will become a natural observatory. Be part of a unique astronomical event!
More Airlines & Airports Videos
MSC Cruises - Health & Safety on Board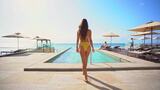 Get Away with Grand Hyatt Playa del Carmen