Nick and Dariece | October 27, 2016 9:00 PM ET
8 Exciting Day-Trips and Activities Around Swakopmund, Namibia
Have you ever heard of a place called Swakopmund? If you were blindfolded and transported to this quaint little town, you probably wouldn't have any idea which country you were in. With its well-preserved Colonial German architecture and many shop signs in German, you probably would be shocked to find yourself in Namibia, Africa!
Here lies the town of Swakopmund, Namibia's number one holiday destination. It's even fit for celebrity royalty. Brad Pitt and Angelina Jolie have a home here (though with their recent acrimonious divorce proceedings, ownership may change), and in 2006 they chose the local hospital to give birth to one of their children.
With a seaside promenade and palm trees lining the streets, this town is utterly picturesque. The town itself is stocked full of unique restaurants and shops, but what it is most known for is its adrenaline pumping adventure activities. Check out the following day trips and activities that you can do from Swakopmund.
Skydiving
Ground Rush Adventures/Skydive Swakopmund has been in operation since 1997. They have done over 37,000 tandem jumps, making it one of the largest and organized tandem operations in all of Africa. Ground Rush Adventures is a member of the Namibian Tourism Board and thus has top-notch safety procedures. Skydiving in Swakopmund is like nowhere else! With the Namib Desert and the Atlantic Ocean below, the 25-minute flight before the jump is simply breathtaking.
Sandboarding
Alter-Action Sandboarding is the first professional sandboarding operation on the Namibian Coast. They have developed the safest and most effective method for sliding down the dunes, and in fact, they now offer stand up boarding on proper snowboards. The dune is located approximately seven miles from Swakopmund and towers at 330 feet with six different faces. With the wind in your hair and the orange glow of the Namibian desert at your feet, this is an experience that you will never forget!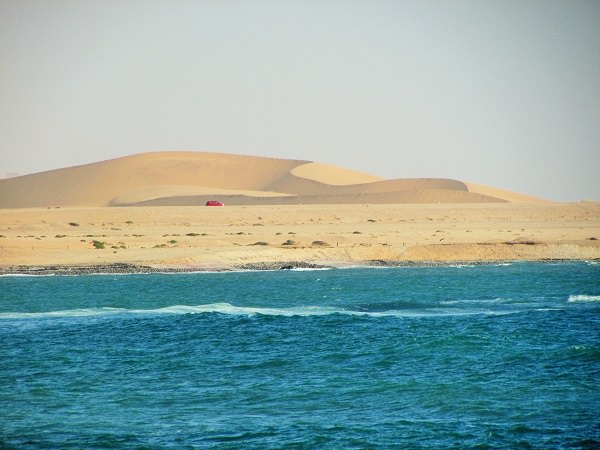 Quading
Experience the thrill of riding a quad through Namibia's endless expanse of shifting sand dunes. There are several different packages that you can choose from. From a 45-minute ride to a six-day overnight tour, the options are plenty.
Living Desert Tour
Crossing the dune belt between Walvis Bay and Swakopmund will give you an up-close look at the crazy array of desert life that exists in this area. The coastal dunes may seem barren but they are in fact home to a wide variety of species that have adapted to this harsh climate. From the White Lady Spider that spins 44 times per second to escape its predator, to Sand Diving Lizards, your local guide will be able to share this unique and fascinating knowledge with you.
Dolphin and Seal Cruises
There are several companies that offer dolphin and seal cruises off the coast of Swakopmund. Dolphins are found in this area all year round and friendly seals like to jump aboard the boat as they know you have fresh fish to feed them! Depending on the season you might also be lucky enough to see the Leatherback Turtle, the Southern Right Whale, the Humpback Whale and occasionally the Killer Whale. Spending a day on a cruise is an excellent way to see the marine life in their natural habitat.
Fishing Tours
Slap on some sunscreen and spend the day out at sea with an experienced skipper where unreal catches can be expected all year round. Choose from Beach Fishing, Boat Fishing or even Deep Sea Game Fishing. Species that can be caught are Kabeljou, Steenbras, Barbel, Galjoen, Garrick and various sharks. All of the fish that you catch are yours to keep with the exception of sharks; they must be released back into the ocean.
READ MORE: No Snow, No Problem: Namibia's Sand Skiing Scene
Welwitschia/Moon Landscape
Get transported to a topography that makes you feel like you are on the moon. A drive inland will take you to the Swakop River Canyon, which will amaze you with its brilliant rock formations. A botanist's playground, you will see vibrantly colored lichen fields, tons of flora as well as the famous Welwitschia Mirabilis plant.
Cape Cross and the Skeleton Coast
The Skeleton Coast doesn't have a name like this for just any reason. Namibia's Bushmen call this region The Land God Made in Anger, and the first Portuguese explorers called it the Gates of Hell. This barren stretch of shore has been known to be one of the harshest places on earth due to its dense fog and inhospitable living conditions. While it remains sunny in Swakopmund, the minute you hit the Skeleton Coast, which extends all the way up to the Angolan border, you will be enveloped in a looming darkness of grey fog. Rusting shipwrecks are commonly found along the entire coast and though this may seem a tad eerie, the scenery is beautiful and like nowhere else.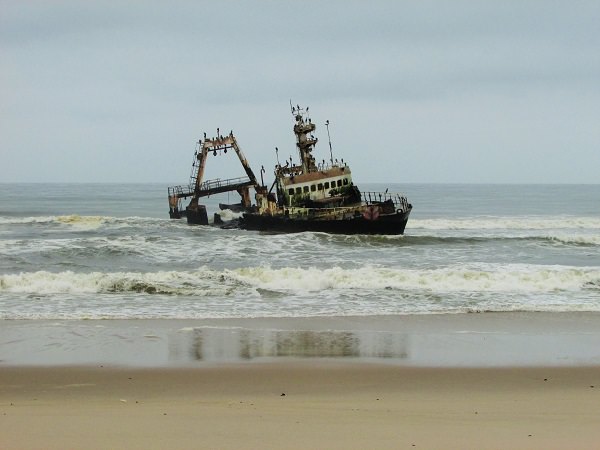 Arriving at Cape Cross will look like you are approaching black rocky cliffs. As you get closer however you will soon notice that these rocks are in fact moving. Here lies the Cape Cross Seal Reserve, which is the largest breeding colony of the Capefur Seal in the world. With over 200,000 seals in this single colony, there are endless photo opportunities. If you happen to come in January or February, you will be able to see thousands of baby pups; some playing in the water and jumping high through the breaking waves.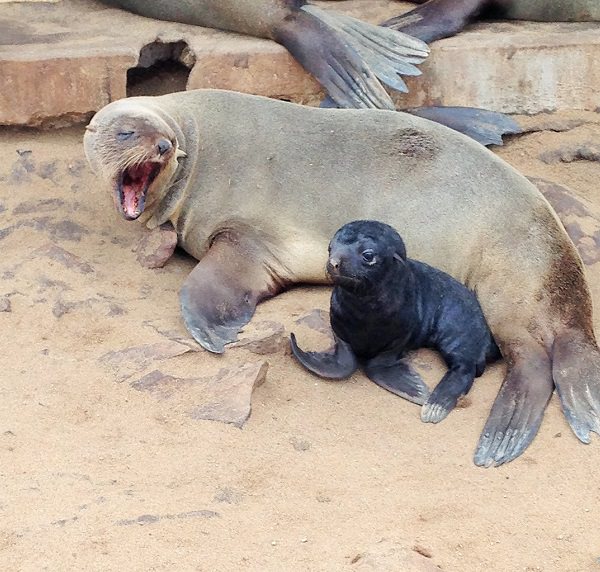 Just steps away from the seal colony are two historic pillars. In 1486 a stone pillar topped by a cross was erected to celebrate the Portuguese explorer, Diego Cao; which then became a navigational aid for European sailors. The original is now gone but a replica was erected in 1980 to celebrate this famous explorer. About 50 feet away is another cross that was built in 1895 by the German Emperor, Willhem II. After being moved to a German museum and then returned in 1990, it now stands proud with so much history and significance attached to it.
Swakopmund has an endless amount of things to do to keep any visitor occupied. Whether it be shopping in antique stores or jumping 10,000 feet from a tiny airplane, this amazing little Namibian town will quench your travel thirst and leave you more than satisfied.