Nick and Dariece | December 22, 2016 11:00 PM ET
Discovering Drumheller: Canada's Dinosaur Valley
When visiting a country as large as Canada, the variety of things to see and do are endless. Each province offers numerous activities and sights for tourists, and locals. And even though it may take you a while to get from one place to another, the final destinations are definitely worth the long travel days.
One place that is unique to Canada are the Badlands of Alberta. This region is famous for its rich deposits of dinosaur fossils and diverse topography. Drumheller is the main town in this region and is the epicenter of the 'Dinosaur Valley'.
Drumheller is accessible by car, as it is just an hour and a half from Calgary or three hours from Edmonton. Although the drive to get there is relatively flat, you will be impressed by how colorful the prairies are. In the summer the canola fields are such a vibrant yellow and against the backdrop of the bright blue skies, it truly is an awe-inspiring sight.
Things To Do in Drumheller:
Royal Tyrrell Museum
This amazing museum is Canada's only museum solely dedicated to the science of paleontology. There is a series of chronological galleries celebrating 3.9 billion years of life. You will be able to see one of the world's largest displays of dinosaurs with a collection of more than 130, 000 fossils!
There are interactive displays, creative educational programs and even a Preparation Lab where you can watch museum technicians prepare fossils found right in the region. No matter if you are young or old; this museum will make you feel like you've been transported back to a time to when dinosaurs ruled the earth.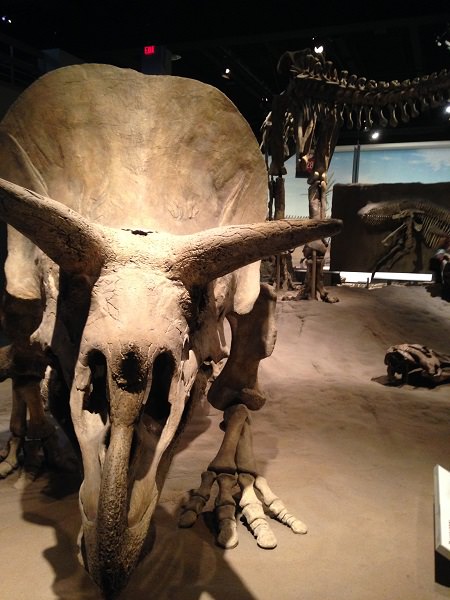 Take a stroll through Midland Provincial Park
Just outside of the Royal Tyrrell Museum is the 700 acre Midland Provincial Park. A few hundred feet east of the museum is a marked trail that recounts the glacial forces that sculpted the Badlands. Also, just a few miles away is another path where you can take a self-guided tour of the remains of the once thriving Midland Coal Mining Company.
The topography is so unique that these walks are definitely worthwhile!
Check out the world's largest dinosaur
Just as you enter the town of Drumheller you will be greeted by the world's largest dinosaur. This massive T-Rex stands a whopping 86 feet in height and is 151 feet long. For $3 you can climb 106 stairs to the top of the dinosaur and check out the views from its wide open mouth.
Discover the Hoodoos
Less than a fifteen minute drive from Drumheller are the Hoodoos; a symbol in which the Badlands are so well known for. These tall rock formations which are sometimes referred to as fairy chimneys, have been created from sandstone and topped with a harder rock which is more resistant to the elements.
Their interesting mushroom-like shapes have been formed over thousands of years by erosion caused by water, wind and the freeze/thaw cycles. Explore this natural phenomenon by hiking in and around the Hoodoo Trail. There are great views no matter your ability or fitness level - either stay on the visitor platforms or hike to the hilltops for a spectacular panoramic view. The Alberta Hoodoos are truly a sight that is not to be missed!
Hike Horseshoe Canyon or Horsethief Canyon
Just 10 minutes west of Drumheller is Horseshoe Canyon. A glacier has carved out a U-shaped canyon and even from the parking lot you will get a fantastic view. The total descent into the canyon is approximately 200 feet, but there are several trails that you can take down.
Hiking shoes and appropriate gear is suggested as in the summer the temperatures can reach up to 104 degrees and if it rains, the canyon floor can become quite slippery.
Horsethief Canyon is the less-visited but equally beautiful cousin of Horseshoe Canyon. It has steeper clay walls which make this hike a little more difficult. But if you are up for a challenge while exploring the colorful layers of rock, this is the hike for you.
Get a bird's eye view of the Badlands by helicopter
Mountain View Helicopter Tours run two different tours that take you to a place with views like no other – the sky. The Canyon Tour is a 5-6 minute tour that takes you over Horseshoe Canyon. The other option is a 10-12 minute tour which takes you the entire 8 miles of the canyon. Both tours provide spectacular views at a height of 1000 feet.
Kayak or canoe on the Red Deer River
A great way to explore the area and get out amid nature is by jumping into a canoe or kayak. Red Deer River Adventures has a variety of different guided tours that last from a couple of hours all the way to full day tours. If you don't want to commit to a tour, but still would like to get out on the water, you can take a self-guided trip and be picked up by a shuttle at designated pickup points.
READ MORE: 3 Lesser-Known Kayaking Destinations
Grab a bite at a local diner
And finally when you have finished seeing all of the sights and your stomach is grumbling, check out Bernie & the Boys Bistro. This diner has a small town feel and is known for its famous 25 ounce burger. The patty is so huge that only 20 people have ever been able to eat it in one sitting!
Another item on the menu that will literally knock your socks off are the Blair Witch Project Chicken Wings. They are so spicy that you have to be at least 18 years of age and sign a waiver to eat them!
Have you ever been to Drumheller?! Does it sound like an interesting destination? Share with us in the comments!